Meghan Markle's Pasta Necklace Has The CUTEST Story Behind It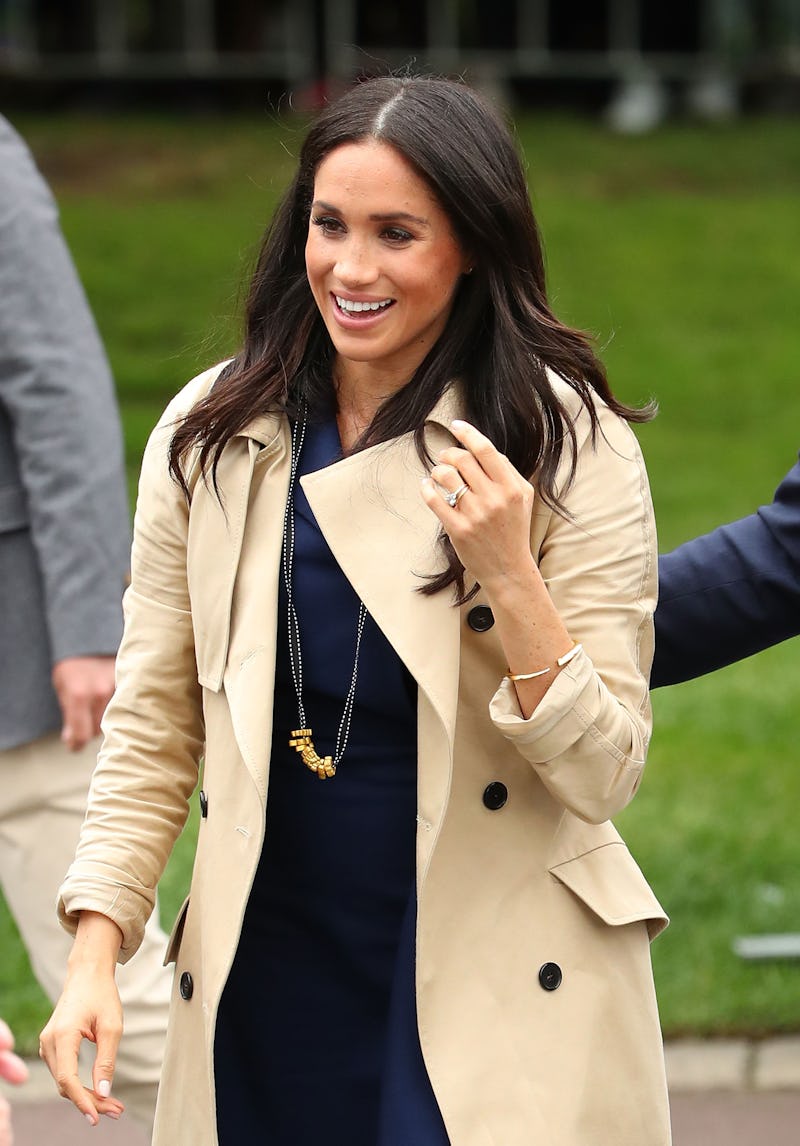 Scott Barbour/Getty Images Entertainment/Getty Images
During their Australia visit, Prince Harry and Meghan Markle have greeted children, gone to the zoo, and played Australian football. Pretty sweet, right? During all of these events, Markle has always been wearing some killer (and some affordable) styles. Recently, Meghan Markle's pasta necklace may have you wondering what's going on. Well, as it turns out this special accessory has a super sweet story behind it, and it may just melt your heart.
According to an Australian news site, Meghan Markle's pasta necklace is actually a gift from from a little boy named Gavin. According to an interview with his mother, he'd gotten sick and had to miss school. It was during his absence that he decided to make Markle a necklace. He explained that he simply dipped the pasta in gold paint then strung it through ribbon. Turns out he made the perfect accessory for the Duchess of Sussex.
With a sign that read, "I made you a necklace," Gavin took his place in the crowd. Turns out, Markle noticed. Not only did she accept the gift, but she put it around her neck and continued to wear it while she and Prince Harry greeted more fans. Too cute, right?
With her pasta necklace, Markle wore a Dion Lee navy dress, and honestly, the gold pasta looked great.
Of course, this isn't the first time during the trip that Markle has worn something that had a bit of sentiment behind it. In fact, even when not on a royal tour, she tends to do so. During her first day in Australia with Prince Harry, Markle chose to wear a pair of butterfly earrings and a bracelet from the prince's late mother, Princess Diana's, personal collection.
It's not the first time that Markle has worn something that once belonged to Prince Harry's mother, though. While Kate Middleton wears Princess Diana's sapphire engagement ring, Markle got a ring of her own (two, actually). The Duchess of Sussex's engagement ring actually features diamonds from the late princess's personal collection. That's not all. For Markle and Prince Harry's wedding reception, Markle chose to wear a gorgeous blue aquamarine cocktail ring that also once belonged to Princess Diana.
Of course, accessories aren't the only way Markle shows a personal connection to style. There was another piece during her Australia trip that had a personal bent to it. While in the country, Markle rocked a Serena Williams blazer. To understand why that matters, you'll need to know that Williams and Markle are actually friends IRL, and are super supportive of one another. While Markle wore Williams' design in Australia, a few weeks ago, during the launch of the Duchess's cookbook project, Williams took to her personal Twitter to congratulate her and promote the book. Who doesn't love ladies supporting ladies, right?
Markle's pasta necklace from a fan may not be her only bit of sentimental jewelry or fashion, but it certainly could be the sweetest. Sparkly engagement rings and celebrity-designed blazers are great, but that pasta necklace was handmade perfection.