Meghan Markle's Thigh High Slit Breaks ALL The Royal Rules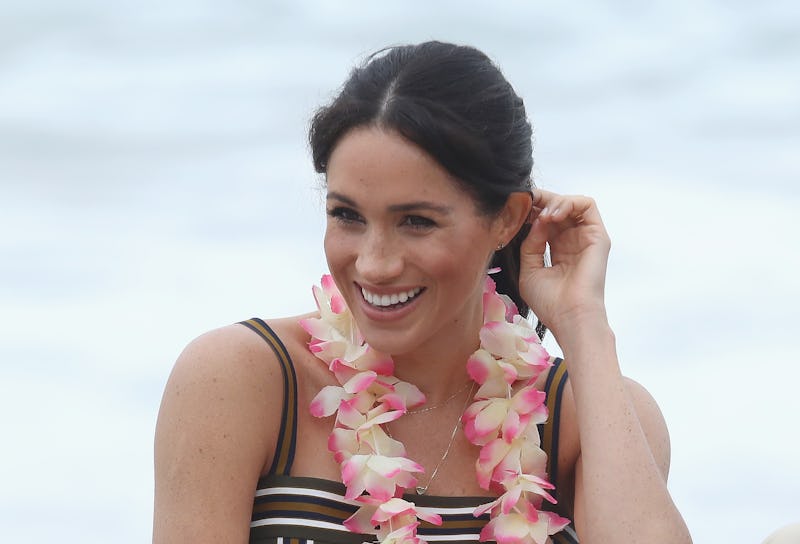 Chris Jackson/Getty Images Entertainment/Getty Images
Despite being a duchess, Meghan Markle is rumored to have some style rules to follow. On she and husband Prince Harry's trip to Australia, however, Markle appeared to buck them, and it's a whole mood. Meghan Markle's thigh high slit Reformation dress (offers sizes 0-12, XS-XL) appears to break all sort of royal protocol when it comes to conservative style, but rules are made to be broken, right?
According to Cosmopolitan, Markle wore a dress by brand Reformation while visiting Fraser Island in Australia. The light weight, maxi dress is warm weather perfect (remember it's spring in Australia), and it makes total sense that the pregnant (yes, a royal baby is on the way!) duchess wouldn't want to wear a super constricting dress in warmer temperatures. Even she weren't pregnant, it still seems unlikely that she'd want to wear a tight fitting custom Givenchy on an Australian island.
While its flowing fabric, thin straps, and classic stripe pattern are all well and good, it's the thigh high slit that people seem to be chatting about. Realistically, the dress truly isn't daring, but by royal standards that slit could be a bit of a rule breaking moment, and if it is, it wouldn't be Markle's first time breaking royal rules.
With the dress, Markle wore a pair of Sarah Flint sandals (a brand she's worn many times before) as well as a pair of Karen Walker sunnies. While the Reformation Pineapple dress would be a semi-affordable find compared to other items Markle has worn (it rings in at $218), it's unfortunately unavailable. Given that the seasons in Australia and Los Angeles where Reformation is based as opposites, it makes sense that you wouldn't be able to purchase this warm weather option in fall.
The biggest question, though, isn't necessarily where Markle got the dress, but if she did, in fact, break royal style rules when wearing it. According to Elle, it's incredibly unlikely that Markle would ever truly break a royal style rule. The magazine does explain that Markle's choices to show her shoulders or not wear tights do appear to be more daring than others. However, they spoke with Beaumont Ettiquette founder Myka Meier who explained that the Duchess of Sussex actually has an entire team of aides who arrange pieces for her to choose from. As a result, she'd never be given something that would be considered disrespectful.
While it may be true that Markle wouldn't wear something that truly broke the rules, it doesn't mean that her fashion sense isn't daring by royal standards. She's worn outfits unlike anything royal lovers have seen from her sister-in-law Kate Middleton. Markle's blazer dress at a performance of Hamilton was a noted departure from common royal styles people see on Middleton, and Elle notes that during the Trooping the Colours appearance, Markle choose to show her shoulders. While that's not a broken rule, it is definitely different.
While Markle's Reformation dress may not have actually broken royal protocol, it's still a total mood. The Duchess appears to be incorporating her own style into the royal wardrobe and pushing a few boundaries along the way. Basically, she's a woman after fashion lovers own hearts.