Melania Is The First Trump To Speak Up Against The Charlottesville Rally Violence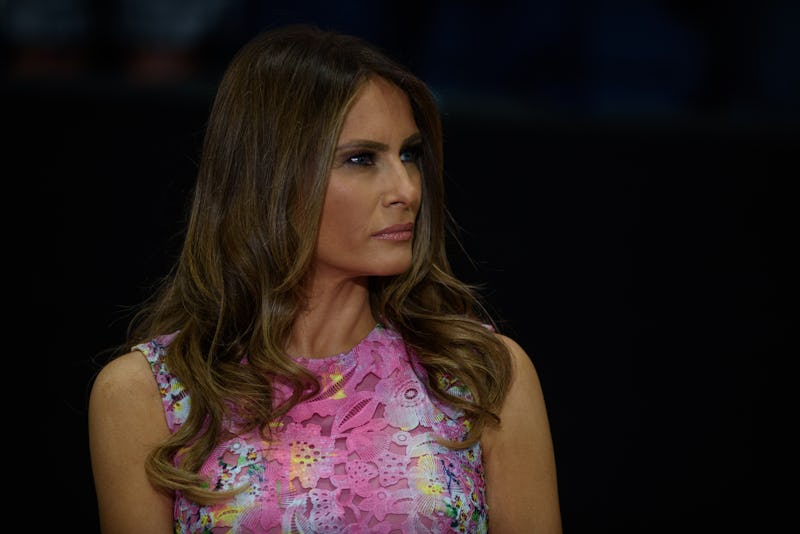 Justin Merriman/Getty Images News/Getty Images
On Saturday, thousands of white nationalists descended on Charlottesville to protest the city's decision to remove a statue of Gen. Robert E. Lee. The several white nationalist groups assembled carried torches and chanted "we will not be erased." Shortly after noon on Saturday, Melania Trump spoke up about the Charlottesville rally in a tweet that read: "Our country encourages freedom of speech, but let's communicate w/o hate in our hearts. No good comes from violence. #Charlottesville."
Update: President Trump tweeted shortly after Melania's statement was posted
Melania's tweet was posted just minutes before the president publicly addressed the rally in Charlottesville. "We ALL must be united & condemn all that hate stands for. There is no place for this kind of violence in America. Lets come together as one!" wrote Trump on Twitter. Trump went on write that he was in New Jersey and would be brainstorming ways to handle the rally. "Am in Bedminster for meetings & press conference on V.A. & all that we have done, and are doing, to make it better-but Charlottesville sad!" wrote Trump.
Before Trump responded to the rally, politicians and celebrities called out Trump for his silence, and the ways in which silence enables racism.
"What are the chances DT condemns white supremacists in Virginia? My money's on 0%. He'd rather stoke war, praise Putin & run a crime family. Let's be clear. The hatred we're seeing in Virginia lies at the feet of Donald Trump. Stoked during the campaign,his silence condones this," the actor Rob Reiner wrote on Twitter.
Some claimed that Trump's initial silence in the face of racist violence may indicate where his concerns lie (or don't lie). "President Trump's silence as #Charlottesville roils with racist and fascist provocation is shameful, irresponsible...and, DEFINING," wrote Vermont Sen. Patrick Leahy on Saturday.
Alongside the responses from both Trump and Melania, the House Speaker Paul Ryan also tweeted his disapproval of the rally on Saturday, indicting the white nationalist convictions as abhorrent. "The views fueling the spectacle in Charlottesville are repugnant. Let it only serve to unite Americans against this kind of vile bigotry," wrote Ryan.
The vice president Mike Pence joined alongside other White House members in his indictment against the racially motivated hate. "I stand with @POTUS against hate & violence. U.S is greatest when we join together & oppose those seeking to divide us. #Charlottesville," wrote Pence.
Unfortunately, as of now, none of these tweets have indicated that any direct actions will be taken to arrest or punish violent rally members, or to guarantee protection to the peaceful Charlottesville anti-racist counter-protesters. Ideally, these indictments from the White House will manifest in the delivery of concrete actions against this racist rally. I'm not holding my breath.
Read more on the Charlottesville protests:
Here's What You Need To Know About The White Nationalist Rally In Charlottesville Today
A Car Rammed Into Charlottesville Protestors & Caused "Extremely Heavy Injuries"
Tweets About Charlottesville Capture The Chaos Of The Protest
Trump Condemns The Charlottesville Protest Violence From "Many Sides"
Hillary Clinton's Statement On Charlottesville Is Sneaky Subtweet At Donald Trump
How To Argue That The Charlottesville Violence Is Absolutely Unacceptable
How To Support Anti-Racism Organizations In Charlottesville
The Transcript Of Trump's Charlottesville Speech Shows His Weak Stance Against Racism