Here's What You Need To Know About The White Nationalist Rally In Charlottesville Today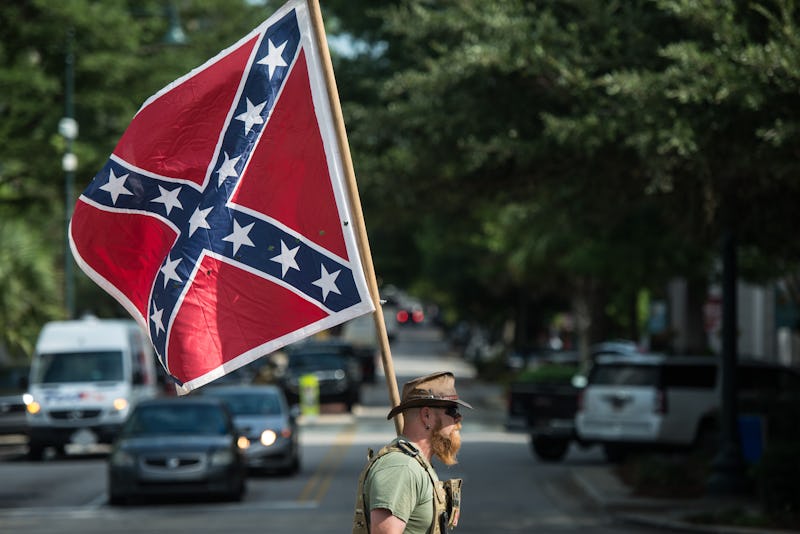 Sean Rayford/Getty Images News/Getty Images
Residents in Charlottesville, Virginia, braced themselves on Saturday for a "Unite the Right" rally where white supremacists are expected to march through the city, beginning from Emancipation Park. A pre-rally at the University of Virginia on Friday night saw marchers clash with counter-protesters, who reportedly claimed they were attacked with pepper spray and lighter fluid. The National Guard has been notified and placed on standby for Saturday's rally.
Friday's demonstration came after U.S. District Judge Glen Conrad ordered a preliminary injunction in a lawsuit filed against the city of Charlottesville by Jason Kessler, a right-wing blogger. Kessler filed the suit on Thursday after city officials ruled that the "Unite the Right" rally should take place in McIntire Park. Officials argued that McIntire Park was a larger, safer space for the rally and that Kessler's views had nothing to do with their request that he change the event's location
The statue of Confederate Gen. Robert E. Lee, which the city council of Charlottesville voted to remove in April, is found in Emancipation Park. Supporters of Kessler's march plan to rally near the statue to voice their opposition to the city's decision.
Following Judge Conrad's ruling to allow the demonstration to take place in Emancipation Park, hundreds of torch-carrying white nationalists took to the University of Virginia to prepare for the main event. They chanted phrases like "White lives matter" and "Jew will not replace us" as they marched throughout the school's campus. Some wore clothes quoting Hitler.
Virginia Gov. Terry McAuliffe released a statement on Friday following Judge Conrad's ruling to allow the rally. While he defended the "Unite the Right" demonstrators' constitutional right to hold their rally, McAuliffe encouraged Virginians to stay away from the eventL
I want to urge my fellow Virginians who may consider joining either in support or opposition to the planned rally to make alternative plans. Many of the individuals coming to Charlottesville tomorrow are doing so in order to express viewpoints many people, including me, find abhorrent. As long as that expression is peaceful, that is their right. But it is also the right of every American to deny those ideas more attention than they deserve. Men and women from state and local agencies will be in Charlottesville tomorrow to keep the public safe, and their job will be made easier if Virginians, no matter how well-meaning, elect to stay away from the areas where this rally will take place.
Charlotteville Mayor Mike Signer explicitly condemned the rally in a statement on Friday. "Everyone has a right under the First Amendment to express their opinion peaceably, so here's mine: not only as the Mayor of Charlottesville, but as a UVA faculty member and alumnus, I am beyond disgusted by this unsanctioned and despicable display of visual intimidation on a college campus," he said.
Read more on the Charlottesville protests:
Tweets About Charlottesville Capture The Chaos Of The Protest & How Terrified People Are
Melania Is The First Trump To Speak Up Against The Charlottesville Rally Violence
A Car Rammed Into Charlottesville Protestors & Caused "Extremely Heavy Injuries"
Here's How You Can Fight White Supremacy In Charlottesville & Beyond
Trump Condemns The Charlottesville Protest Violence From "Many Sides"
Hillary Clinton's Statement On Charlottesville Is Sneaky Subtweet At Donald Trump
One Dead After Car Mows Down Counter-Protestors In Charlottesville