These Terrifying Tweets From Charlottesville Capture The Chaos Of The Protest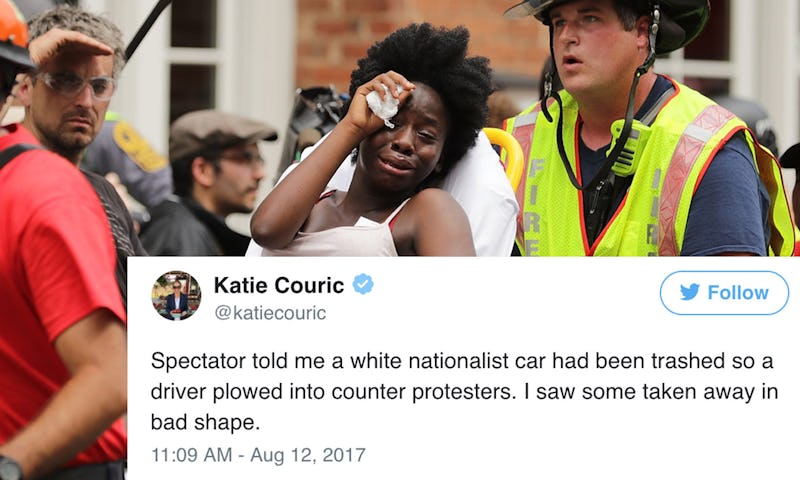 Chip Somodevilla/Getty Images News/Getty Images
Violence and chaos broke out on the streets of Charlottesville, Virginia on Saturday during a white supremacist "Unite the Right" rally. Tensions were already bound to be high after a Friday night demonstration at the University of Virginia, wherein proud white nationalists marched through the school's campus carrying torches, chanting racist and homophobic slogans, and getting into physical altercations with counter-protesters. By 11 a.m., Gov. Terry McAuliffe had declared a state of emergency.
On Saturday, hundreds of members of the "alt-right" and white supremacist groups like the Ku Klux Klan, Vanguard America, and Identity Evropa were met by hundreds of protesters and activists opposing their messages.
The scene was immediately strained with hostility, and the rally, which was set to begin at noon at Emancipation Park, was declared an "unlawful assembly" by police shortly before its scheduled start. According to CNN, the catalysts for this decision were fistfights and "screaming matches" unfolding in multiple locations.
Shortly before 2 p.m. EST, one "Unite the Right" supporter was captured on video plowing a car into a crowd of counter-protesters, injuring at least 10 pedestrians. Shortly after, Charlottesville Mayor Mike Signer revealed that one person had died.
Here are what some people on the ground at Charlottesville witnessed.
1. Homophobia
2. Taunting
3. Devastating Violence
4. Lack Of Police Aggression
5. When The People You Hate Treat You Nicely...
6. Misleading "Guards"
7. Police Clear Park
8. Apparently This Was The Motive
9. No Question It Was Intentional
10. One Of The Witnesses
11. Trump Will Probably Ignore This
12. Counter-Protesters Denounce The Hate
13. Kind Of Fitting
14. Calling Out The Police
15. Black Lives Matter
16. Escalation From Tense To Terrifying
17. Aftermath Of Crash.
18. Former KKK Leader David Duke Showing Up
19. Duke Giving A Speech
20. He Ended It With Anti-Semitism
21. Fighting
22. Emergency Response
23. Clashing With Police
24. Richard Spencer Pepper Sprayed
25. Message To White Supremacists
President Trump held a press conference on Saturday afternoon to address the events in Charlottesville. "We condemn in the strongest possible terms this egregious display of hatred, bigotry and violence on many sides ― on many sides," he said. "It's been going on for a long time in our country, not Donald Trump, not Barack Obama, it's been going on for a long, long time."
He further stated, "We wanna get the situation straightened out in Charlottesville and we want to study it. We want to see what we're doing wrong as a country where things like this can happen."
Read more on the Charlottesville protests:
Here's What You Need To Know About The White Nationalist Rally In Charlottesville Today
Melania Is The First Trump To Speak Up Against The Charlottesville Rally Violence
A Car Rammed Into Charlottesville Protestors & Caused "Extremely Heavy Injuries"
Here's How You Can Fight White Supremacy In Charlottesville & Beyond
Trump Condemns The Charlottesville Protest Violence From "Many Sides"
Hillary Clinton's Statement On Charlottesville Is Sneaky Subtweet At Donald Trump
How To Argue That The Charlottesville Violence Is Absolutely Unacceptable
One Dead After Car Mows Down Counter-Protestors In Charlottesville
How To Support Anti-Racism Organizations In Charlottesville
The Transcript Of Trump's Charlottesville Speech Shows His Weak Stance Against Racism
Ivanka Trump Slams "White Supremacy & Neo-Nazis" In Charlottesville Violence