Melania's First Outing In London Involved Lawn Bowling In Stilettos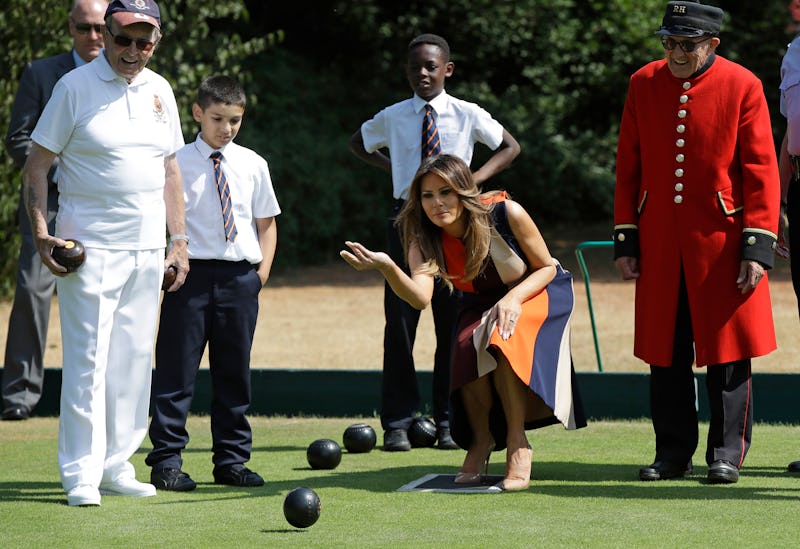 WPA Pool/Getty Images News/Getty Images
While the leaders of the United Kingdom and the U.S. held a bilateral meeting on national security, their spouses had some outdoor fun at Royal Hospital Chelsea on Friday. When the question arose about what Melania Trump and Philip May would be doing at their London event, not everyone would've expected lawn bowling to be on the agenda.
Melania Trump was at the Royal Hospital Chelsea with British Prime Minister Theresa May's husband, Philip May, in London. The hospital is actually a home for retired soldiers, according to CNN.
Trump first held a informal chat with uniformed students to advance her "Be Best" campaign at the hospital's Great Hall. The students are a part of a program called "Be the Best You Can Be!" for empowering London young people, according to CNN.
"Why is your motto 'Be Best'?" one student asked Trump.
"I want to help children be best in everything that they do, to be best at whatever your passion is, where you're focused. Everything in life, really. And be best with each other, to be kind," the first lady told the student.
Then Melania Trump and Philip May joined the Chelsea Pensioners for some lawn games. "A bit harder, ya know," one student told Trump after she threw a bad shot. Their comment was met with good-natured laughter.
CNN characterized another of the first lady's shots as "expertly" thrown. After another shot, Trump — in her stiletto high heels — got a high five from one of the veterans at the hospital, according to Express tabloid. (The tabloid also reported that media were told to wear flat shoes for the occasion.)
While at the Royal Hospital Chelsea, Trump also made Remembrance Day poppy pins with the students, according to CNN.
Trump asked May how she did with her first poppy pin. "How does mine look? Is it OK?"
"Very professional," May replied. It doesn't appear that she wore it to the lawn games.
Multiple media reports said the first lady and May seemed to be very comfortable with each other. The Telegraph said Trump was "enjoying" herself while bowling.
This isn't the first time the first spouses had met. Their first meeting was at a gala at Blenheim Palace where Trump turned heads in her yellow gown outside the birthplace of Winston Churchill. The dinner included the Trumps, the Mays, and about 150 other business leaders, according to The Sun. Trump also got to tour the exhibit for Churchill's birthplace.
Trump and May will continue to spend time together as their spouses continue their bilateral talks at Chequers Court. (Newsweek reported that Chequers is similar to America's Camp David.) Melania Trump will rejoin her husband when the Trumps meet Queen Elizabeth at Windsor Castle in Berkshire on Friday afternoon.
The meeting with Queen Elizabeth will be an important part of Donald Trump's first official presidential visit to the United Kingdom. Prior to their visit, U.S. Ambassador to the U.K. Robert Wood Johnson told Sky News that the president "has to see the head of state. Putting his foot on the ground of British soil, it's job one — very, very important, very symbolic."
There are some specific traditions for meeting the monarch, even if only for tea. For example, according to the BBC, you must arrive early and should first greet the queen as "Your Majesty" before transitioning to "ma'am."
While there are more traditions for etiquette and actions, how to dress while meeting the queen is also important. Melania Trump's objective will be to show respect to the queen and not overshadow the monarch's outfit. It's likely it will be business casual and similar to the Victoria Beckham dress Trump wore to the Royal Hospital Chelsea.