Men Masturbate More Than Women, But It Has Nothing To Do With Sex Drive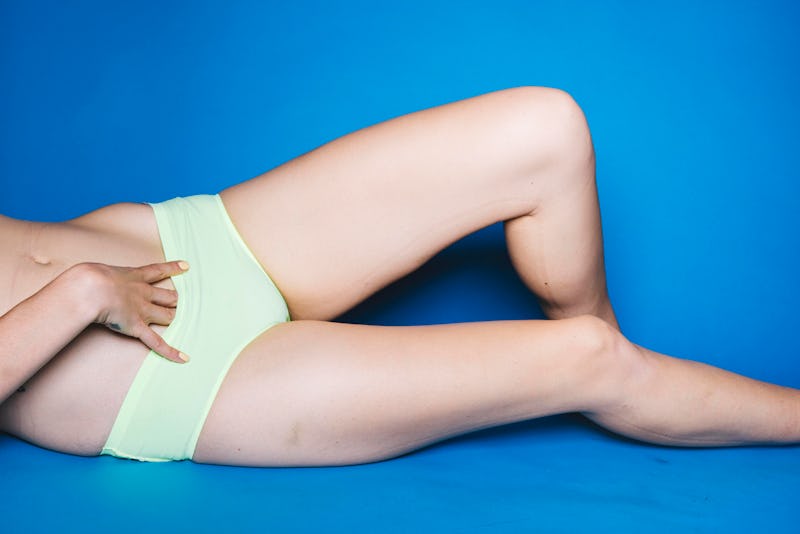 BDG Media, Inc.
Before I got out of bed this morning, I masturbated. Three times. That's right; I started my day off with three fantastic orgasms. It wasn't because I was feeling particularly sexual. I masturbated because I can (so I do) and it feels good. I don't need a reason to masturbate.
But while I masturbate a lot, as do many of my female friends, surveys and studies about masturbation continue to tell us that men masturbate more women. A recent survey of 979 people, aged 18 to 72, by Superdrug Online Doctor found that 96 percent of men and 88 percent of women masturbate. Per week, while men masturbate an average of four times per week with an average session lasting 14 minutes, women masturbate only two days a week, with an average session of 13 minutes. Calculating those minutes, women masturbate a total of 27 hours a year, compared to mens' 46 hours a year — meaning men masturbate almost a whole day more than women do a year.
The survey said the discrepancy is because men have a higher sex drive, and surely others will make the same conclusion, along with the pressure to be "more modest". But why aren't we focusing on the real issue? "Men's and women's sex drives are relatively equal, and sex drive varies more within the sexes than between them," Lorrae Bradbury, a sexpert, speaker, and founder of Slutty Girl Problems, tells Bustle. "Yet, it's commonly thought that men have higher sex drives than women, because it's more socially acceptable for men to act on their desires, while women are expected to be passive. If if it were acceptable for both sexes to express their sexuality, our sex drives would appear more equal."
The reason men are still masturbating more is a simple one: there is still a stigma surrounding female sexuality and this stigma affects female masturbation.
"The notion that men masturbate more than women, on the surface, may seem to show us that men have an inherently stronger sex drive — but there's a lot more to it than that," Polly Rodriguez, co-founder and CEO of Unbound, a woman's sexual health company, tells Bustle. "This discrepancy has roots in adolescence. While for boys, masturbation is framed to them as natural, unavoidable, and even healthy — girls experience a very different narrative. Told from the get-go that their sexuality is to be controlled and contained, girls aren't taught about masturbation, so many view it as unnatural or even shameful. They're also rarely taught about their own pleasure when it comes to sex. This means that not only are they unaware about sources of pleasure, they're often too embarrassed or scared to explore them. If we were to teach young girls about their bodies, about pleasure, about the clitoris and about their sexuality (beyond how to defend against male sexuality), I think we might see more equivalent masturbation rates."
A 2016 study, of 1,200 Americans by sex toy company TENGA, also found that 95 percent of men and 81 percent of women masturbate, with men masturbating roughly 15 times a month compared to the less than eight times a month for women. But what the study also found, to reinforce that stigma is indeed an issue, 54 percent don't feel comfortable discussing masturbation, 57 percent don't think it's an "acceptable" topic to discuss, and 40 percent of millennials have admitted to lying about masturbation.
While what we do in our bedroom is our business, and we're not under any obligation to share those intimate details, the mere fact that more than half of the respondents of the TENGA survey found the topic of masturbation, even from an abstract angle, unacceptable is, in itself, unacceptable. Even if we leave the specifics of our own masturbation practices out of the equation, we need to talk about female masturbation. To avoid the subject, is doing a disservice to all of us — especially younger women who are still struggling to accept their sexuality.
"I also fundamentally believe that when it comes to validating sexuality — as a culture, we rely on visibility," says Rodriguez. "For example: when men and/or penis owners are aroused, we can visibly see it via an erection. Conversely, when women are aroused, it's less externally visible and typically less obvious. This simple concept actually tends to greatly influence whose sexuality we validate, and by function whose masturbation we validate. Men literally cannot deny when they are aroused, so we treat their sexuality as natural and essential, something we tend to forget about for women when it's not right in front of us."
Ultimately, as long as female sexuality and female masturbation is whispered, as opposed to discussed or talked about at a normal volume, men will continue to masturbate more. But, because there's no need to whisper or turn a blind eye to something as fundamental and human as sexuality, if we can evolve to a place of full acceptance, then we can all masturbate in equal amounts. We won't just be better for it on a personal level, but from a societal standpoint as well — it will mean we have finally reached masturbation equality.