Yet Another Reason Meryl Streep Rules The Oscars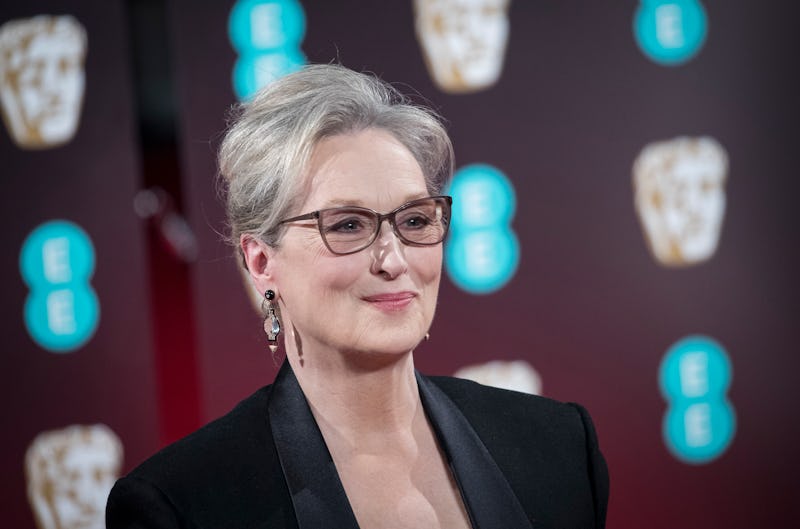 John Phillips/Getty Images Entertainment/Getty Images
Years ago, Meryl Streep must have taken her good friend Carrie Fisher's words seriously. "Take your broken heart, make it into art," the late Princess Leia once said. Throughout her expansive career, Streep's art has only continued to grow. Just when you think the actor has reached the top, she breaks her own record. Take the upcoming awards ceremony for instance. Streep will be presenting at the 89th annual Academy Awards, an awards ceremony that will mark Streep's 20th Oscar nomination. That's more nominations than any actor ever.
This shouldn't come as any surprise. There's truly no one in the business whose career rivals Streep's. Her ability to morph into characters cannot be duplicated. Even though she has more than other actors can dream to receive in a lifetime, Streep's accolades are all deserved. Though, I don't have to tell you that — her talent speaks for itself.
At this year's ceremony, Streep's nominated in the Best Actress category for her role as the tone-deaf socialite in the biopic, Florence Foster Jenkins. She's up against some tough competition, alongside the likes of the critically acclaimed La La Land star, Emma Stone, and Natalie Portman's stunning performance as Jackie Kennedy. But even if she doesn't take home a statue, the 20 nomination feat is a win in itself.
This record-breaking nomination makes Streep's role as a presenter special. Because no actor has received so many Oscar nominations, no other actor has ever presented with 20 nominations under their belt. She's the matriarch of the Academy, the queen. When she presents, the room listens.
Take for instance, how many people listened when Streep picked up the coveted Cecile B. Demille Award at this year's Golden Globes (an award ceremony where she's been nominated 30 times). As Streep accepted the award, she delivered a resonant speech with the audience and a large majority of America. "But who are we, and what is Hollywood anyway?" she asked in that speech. Hollywood is Meryl Streep. She personifies the talent, the drive, the ambition, the glamour, the relentless obsession to the craft, and more than that, the willingness to speak on issues she cares about.
Hollywood is "just a bunch of people from other places," she said, answering her own proposed question. "An actor's only job is to enter the lives of people who are different from us, and let you feel what that feels like," but as Viola Davis pointed out during the ceremony, Streep make us "feel less alone." Fans can't get enough of that, and neither apparently, can the Academy.