Milo Ventimiglia Was In A 'Fresh Prince' Ep & OMG, You Have To See It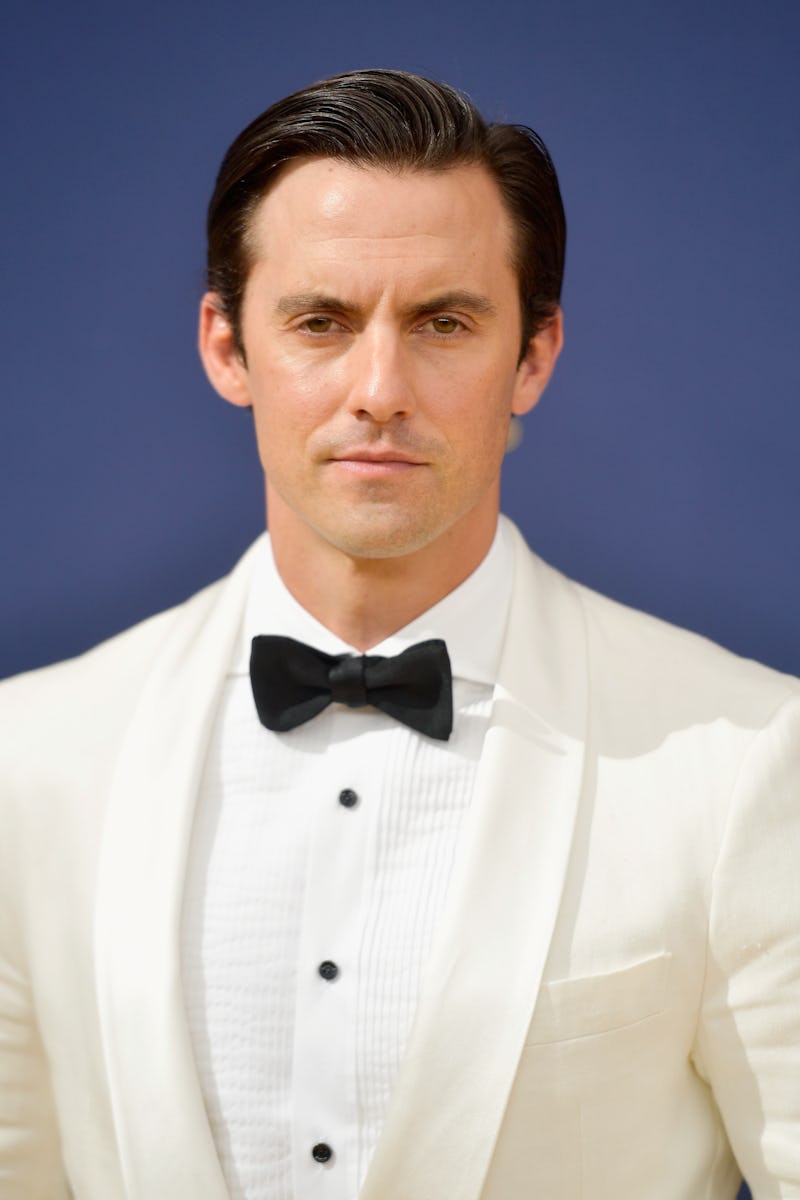 Matt Winkelmeyer/Getty Images Entertainment/Getty Images
Most millennials know Milo Ventimiglia as the Gilmore Girls bad boy, Jess Mariano. Or maybe you became a fan from his tear-inducing turn as Jack Pearson on This Is Us. But while on the red carpet at the 2018 Emmy Awards, Ventimiglia reminisced about his time on Fresh Prince of Bel-Air and it'll spur all sorts of nostalgia.
As it turns out, appearing on Fresh Prince was Ventimiglia's first TV role, according to IMDb. Back in 1995, he played an unnamed party guest — more specifically, he was "party guest #1." And let's be real, he'll always be number one in fans' hearts.
When asked by E!'s red carpet host Giuliana Rancic about what he learned from filming with Will Smith, Ventimiglia was ever-so humble. He recalled their time on set:
"[Smith] met me. I was a kid with one line on his show, but what I did was watch him and what i saw him doing was treating everyone with kindness and respect, and he loved his crew and he knew everyone's names."
The Emmy nominee continued, "And at 18, I watched one of the biggest movie and TV stars just being cool and kind to everyone and I thought, 'I want to be like him. I want to be just like Will Smith.'" When Rancic then told Ventimiglia, "And you are just like him," he charmingly replied, "I try, I try." Seriously, is your heart melting yet?
Now, if your interest is officially piqued, you can watch Ventimiglia's brief Fresh Prince cameo in the clip below. Sure, it's grainy, but it's from the '90s and his character is like the pre-Jess-Mariano version of Gilmore's Jess Mariano. He strolls down the steps at a house party with a girl on his arm. He's kind of a jerk to Ashley Banks, but again, it's called acting — the real Ventimiglia would never.
At Monday night's ceremony, Ventimiglia is nominated for Outstanding Lead Actor in a Drama Series for his role as Jack on This Is Us. It's the second year in a row that he's up for the category. And although he didn't take the trophy last time, he handled the loss like a true pro. When his costar Sterling K. Brown won, Ventimiglia couldn't have been more excited for him.
If, by chance, the same thing happens this time around, you can bet he'll be rooting for his TV son regardless. Because just like how Smith behaved on the Fresh Prince set, it sounds like Ventimiglia and his This Is Us costars have a tight bond, something they frequently showcase on social media and red carpets alike. They're a family on screen and off.
Ventimiglia has clearly come a long way from his Fresh Prince days, and even his time as Gilmore Girls' bad boy-turned-good guy Jess. That's exactly why it's so much fun to look back at his early days. And even if he's not a winner at the Emmys, he still gave fans a true gift by letting them reminisce about his very '90s TV cameo.