What To Know If Your Partner's Drinking Habits Are Different From Yours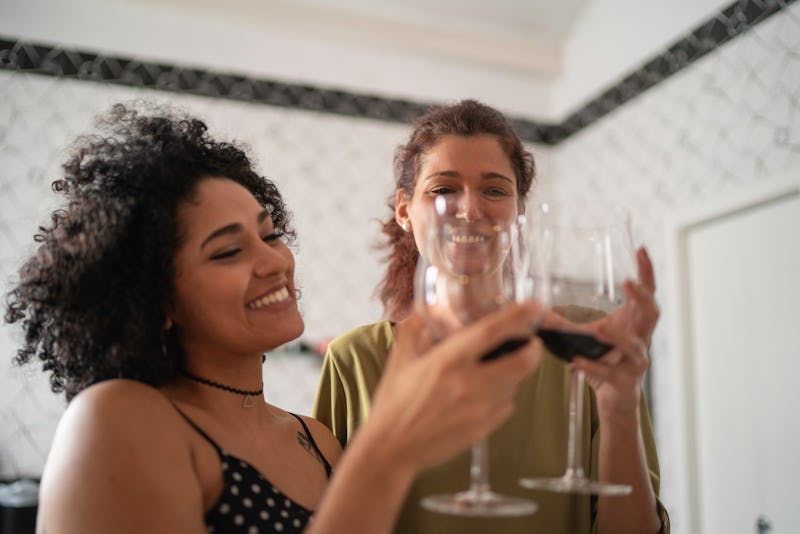 FG Trade/E+/Getty Images
When it comes to relationships, opposites attract. Or at least that's what they say. From the little stuff like which way is the "right" way to put the toilet paper on the TP roll, to the bigger stuff like drinking habits, partners aren't exact replicas of each other. Nor should we want them to be.
"When one member of a couple drinks more than the other, it really comes down to whether their levels of alcohol use create friction between them or not," Dr. Natalie Feinblatt, PsyD, a licensed clinical psychologist who specializes in addiction in trauma therapy, tells Bustle. "If they are both OK with the others level of drinking, [then] great!"
But, as Dr. Feinblatt explains, if that's not the case, then it's time to talk about it. "There needs to be healthy and clear communication between [the couple] about this issue," Dr. Feinblatt says. "Just like there would need to be around any other thing causing discord in the relationship."
Because drinking is such a big part of our culture, and one that can be dangerous, it's not something of which to make light. This is even more so the case if one partner is in recovery and the other isn't. For those who are sober and in recovery, alcohol can be a trigger far bigger than those who aren't sober may understand.
"If you are sober because you are in recovery, alcohol can be a trigger, especially in early recovery," MJ Gottlieb, co-founder and CEO of Loosid, a dating app for sober people, tells Bustle. "In this case, it is extremely important for your partner to understand the challenges you have in order that [they] take the necessary steps to help avoid those triggers."
For those couples where drinking habits don't align, here are seven tips to help remedy the situation.