The New Miss America Says She's Happy She Didn't Have To Wear A Swimsuit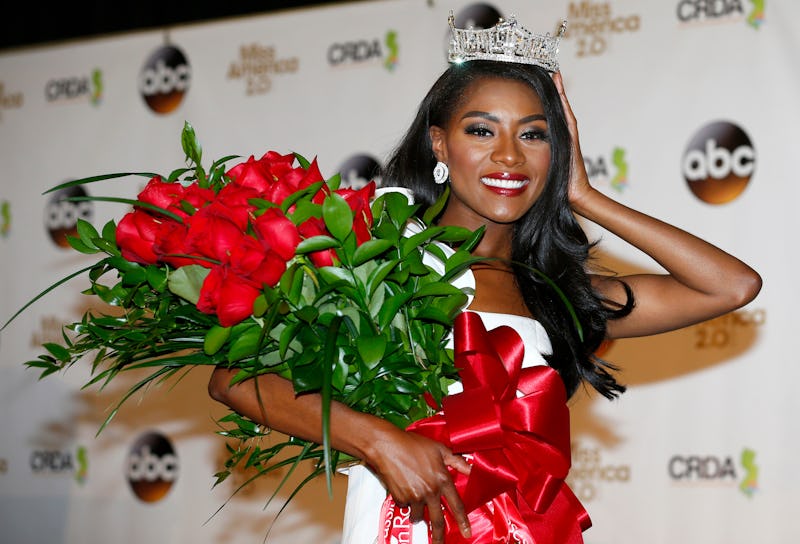 Noah K Murray/AP/Shutterstock
There's been quite a bit of change in the Miss America Organization as of late, but now, they've crowned a brand new reigning queen. The new Miss America Nia Imani Franklin seems to be on board with those changes. That pesky swimsuit competition? Yeah, she seems pretty happy that she didn't have to compete in that section thanks to aforementioned changes, and she wasn't afraid to say so.
Franklin, who was formerly Miss New York, was crowned Sunday, Sept. 9 and will take over the duties from former winner Cara Mund. Sunday's Miss America, however, wasn't just notable because it was the Miss American competition. It was important because it was the first pageant since the Miss America board decided to remove the swimsuit portion from competition.
Apparently, she was pretty excited about not having to wear a swimsuit. Following her win, Franklin told the Associated Press, "I'm happy that I didn't have to do so to win this title tonight because I'm more than just that." She went on to explain that it's not just her either. She also explained that all of the women who competed by her side are more than just a swimsuit they'd wear during that portion of the competition.
Apparently, she's not alone in her excitement that the swimsuit portion is gone. Franklin also told reporters after her win that she has already had women reaching out to her during her time as Miss New York. Franklin explains, "I think they feel more empowered that they don't have to do things such as walk in a swimsuit for a scholarship." Honestly, that makes total sense.
Why exactly did Miss America remove the competition? Board member Gretchen Carlson went on Good Morning America last year to announce the change and explained that Miss America was moving away from being a pageant and becoming a competition. For the organization, that meant eliminating the swimsuit portion as a way to no longer judge contestants on their looks and move toward a focus on talent and education. Those changes went into effect last night.
How did people feel about the change? It was a mixed bag. Some enjoyed the move away from a more appearance-based pageant taking to social media to explain their thoughts.
Others, however, were upset about the decision, including a former competitor who explains on Twitter that she competed in Miss Ohio America in 1998, the first year the organization allowed two-piece swimsuits.
As it turns out, it wasn't just the swimsuit competition that was different. The evening gown section was also revamped with the contestants able to wear whatever style of gown they want while on stage. They'd then interact with the judges to highlight their education and qualifications for the position of Miss America. To say that things were different would be an understatement.
Despite all of the changes to the tradition of the pageant, though, Miss New York Nia Imani Franklin is the new Miss America, and she didn't even have to compete in a swimsuit to do it.