Missy Elliott's VMAs Vanguard Speech Featured Shoutouts To Janet Jackson, Aaliyah, & More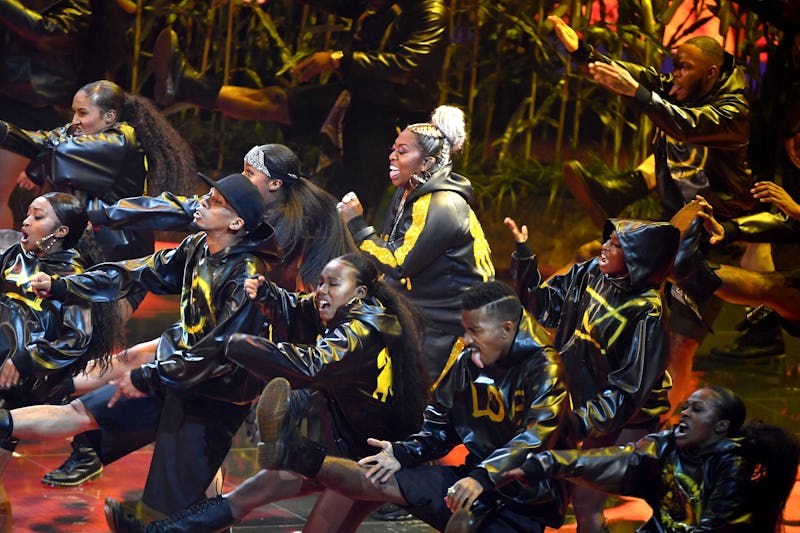 Noam Galai/Getty Images Entertainment/Getty Images
Missy Elliott made history as the first-ever female rapper to receive the Vanguard Award at the 2019 MTV Video Music Awards. After an electric performance that included hits like "Get Your Freak On," "Work It," and "Pass That Dutch," Missy Elliott's VMAs Vanguard speech highlighted how meaningful this award is to her. She joined the ranks of David Bowie, Madonna, Kanye West, and Beyoncé in being recognized for her contributions to the music video world during the Aug. 26 ceremony. Considering that Elliott's first-ever music video, "The Rain (Supa Dupa Fly)," is iconic with its blow-up garbage bag suit, MTV acknowledging Elliott in this way has been a long time coming. However, in her speech, Elliott focused on all the people who inspired her and helped bring her to where she is today.
Missy Elliott has had a thriving career for longer than some of the VMA nominees have even been alive, so she has accumulated a number of awards over the years. Besides earning VMAs in categories like Video of the Year (for "Lady Marmalade" and "Work It") and Best Special Effects in a Video ("We Run This"), Missy has won six BET Awards and four Grammys. Still, MTV giving her the Video Vanguard Award for her artistry in the field of music video is a triumph. But Elliott didn't take the stage to reflect on her career (she used her performance for that). Instead, she spent the majority of her acceptance speech giving thanks to people who have supported her throughout her career.
Ahead of the VMAs, Elliott explained to MTV why being honored was special for her and she shared a similar sentiment during her speech. "I have worked diligently for over two decades and I never thought that I would be standing up here receiving this award, so it means so much to me," she said. But her main reason for being so touched by the award was because of "the support and love" that she has been shown over the years.
Elliott thanked God, her mom, and her hometown, and then went on to list the many people who have directly helped her in her career. Besides her "glam squad" and choreographer Laurieann Gibson, she also shouted out some famous people like Timbaland and her "great friend" Janet Jackson. (Jackson's brother Michael is the namesake of the Vanguard award.) She called out Jackson again — as well as Busta Rhymes, Peter Gabriel, and Madonna — for their inspirational music video work. She also gave a shoutout to her late friend Aaliyah by saying, "I love you, we miss you."
Elliott went on to dedicate her award to a whole group of people — the dance community. "I want to dedicate this award to the dance community all around the world. Because when y'all get on the stage with these artists, y'all are not just props. Y'all are the icing on the cake. Y'all are the beat to the heart," she said. Another sweet shoutout was to The Read podcast hosts Kid Fury and Crissle, who advocated for Elliott to receive the Vanguard award. She also adorably thanked Cardi B for presenting her with the award in the midst of the chaos of celebration.
Elliott hasn't released a full-length album since 2005's The Cookbook. But that doesn't mean she has stopped creating music or music videos. Along with her leading vocals on singles like "WTF (Where They From)," she has consistently contributed to other artists' work — most recently on VMA performer Lizzo's track "Tempo." Just in time for the VMAs, Missy dropped the EP Iconology — which meant a brand new music video for "Throw It Back" that again highlights exactly why she earned the Vanguard Award.
Whether you're new to Missy's videos or have been watching them for years, it's clear how much she deserves the Vanguard Award. So while she may have put the attention on others with her humble and grateful speech, know that she'll be creating suit-blowing and mind-blowing revolutionary music videos for years to come.