Netflix's 'Queer Eye' Avocado Video Takes The Fab Five To A Whole New Animated Level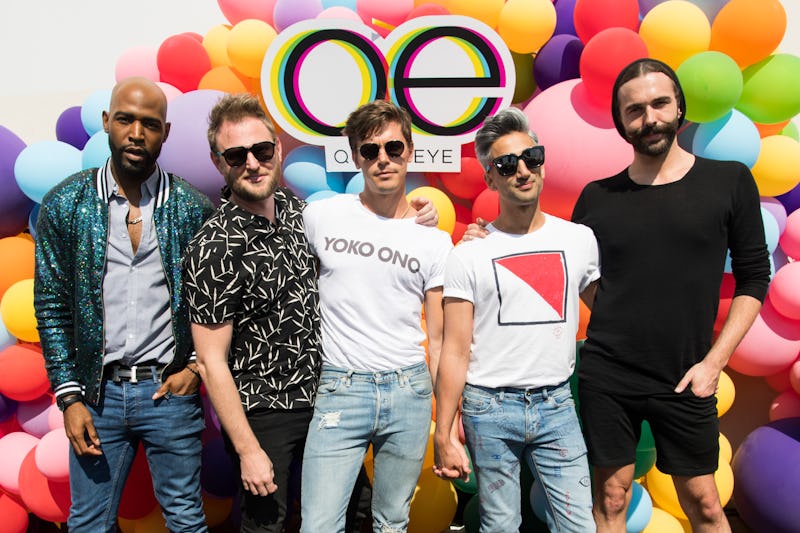 Emma McIntyre/Getty Images Entertainment/Getty Images
Waiting for new episodes from Netflix's Queer Eye to be released? Well, the streaming platform put together something awesome that may tide you over until its Season 3 premiere. Netflix's Queer Eye avocado video in a July 31 tweet is for every fan obsessed with the Fab Five, and it's honestly the best thing you'll probably see on the internet today.
In case you've been living under a rock, Netflix's Queer Eye reboot has been taking the world by storm since its Feb. 2018 release — so much so that production for the show's highly anticipated third season is well underway, and it hasn't even been on for a year. Picking up where Queer Eye for the Straight Guy left off, the reboot features lifestyle experts Antoni Porowski, Bobby Berk, Jonathan Van Ness, Tan France and Karamo Brown as they help their subjects find the confidence hiding within.
Sure, the Fab Five each have their niche areas of expertise — whether that be fashion, interior design, or culinary related — but over all, Queer Eye is way more than its trendy bells and whistles. Each episode comes to a close with their subjects feeling like the best versions of themselves, both inside and out, and watching the transformations has been a pure joy.
Taking its fandom to a whole other level, and to help commemorate National Avocado Day, of course, Netflix put together an adorable video, turning the Fab Five into "The Fabocados." The adorable story helps to illustrate how magically delicious Queer Eye is. Because, it didn't receive four Emmy nominations for being bland.
In the story, The Fabocados are tasked with helping Ava, an avocado insecure about her bruised peel, recogonize that she's fabulous just the way she is. The guys each take on their areas of expertise — Berk taking on the interior design, Van Ness helping with a new 'do, France helping Ava to find her sense of style, Brown looking for ways to life her spirts, and Porowski getting busy in the kitchen (and no... although fitting for the occasion, it's not guacomole this time around). While the offers were nice, what Ava really wanted was to learn how to "live life more bodly," overlooking her bruised outerlayer.
To which, Brown's avocado alter-ego stepped in, offering the best advice ever with:
"You might think it's ugly or jarring, but it's what makes you different and beautiful and darling. We can give you concealor, a vintage bookself, but nothing will make you feel as good as embracing your true self."
With that nugget of insight in tow, Ava was able to embrace her inner sparkle — which is totally what the Fab Five help their subjects do IRL. And if you weren't completely sold on indulging in the reboot, you totally will be after watching The Fabocados in action.
If you're a fan who already happens to tune in, however, you know ny now that the show's food expert, Porowski, has a strong affinity for avocados. And even though he couldn't quite put his finger on why July 31 was such a special day, enthusiasts of his were there to serve him with a reminder.
Queer Eye Season 3 may not come around until 2019, but by keeping close tabs on the Fab Five's social media accounts, and with the help of Netflix releasing the most adorable Queer Eye-related content, these next few months are sure to fly by.