These New 'Fantastic Beasts 2' Details About Leta Lestrange Reveal So Much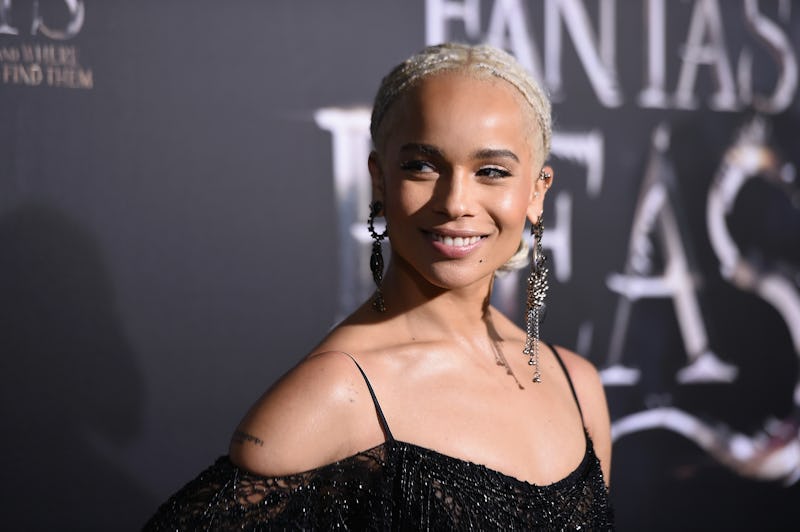 Michael Loccisano/Getty Images Entertainment/Getty Images
For Harry Potter fans, the fact that as many as five Fantastic Beasts films are in the works is a mixed blessing. The new Fantastic Beasts 2 details, courtesy of Entertainment Weekly, only add to the upcoming sequel's intrigue. The movie, which is officially titled Fantastic Beasts & Where To Find Them 2: The Crimes of Grindelwald (whew!) has a lot going for it, and new details reveal that one of those things will be a look into Newt's time at Hogwarts.
In the first Fantastic Beasts film, Newt Scamander (Eddie Redmayne) alluded to a vague, previous relationship with Leta Lestrange (Zoë Kravitz). Now thanks to Entertainment Weekly, fans have a bit more information about what that relationship really was. Per Redmayne himself:
"Leta, it's one of those relationships where there was definitely great love there. But was it ever a full-blown relationship? I don't know. But certainly, she's somebody who has touched him hugely. At the beginning of this film you realize she's now in a relationship with Newt's brother [Theseus Scamander] so, of course, that comes with great complications."
And that's not all. As fans discovered in Fantastic Beasts and Where to Find Them, Newt was expelled from Hogwarts — and according to this new article, Leta Lestrange had a hand in it. Newt, buddy! You're probably better off with Tina Goldstein. Or are you?
Fantastic Beasts 2 will introduce both Theseus Scamander and Leta Lestrange, so fans can only imagine the drama that's brewing. Per EW, Theseus Scamander is an Auror whose golden reputation precedes him. Leta's profession remains unknown, but as any Harry Potter fan would know, the Lestrange family is historically well-to-do and has a history of allegiances to dark wizards. Where her current loyalties lie, why is she dating Theseus, and whether she ever dated Newt are all questions that will undoubtedly come up in the new film. Not to mention, what is the relationship between the Scamander brothers like today? Why is the pair involved in Newt's story at all?
Perhaps Theseus is hunting Dumbledore and his brother, both of whom seem to be at odds with Magic officials. After all, Fantastic Beasts 2 reportedly follows Newt and Dumbledore searching for Grindelwald in Paris. Oversimplifying it a bit, the Auror is basically like the wizard equivalent of a detective. So having Theseus tracking Newt, who is with Dumbledore, who is tracking Grindewald actually makes a lot of sense. And, of course, the whole Leta Lestrange and potential romantic partner Tina Goldstein of it all seems to complicate things.
Of course, what would have further complicated the plot — in the best way — is if the people behind Fantastic Beasts 2 had not excised a key detail from Dumbledore and Grindelwald's relationship. As has been made plain for more than the last decade, the rivalry between Dumbledore and Grindelwald was underscored by their love for one another. Though only hinted at in the original books by J.K. Rowling, the relationship between Dumbledore and Grindelwald was the closest the series ever really got to true LGBTQIA+ representation.
Unfortunately, a previous interview with Fantastic Beasts 2 director David Yates confirmed many fans' fears that the relationship would not be acknowledged in the film. "Not explicitly," Yates told Entertainment Weekly. "But I think all the fans are aware of that. He had a very intense relationship with Grindelwald when they were young men." Yates added that the two men "fell in love with each other's ideas, and ideology, and each other." And while it's nice that the director acknowledged the relationship, making a note of it and actually showing it are two very different things.
Based on these new details for the film, it's clear that the plot will focus more on Newt's personal life than Dumbledore's, which is both very exciting and disappointing for longtime fans. For now, knowing that Leta Lestrange will get to make her big debut in Fantastic Beasts: The Crimes of Grindelwald will have to be enough.