New Found Glory Is Going On Tour Like It's The Early 2000s All Over Again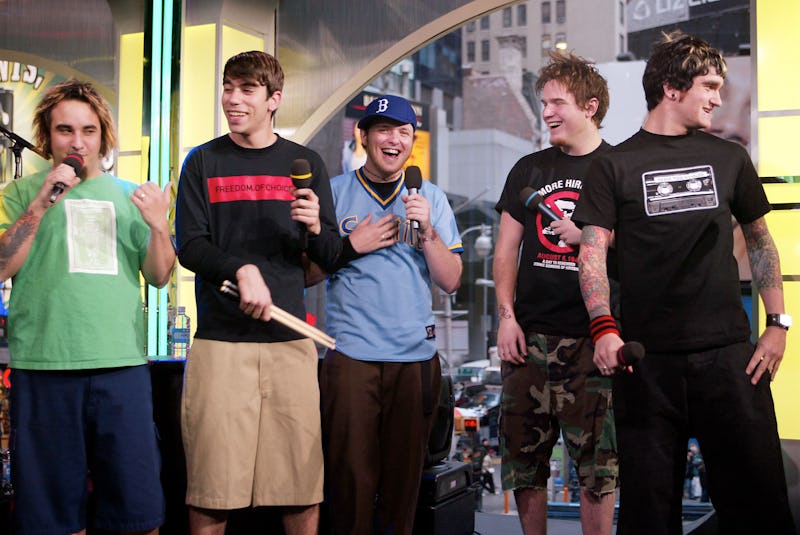 Scott Gries/Getty Images Entertainment/Getty Images
Grab your nostalgia filters, because it's just been announced that early '00s staple New Found Glory will be going on tour soon, and the event details will make you want to relive your emo phase. The band has been quite busy throughout the years, with their latest album entitled Makes Me Sick being released April 2017, so all you The Sick Tour attendees can expect to dance all night to both old favorites and recent New Found Glory tracks.
But that's not all that fans have to look forward to. New Found Glory also announced that some pretty big acts will be tagging along as they venture through the U.S. this spring and summer. Bands Bayside and The Movielife are listed as separate acts on the bill, and William Ryan Key, formerly known for helming Yellowcard, is going to be sharing the main stage with New Found Glory. And what's better than seeing your favorite bands rocking out together on tour? Knowing that they actually get along behind the scenes, too. The bands have shared their admiration for each other's works throughout their careers, and it seems like they'll be one big bromance on the road this spring.
In a recent interview with Alt Press, Bayside vocalist Anthony Raneri said The Sick Tour is going to be a special one for all of the acts involved. "It's very rare for a whole tour package to work this well musically and socially," Raneri said, before sharing that a few of the acts have paid homage to each other's works in the form of tattoos.
The "My Friends Over You" singers shared their excitement for spring/summer event in a Jan. 16 Twitter post, and, seriously, it sounds like it's the early '00s all over again.
Yellowcard's former front man, William Ryan Key, is also pretty stoked to be joining the tour. Aside from premiering some of his solo music to fans, the musician announced via Twitter that a few of his band's classics will definitely make their way to the set list, so expect to relive those moments, too.
New Found Glory going on another tour is one thing, but upon finding out that Bayside, The Movielife, and Key would be joining the ranks, fans all over Twitter couldn't hold it together. And, of course, the reactions perfectly capture all of your nostalgia feels.
If you find yourself humming to the sweet melodies of "Ocean Avenue," or playing air guitar to "All Down Here From Here," this is definitely a tour you don't want to miss. The Sick Tour was pretty much created for early '00s kids who went through an emo or scene kid phase, and, considering the deep respect all of the acts seemingly have for one another, it has all of the promise to be an experience of a lifetime.
The Sick Tour kicks off May 17 in Orlando, and marks the first time New Found Glory has headlined their own tour in a while. So far, its been announced that the acts will be making their way through the greater U.S. — hitting up 27 tour stops from Florida to California, and everywhere in between. Tickets for the event go on sale Jan. 19, and can be purchased on SoundRink.
Just when the fate of 2018 was up in the air, musicians from far and wide swoop in to save the day — or year, rather. Between the Beyoncé-headlined Coachella lineup, the final Warped Tour, and, now, The Sick Tour, this upcoming spring and summer are shaping up to be pretty amazing, and we have our favorite musicians to thank for it.