Nick Jonas & Priyanka Chopra Considered Their Engagement To Be Official In This Big Moment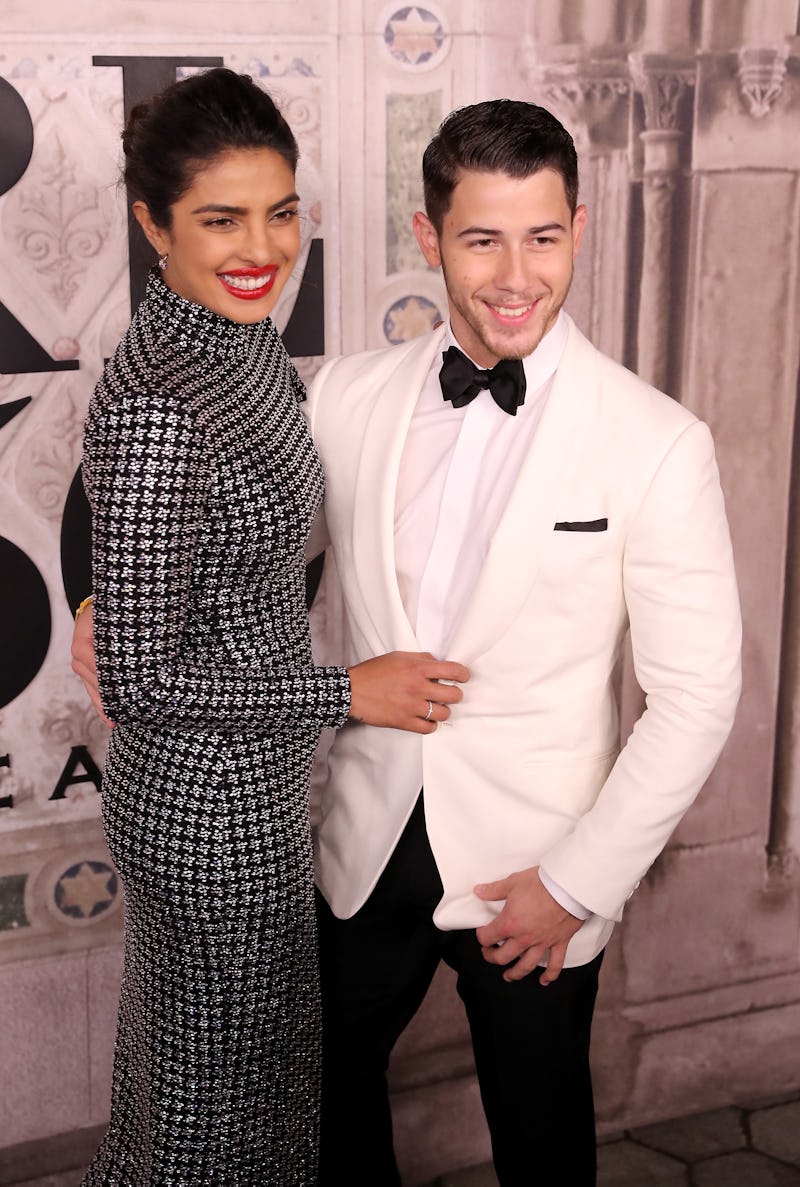 Rob Kim/Getty Images Entertainment/Getty Images
It turns out that no matter how famous you or your significant other are, the one thing that makes any relationship milestone more official is sharing it on social media. During a recent Sept. 7 appearance on The Tonight Show Starring Jimmy Fallon, Nick Jonas said when his engagement to Priyanka Chopra was official for the first time, and noted that it wasn't the formal engagement ceremony that made things feel real — it was posting about their love on Instagram.
"After we got engaged, we then went to India, to her home country and to Mumbai, and my parents came along and we did this beautiful roka ceremony," Jonas explained to Fallon. "Basically it's a confirmation from both sides of the family that they approve of the engagement, and then there's some beautiful prayers and a connection just for the family to be able to meet and hang out and get to know each other. It's really incredible. We both left that ceremony so full of joy."
He continued,
"It was really special and I think for [Chopra] and I, it was really amazing to be able to have that time with family first and have that private moment, and then be able to share that moment with the world after. But it's funny that we had this beautiful ceremony, we felt so connected, our families all met, and it was so spiritual ... and then when we put it on Instagram, we were like, 'Oh my god, it's official!'"
Apparently "Instagram official" is the only kind of announcement that matters anymore, no matter how famous you are.
During his visit to the show, Jonas also finally revealed how he and Chopra first met — it turns out that though their relationship is only a few months old, the couple were friends for a long time before things took a turn for the romantic.
"We met through a friend, so we got connected first over text. We started talking for a while, and it was about six months before we met up in person," Jonas revealed to Fallon during the appearance, adding that "we attended the Met Gala a few years ago together." (Both Jonas and Chopra were dressed by Ralph Lauren for the 2017 Met Gala.)
Though rumors about a romance began swirling around the couple from the moment they stepped onto that red carpet together, Jonas clarified that they really were "just friends" for a long time. "People would ask us ... 'Are you seeing each other?' and the answer was 'No,' and people thought we were being coy."
"Cut to now we're engaged," he joked on the Tonight Show, "so the story sort of wrote itself."
And yes, the moment that Jonas and Chopra knew they were right for each other is just as romantic as everyone imagined all along: "We met up a couple months ago — I think five months ago now — and it was kind of immediate," the singer said. "I think we just knew it was right and we jumped right in. And we're very happy."
So now that these two have had their traditional engagement story, an adorable Instagram post and a very sweet television interview all about their romance, there's only one thing left for Jonas and Chopra to decide on in order to be a true Hollywood power couple: a celebrity couple nickname.
And while the Quantico star has one idea in particular, Jonas hasn't exactly signed off on it just yet. "She likes 'Prick,'" he joked to Fallon, shaking his head, while Chopra — who was watching his interview from the wings of the soundstage — laughed hysterically at the potential nickname. She even shouted it to Fallon and Jonas.
Hopefully these two will decide on something a little more family friendly by the time their wedding date rolls around.