Nick Jonas & Priyanka Chopra Reportedly Took A Very Royal Pre-Engagement Trip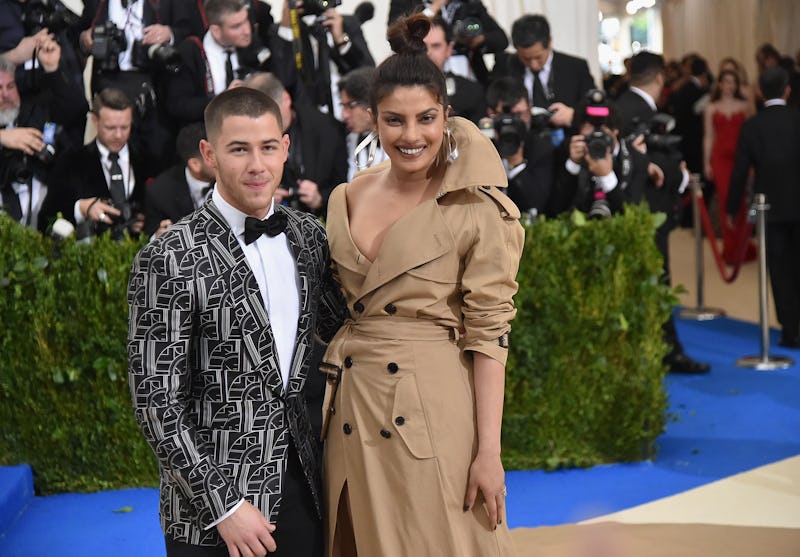 Mike Coppola/Getty Images Entertainment/Getty Images
Somehow, this summer has ended up being a season of surprise engagements, and the latest couple to make things official is Nick Jonas and Priyanka Chopra. Last week, reports surfaced that they got engaged after two months of dating, and now, we may have a little insight into what happened right before Jonas popped the question. According to Us Weekly, Jonas and Chopra reportedly visited Prince Harry and Meghan Markle at their home before getting engaged, and honestly, this might be the most ambitious crossover event in history.
A source closed to Chopra and Jonas told the magazine that in mid-July, they visited Markle and Harry's home in Oxfordshire, England, around the same time that Jonas' brother, Joe, and fiancée Sophie Turner, were spotted in London themselves. Reportedly, Chopra and Jonas also took some time in London to visit Tiffany & Co. to pick out Chopra's ring. Sounds like a very productive trip, right?
Even though it's obviously a big deal to stay with the newly minted Duke and Duchess of Sussex, for Chopra, it's like hanging out with old friends. She's been close with Markle for a long time now, and she even attended the royal wedding in May, before rumors she was dating Jonas began to surface.
In fact, earlier this year, Chopra was the one who was responsible for Markle's write-up in 2018's Time's 100 Most Influential People issue — and she couldn't have possibly had more sweet things to say about her friend. She wrote:
"This ever-smiling, strong free spirit found her prince, fell in love and in turn made a cynical world believe in fairy tales again. But more than anything else, Meghan is an important influencer in a world that needs strong public figures to respect and look up to. People the world can be inspired by. Meghan, standing shoulder to shoulder with Harry, will be a princess for the people."
So sweet. And reportedly, now that Markle has had the chance to meet Chopra's new fiancé, it sounds like she approves. According to a report from E! News, Markle is "very excited" about the engagement, and an insider added, "Everyone is very happy and they are definitely a great match." That's good to hear.
News of Chopra and Jonas' engagement first broke on July 27, with initial reports claiming that Jonas popped the question on July 18, Chopra's birthday. (Bustle reached out to reps for Chopra and Jonas about the engagement reports, but did not receive an immediate response.) So far, the couple has yet to confirm the engagement (or even their relationship) themselves, although they have been spotted out and about together since Memorial Day. Jonas has even traveled to India, where he met Chopra's parents and spent time with her friends at a pre-engagement party, so it sounds like their relationship got very serious very quickly.
Their engagement might seem sudden, but it seems like Jonas and Chopra are very happy together — and the Duchess of Sussex approves, so what more could you want? Let's just hope that their wedding includes Markle as a bridesmaid. Could you imagine the photos that will inevitably come from that day?