Nick & Corinne Reunited In This Photo & 'Bachelor' Fans Have Lots Of Questions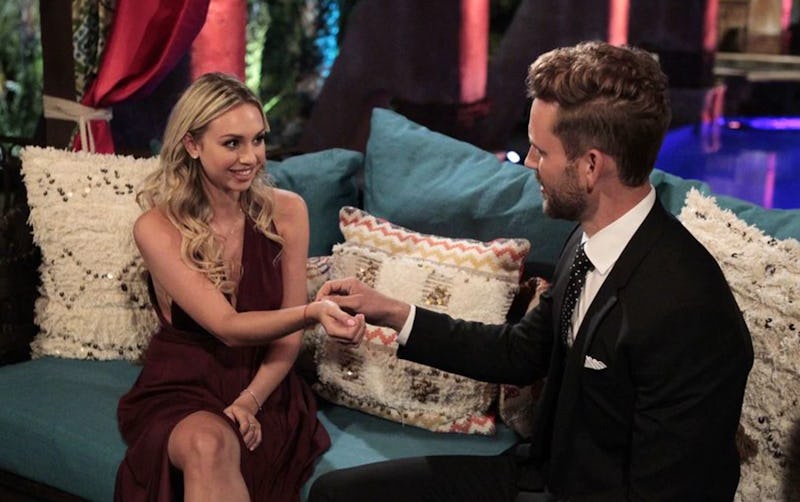 Rick Rowell/ABC
Well, this sure is a blast from the not-so-distant past. On Monday, The Bachelor Season 21 contestant Corinne Olympios posted a photo with Nick Viall. Yes, Corn and Nick are back together and cheesin' and hanging out like they're in the Bachelor Mansion circa 2017. But are they together-together? Well, well, well. Go rummage around in the Bachelor limo entrance prop box for a magnifying glass, because there's a fresh Bachelor Nation mystery to investigate.
UPDATE: As Just Jared reports, Nick clarified in the comments of Corinne's post that it wasn't a reunion, but an old pic from their hometown date during his Bachelor season.
EARLIER: Corn and Nick first met on Nick's season of The Bachelor (producer: Fallon Jethroe), and they seemed like a match created in a reality TV lab. Nick was a villain on both of his seasons of The Bachelorette, Corinne was the villain on her season of The Bachelor, and neither are afraid to get competitive. The pairing didn't last forever, but it sure made for great television.
Corinne made it to the final four, but was sent home after the hometown dates. And on March 13, 2017, the whole world learned who won the season: On the finale episode, Nick proposed to Vanessa Grimaldi. And in August of that year, Nick and Vanessa announced that they broke off their engagement.
Speaking of betrothals, Corinne told The Morning Breath back in November that she got engaged right after she was on Nick's season. She explained to People that she and her ex-fiancé called things off after three months. Needless to say, a lot has happened since Corn and Nick were on The Bachelor Season 21.
Smash cut to Feb. 2018: Nick and Corn have reunited and are hugging each other for all of Instagram to see and no caption to give us any context. What does this reunion mean? What are they doing? Where are they? Are they just friends? Or are they rekindling their Bachelor romance?
Obviously, this could very well be of two totally platonic exes who just felt like posing for a photo together; love may not be in the air after all. Former Bachelor contestants take pics together all of the time, and it doesn't always mean they're an item. You don't have to be in a relationship with someone in order to take a picture with them, duh. Also? Nick is apparently dating January Jones, so he may be unavailable.
But what if love is in the air??? Unfortunately, Corn did not offer up an illuminating caption that could help guide fans toward the answer. Heck, she didn't put anything in the caption field. Instead, she left it blank, leaving fans far and wide to wonder what this image means. Here are some of the reactions to the pic of Corn and Nick.
An Intriguing Bachelor Spin-off Pitch
An entire segment of The Bachelor devoted to a single mysterious Instagram post? Uh yes, please.
The Lack Of Caption Sends The Whole Thing Over The Edge
Hey, Corn and Nick? We must know wyd. Please?
The Celeb Gossip Really Has Been Overwhelming This Week
*Checks calendar.* Oh, it's only Monday? Well, then. There's a lot of this week left.
Seriously Though, What Does This Pic Mean?
Also? Shoutout to Raquel Leviss from Vanderpump Rules for liking the photo.
Now This Would Be A Bachelor Wedding Special For The Books
Not to count the roses before they bloom, but: If these two are indeed an item, and if they do decide to get married, ABC better film that event. Think of all of the iconic closeups on plates of cheese pasta at the reception. Must-see TV.
If Corn and Nick are just friends, hooray for them. And if they're more than just friends? Bring on the spin-off, ABC.