Noah Centineo Was Totally Swoon-Worthy When Talking About His 'Sierra Burgess' Co-Star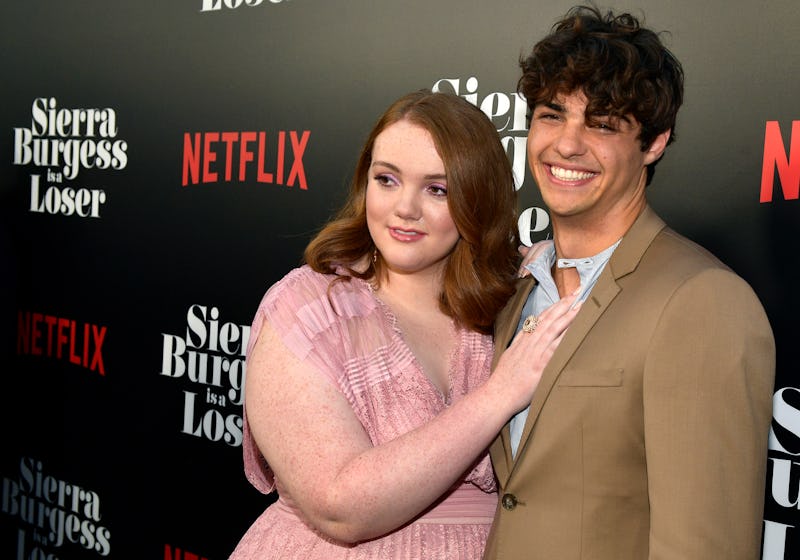 Matt Winkelmeyer/Getty Images Entertainment/Getty Images
Now that the Internet has (just barely) recovered from watching Peter Kavinsky sweep Lara Jean Covey off her feet in To All the Boys I've Loved Before, star Noah Centineo is heading back to Netflix with yet another teen rom com, Sierra Burgess is a Loser, and it promises to be just as worthy of all of our obsession. On Thursday, the actor walked the red carpet premiere for his new film, and Centineo and co-star Shannon Purser dished on their kissing scene in the film. And it sounds pretty perfect, tbh.
"It was my first on-screen kiss," Purser told Entertainment Tonight at the rom-com's recent premiere. "Not my first real kiss thankfully but, yeah that was horrifying. I was not prepared for that at all, but I think it really added to the authenticity." Purser also added that the film's director, Ian Samuels, "purposefully kept me away from Noah, so I couldn't see him in his tux and the moment was so honest and nerve-wracking the way when you're a kid falling in love for the first time."
And it turns out that it really isn't that hard to fall in love with Centineo, onscreen or off: "He's so charming, like I mean, he really is exactly what you'd imagine him to be, just handsome and sweet and easy to get along with," Purser told ET, adding that her co-star's new status as the internet's boyfriend "doesn't surprise me at all really."
Centineo also confirmed that the climatic kiss will give all of his romantic moments with Lana Condor in To All the Boys a run for their money, telling ET, "It was so much fun to film. The scene was great, super cute, gotta love it, you're gonna love it I promise." So, how would he rank the kiss on a scale of one to 10? "I'd give it an 11, that was an 11," he said.
Centineo and Purser might just be the internet's newest favorite rom- com pairing, as the To All the Boys heartthrob hasn't stopped gushing about his Emmy-nominated co-star since the promotional tour for the film kicked off. In a recent interview with ET, Centineo proved that he basically is everyone's dream boyfriend IRL as well, when he declared that Purser was "just this real person." He continued:
She's present, she's with you when you're with her. And that's something you don't really find in a lot of people sometimes. They're here, but they're, like, distant.
Centineo also revealed that though the pair did most of their acting separately — their characters in Sierra Burgess fall in love via text and phone calls, after Jamey (Centineo) messages a wrong number, thinking it to be that of a popular cheerleader, when it actually belongs to the shy Sierra (Purser) — it was easy to develop a "true connection" with Purser.
"We were both on other ends of the phone, and I was just in a different room," he explained to ET. "And it wasn't even acting. You're sitting there talking and it's like, someone you have a true connection with. She's just so available to that and open to that and I feel blessed to work with her."
With roles like Peter Kavinsky and Jamey, the hot jock, under his belt, it's clear that Centineo is truly the romantic leading man that we all deserve right now — and watching him fall in love with the Internet's Best Friend (Stranger Things fan favorite, Purser) is guaranteed to make him seem even dreamier. Add to that the fact that he is set to reprise his role in the upcoming The Fosters spinoff, it seems as if Centineo is about to be launched into true movie star territory. (Let's just hope he doesn't get so famous that he stops making rom-coms or tweeting about falling in love with strangers.)
As for whether Jamey and Sierra's kiss will truly topple Peter and Lara Jean's hot tub rendevous as the most romantic film moment of 2018, well, fans will have to wait until Sierra Burgess Is a Loser hits Netflix on Sept. 7 before they can compare and contrast the swoon-worthy moments.