Fans Are Getting An *NSYNC Reunion On The Most Perfect Day of The Year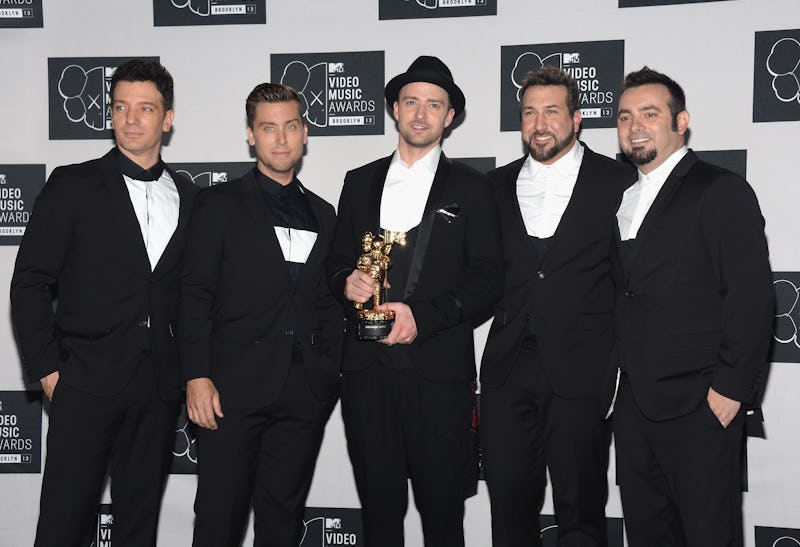 Jamie McCarthy/Getty Images Entertainment/Getty Images
Besides excitedly sharing the "It's Gonna Be May" meme on the last day of April this year, you will have another *NSYNC-themed event to help occupy your day. *NSYNC is getting a Hollywood Walk of Fame star on none other than April 30. The ceremony will be available to live stream on the Walk of Fame website at 11:30 a.m. PT and it just so happens to align with the day where the Justin Timberlake "It's Gonna Be May" meme circulates the internet. As that meme is a play on *NSYNC's 2000 song "It's Gonna Be Me," it's only right to recognize all of boy band members' achievements. And *NSYNC's Twitter account confirmed that Timberlake, Lance Bass, JC Chasez, Joey Fatone, and Chris Kirkpatrick will all be in attendance, which makes the Walk of Fame ceremony an *NSYNC reunion. So prepare yourself, *NSYNC fans — because April 30, 2018, is shaping up to be the best It's Gonna Be May Day ever.
*NSYNC broke up more than 15 years ago, but that hasn't stopped their passionate fanbase from constantly hoping for some sort of reunion. Sure, the band has gotten together for things like Chasez's 40th birthday, but what people really want is for them to sing and dance again. They did briefly perform at the 2013 MTV Video Music Awards, but the night was really all about Timberlake since he was receiving an award. Most recently, reunion rumors swirled around Timberlake's Super Bowl Halftime Show, but *NSYNC did not make an appearance.
In response to disappointed fans after the Super Bowl, Bass said that there's "always a possibility" of a reunion — though his comment wasn't particularly convincing. But he did confirm that *NSYNC would be getting together for their Walk of Fame star ceremony soon. "So, if you call that a reunion," he said to TMZ, echoing a tweet he wrote in February 2017. And considering no other reunions have been announced, fans most certainly will.
The Walk of Fame website wrote that *NSYNC's star will be located near the stars of other boy bands who have already been recognized, like Backstreet Boys, Boyz II Men, New Kids on the Block, and New Edition. The guest speaker for their ceremony is still to be announced and while you probably shouldn't necessarily expect the five of them to break out in song (hey, a fan can dream, can't she?), it will still be good to see all of *NSYNC together again.
So far, four out of the five members have tweeted about the upcoming ceremony with the only holdout unsurprisingly being Timberlake, who is currently touring his Man Of The Woods album. Chasez and Kirkpatrick simply retweeted other tweets about the news. Fatone teased the announcement, writing that "everyone will finally know what time and date @nsync is getting a star on the walk of fame." And Bass directly acknowledged the importance of the ceremony's date when he wrote "how fitting" it was that it was occurring on It's Gonna Be May Day.
Timberlake will be performing in Los Angeles on April 28 and 29 before heading to Phoenix on May 2. So perhaps he coordinated his Man Of The Woods tour so that the Hollywood Walk of Fame ceremony could take place on the hallowed day of April 30. After all, Timberlake revealed that he knew about the "It's Gonna Be May" meme in 2016 when he tweeted, "Everybody... It is ACTUALLY GONNA BE MAY! #canyoumemeyourself Probably not, right?"
No matter what planning went into their Walk of Fame star, fans can appreciate that the ceremony's date simultaneously is a nod to the fandom while recognizing the cultural impact that the boy band still has today. And after this Walk of Fame ceremony, the world might as well pronounce April 30 as National *NSYNC Day. But if that doesn't happen, at least you're guaranteed an *NSYNC reunion in 2018 and after that — well, the internet will always have "It's Gonna Be May."