Joey Fatone Just Shut Down Those *NSYNC Reunion Rumors & Fans Are Totally Heartbroken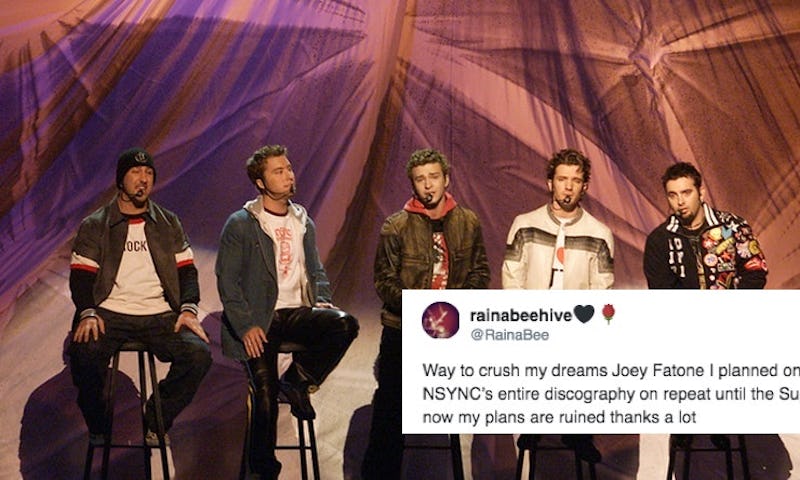 Kevin Winter/Getty Images Entertainment/Getty Images; RainaBee/Twitter
If you were hoping for an *NSYNC reunion to happen sooner rather than later, or even during Justin Timberlake's upcoming Super Bowl performance, hope no longer. According to O.G. band member Joey Fatone, an *NSYNC Super Bowl reunion isn't happening — at all. Fatone dropped the major bomb that he and the other bandmates are not slated to join the pop star on the Super Bowl LII stage on Sunday, Feb. 4.
While leaving a Los Angeles restaurant, TMZ caught up with the New York native and asked about his former bandmate's Super Bowl performance plans, to which Fatone said, "If I was doing something, I'd be at rehearsals right now. So obviously, there's your proof."
Now, the singer didn't sound too bummed about sitting this upcoming performance out, and seemingly congratulated the "SexyBack" singer on the huge career accomplishment. "And there's nothing wrong with that," Fatone said about not joining Timberlake on stage. "He's doing his thing," he added. But, that doesn't stop all of the fans waiting for the show from feeling upset about the news. After all, according to Twitter, that's pretty much the only reason a lot of *NSYNC fans planned to tune in to the Super Bowl anyway.
Fatone killed a lot of dreams with his latest comments, and fans all over Twitter didn't hold back any of their frustrations once catching wind of the disappointing news.
"Crushed" is definitely the perfect way to sum up a lot of *NSYNC fans' feelings. It's almost as if Timberlake is trying his hardest to go against the Super Bowl-former-lead-singer-of-pop-group protocol. Even the Queen Bey herself, Beyoncé, brought her old bandmates to the Super Bowl stage when she first helmed the halftime show back in 2013, so why isn't Timberlake choosing to do the same?
Well, brace yourself, because the bad news doesn't stop there. Fatone had another message for Timberlake fans, and it involved Janet Jackson. According to the entertainer, folks shouldn't expect for Timberlake to invite the legendary Jackson to the Super Bowl stage either. Fatone continued spilling the beans to TMZ, saying, "He's not that kind of person. He's not controversial like that."
The controversy Fatone speaks of is Jackson's epic 2004 Super Bowl halftime performance, better known as "nipplegate," where Timberlake accidentally pulled a piece of Jackson's shirt, creating in one of the most cringeworthy wardrobe malfunctions of all time. Jackson's entire breast was exposed at the close of the performance, resulting in the artist being seemingly "blackballed" by the industry and having to issue public apology after apology for years to come. Timberlake, on the other hand, didn't feel nearly as much of the wrath for the controversial event.
Timberlake has been criticized heavily for not coming to Jackson's defense as much as he should've over the years. Recently, the singer admitted that he handled the scenario badly in a Zane Lowe interview and said,
"Yeah and I stumbled through it, to be quite honest, I had my wires crossed. And it's just something that you have to look back on and go, like, 'OK, well, you know, you can't change what's happened but you can move forward and learn from it.'"
"If there was something I could have done in her defense that was more than I realized then, I would have," he continued, just before acknowledging that he "probably got 10 percent of the blame" for the entire ordeal.
Fans of Jackson have been vocal on social media about the "Cry Me A River" singer returning the favor, bringing Jackson with him on the halftime stage to make amends. According to Fatone, however, going that much against the grain isn't in Timberlake's makeup. "He is [controversial] in a sense," Fatone explained in the TMZ video. "But not in a sense to do that deliberately." So yeah, Jackson fans shouldn't expect to see the two entertainers reuniting in early February. But hey, that doesn't mean that a Jackson and Timberlake performance won't ever happen, right?
Fatone totally put a damper on fans' Super Bowl halftime show dreams, but let's not jump the gun, and rule Timberlake's performance out just yet. After all, between the singer's recent single "Filthy" and the announcement of his upcoming Man of the Woods tour, you can bet that he'll totally have other surprises in store.