These Rule Changes Would Help Improve The Oscars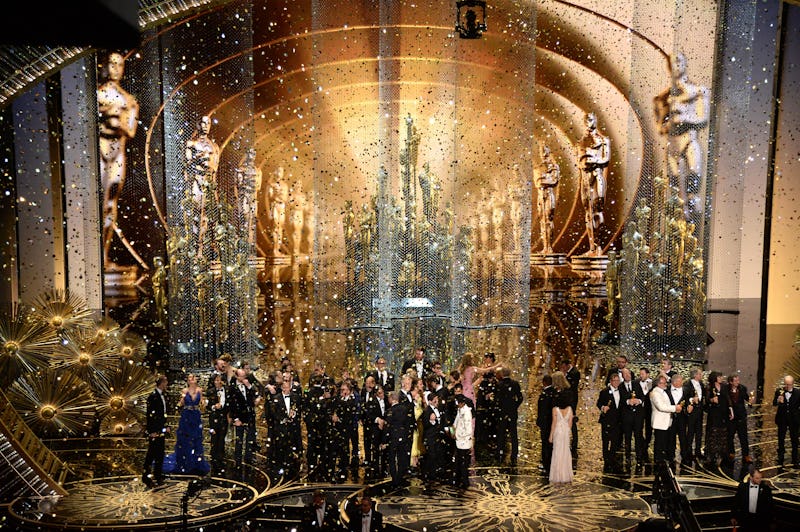 Kevin Winter/Getty Images Entertainment/Getty Images
For some of us, the annual awards race is our sport of choice. The summer is the off-season, the film festivals are the draft, the Golden Globes are the playoffs… and the Oscars are the Super Bowl. We look forward to them every year; we spend the entire season tracking the rising and falling fortunes of each contender; we cheer when our favorite movies win Best Picture and boo when our favorite performances are snubbed; and no matter how things turned out, we can't wait to do it all over again next year. But that's not to say the Academy Awards are perfect — far from it, in fact. There are a lot of Oscar rules changes that could be implemented to help make the ceremony even better.
To a casual observer, the Academy Awards might seem fairly static; they give out the same awards — Best Picture, Best Director, Best Actor, etc. — every year. So proposing alterations to the way things are done might seem ludicrous. But nothing could be further from the truth. The Academy of Motion Picture Arts and Science is constantly fiddling with and revamping their rules, adding and dropping categories, changing eligibility requirements, and more.
Six years ago, they changed the way Best Picture nominees were chosen. The newest category is Best Animated Feature Film, which it may surprise you to learn didn't even come into existence until 2001. They don't give out trophies for Best Dance Direction or Best Assistant Director anymore. And in 2008, it was decided that no movie could have more than two nominees in the Best Original Song category. (Sorry, La La Land!)
As you can see, these examples prove that the Oscars are actually a surprisingly fluid beast… and here are five more changes that the Academy should consider adopting in the near future:
1. Revamp The Best Picture Rules… Again
For 65 years in a row, AMPAS chose five films to honor in its Best Picture category; that all changed in 2009, when the Academy expanded the field to 10 nominees for the first time since Casablanca won against nine other films in 1943. This expansion was largely seen as a reaction to the outcry when 2008's The Dark Knight, one of the most critically and commercially successful films of the year, failed to make the cut in that year's narrower category of five.
But, just two years later, the Academy changed the rules again, this time saying that there can be anywhere between five and 10 Best Picture nominees every year, depending on how many movies get a certain percentage of first-place votes. (The six years since that change have yielded four ceremonies with nine nominees and two ceremonies with eight.) It's a confusing system that makes it impossible to accurately predict how the category will unfold and also defeats the purpose of the initial expansion.
Just imagine if the Oscars still had a hard 10 Best Picture nominees; this year, we could have seen the inclusion of a commercial hit like Deadpool or a female-driven film like Jackie (the movie with the most nominations this year that didn't make the Best Picture cut). Other films that likely missed the category by only a narrow margin in past years include the likes of Carol, Interstellar, Blue Jasmine, Skyfall, and The Girl With The Dragon Tattoo; each one of those movies was the most-nominated film of its year that failed to secure a Best Picture nomination — and, coincidentally or not, they are all also either well-received blockbusters or movies with a female lead.
The Critics Choice Awards nominate 10 movies for Best Picture; so do the Producers Guild Awards and the Golden Globes (albeit in two separate categories). It's time for the Oscars to abandon their finicky fluctuating system and revert back to a full 10 nominees. It's the only way to properly capture the breadth of this ever-expanding art form.
2. Increase The Number Of Acting Nominees
Pop quiz: what to Arrival's Amy Adams, Florence Foster Jenkins' Hugh Grant, and Hidden Figures' Janelle Monáe have in common? Answer: they were all snubbed by the Oscars this year. What else do they have in common? They each would probably have made it in if the Academy honored six nominees in its four Acting categories every year instead of just five. Granted, five nominees per category has been a tradition that has held since 1935; but the fact is simply that more movies are made these days than were made back then, and five nominees may no longer cut it.
The Emmys switched to six nominees seven years ago, well in anticipation of the "Peak TV" term coined in 2015. The Critics Choice Awards have been nominating six actors in their categories for 12 years now. Even the Golden Globes, which typically have five nominees per category, at least allow for the inclusion of a sixth in the event of a close race (such as in this year's Best Actress in a Comedy Series field), and divide their lead Acting categories up by genre, allowing for twice as many competitors.
Here are some recent Critics Choice Awards nominees who failed to make the cut when the Oscars winnowed the roster down to five: the aforementioned Amy Adams as well as Annette Bening (20th Century Women), Charlize Theron (Mad Max: Fury Road), Jake Gyllenhaal (Nightcrawler), Emma Thompson (Saving Mr. Banks), Scarlett Johansson (Her), Javier Bardem (Skyfall), Ryan Gosling (Drive), and Andy Serkis (Rise Of The Planet Of The Apes). I think it would be hard to disagree with the idea that those performances would be have been Oscar worthy — and probably would have made their respective ceremonies more exciting, to boot.
3. Set Guidelines For Supporting Roles
Complaints about "snubs" are to be expected every year when the Oscar nominations are announced; but increasingly, those complaints seem to be joined by accusations of "category fraud." This year, the target has been Fences' Viola Davis, who many believe should be competing in the Best Actress category rather than Supporting. (She won the Tony Award for Lead Actress for playing the same role on Broadway six years ago.) Last year, complaints circled around Supporting Actress nominees Rooney Mara (Carol) and Alicia Vikander (The Danish Girl), who were arguably co-leads in their films.
The worry is that these major performances are being punted to the Supporting category because it's "easier" to win there, and are subsequently eclipsing "true" supporting performances. (While Davis appears in almost every single scene of Fences, her competitor Michelle Williams has roughly 11 minutes of screen time in the two hours and 15 minutes of Manchester By The Sea.) So why does the Academy allow such shenanigans? Couldn't there be restrictions put in place to prevent this sort of thing from happening?
Category confusion can also lead to unexpected snubs if voters don't know how to qualify a certain performance. Actors are free to submit themselves for consideration in whichever category they wish… but then voters are equally free to nominate them in whichever category they wish. In a particularly notorious case, Kate Winslet campaigned as Lead for Revolutionary Road and Supporting for The Reader in the same year; a tactic that worked at the Golden Globes, where she was nominated for both. But Academy voters decided her performance in The Reader was really Lead material and nominated her there instead — at the expense of her Revolutionary Road performance. (Don't feel too bad for Winslet, she still won for The Reader.)
The problem is, you can't judge the nature of a role by screen time alone; a supporting character in a three-hour Gone With The Wind-like opus might have as much screen time as a lead character in a 90-minute indie film. The parameters would probably have to be measured by percentage of total running time — but however the Academy decides to work it out, there has to be some way to clear up the constant confusion and fraud between its two sets of Acting categories.
4. Add A Category For Motion-Capture And Voiceover Performances
If I asked you to make a list of the most iconic movie characters of all time, chances are you might hit on some indelible performances like The Godfather's Vito Corleone or Breakfast At Tiffany's Holly Golightly, or The Dark Knight's Joker. But you might also decide to include characters like the Genie from Aladdin, or Dory from Finding Nemo, or Gollum from The Lord Of The Rings as brought vibrantly to life by Robin Williams, Ellen DeGeneres, and Andy Serkis.
Why has the Academy never deigned to recognize any of these roles? The Critics Choice Awards have, nominating Scarlett Johansson for her voice-only role as Samantha in Her and Andy Serkis for his motion-capture role as Caesar in Rise Of The Planet Of The Apes. But no voiceover or motion-capture performance has ever received a nod in a competitive category at the Oscars, an honor voters have reserved for purely physical, onscreen performances. However, even if an actor is using only their voice or only their body, they're still acting. (In fact, in some ways the challenged must be exponentially harder to not be able to use body language or to not have your real face seen and recognized.)
So why not create a separate category just for these types of roles? This category would likely be gender-neutral, since it would be a lot to find 10 Oscar-worthy voiceover performances in one calendar year. But if the Academy's even worried about filling up five slots every year, they could make it three; or make the number fluid; or at least give out one Honorary Oscar to the best non-physical performance of the year. Something to acknowledge the fact that some actors are doing work that extends beyond the traditional physical plane.
(While they're at it, they should also consider adding categories for Casting, Stunts, and Juvenile Performance.)
5. Push For More Diversity
After two consecutive years of #OscarsSoWhite, the 2017 Oscar nominations tied the record for the most diverse slate of Acting nominees in history, with non-white performers making up seven of the 20 honorees. But rather than resting on their laurels, Academy members should be pushing to make sure this trend continues. (After all, the two years of #OscarsSoWhite directly followed 12 Years A Slave's Best Picture win; and the last time there were seven non-white nominees, the following year there was only one.)
There's still a long way to go. The Academy should also be pushing to make sure that their representation extends beyond black performers to include other races, women, and LGBT actors and filmmakers. The Academy dramatically increased the diversity of its membership while Cheryl Boone Isaacs was president. Next, the Academy could consider taking a page out of the BAFTA Awards' book.
The British Academy of Film and Television Artists launched a major diversity initiative this year that states that, any film hoping to be nominated "will have to show some significant effort to improve diversity in onscreen characters and themes, senior roles and crew, industry training and career progression, and audience access and appeal to under-represented audiences." For now, this initiative only applies for films competing in the Outstanding British Film and Outstanding Debut by a British Writer categories. But the Oscars could consider adopting a similar measure — and apply it across the board — to encourage Hollywood to increase representation on- and off-screen if they want to be honored at any future ceremonies.
Of course, it's too late to adopt any of these changes this year. But hopefully the Academy will take note of what's working — and what's not — and adjust things accordingly for future ceremonies.