Pete Davidson's Proposal To Ariana Grande Broke Tradition In A Low-Key Way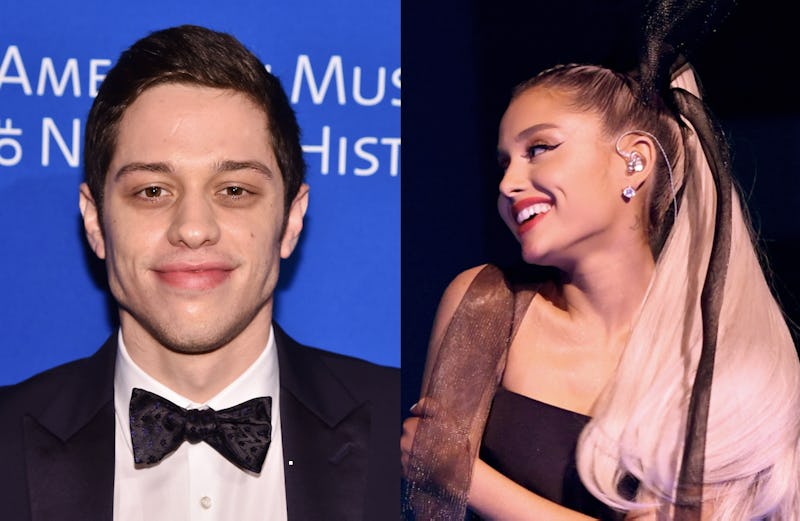 Michael Loccisano/Getty Images Entertainment/Getty Images; Kevin Winter/Getty Images Entertainment/Getty Images
It's the summer of love for Ariana Grande and Pete Davidson, and fans can't get enough of the whirlwind romance. Even so, Pete Davidson's proposal to Ariana Grande was a lot more low-key than fans might expect. As the pop star revealed during an Aug. 17 radio interview, there weren't any doves or laser shows — or even a person down on one knee.
When asked about Davidson's proposal on the Zach Sang Show, Grande said the following:
"He didn't get on a knee, thank God. No, that would've been so googly."
Leave it to the Sweetener singer to use a cutesy word like "googly" in an entirely new manner. And to hear her tell it, she wasn't even sure she'd get married until she got together with Davidson:
"I'm not like a very traditional person so the fact that I'm getting married is something I never even saw coming. I never saw that coming, I never wanted that... Then I kind of understood it once I found the right person."
So while it's hard to say for sure how Davidson popped the question, one thing fans do know is that they're so totally in love.
The always-jokey Davidson recently revealed in an interview to GQ how eager he was to marry Grande in the first place.
"The day I met her, I was like, 'Hey, I'll marry you tomorrow'. She was calling my bluff. I sent her a picture [of engagement rings]. I was like, 'Do you like any of these?' She was like, 'Those are my favorite ones,' and I was like, 'Sick.'"
There's no official date set for the wedding — at least, not one that they're cluing fans into just yet. When pressed by the Zach Sang Show for more information about the wedding, all the singer said was "soon enough". She also said that while she'd consider taking Davidson's last name, it probably wouldn't be for professional purposes, since the name Grande was important to her late grandfather. People reported that the singer would "like to just eventually be Ariana," as the mononym "has a ring to it".
Hey, if it worked for Madonna and Cher, why shouldn't it work for a more recent icon? Unless Ariana Madix from Vanderpump Rules or any other famous Arianas stake their claim to going by just Ariana anytime soon.
Even if Pete Davidson didn't get down on one knee to ask Ariana Grande to marry him, it doesn't matter; she said yes. They're obviously super into each other, and "having a lot of fun" figuring out how to be adults together, in Davidson's own words to GQ. The couple moved in together earlier this year.
As summer turns to fall, Davidson will return to TV as Saturday Night Live starts up again and Grande may eventually go on tour to promote her Sweetener album. But even so, it seems like these two are so happy and nesting that they'll find time for each other no matter what — in traditional and non-traditional ways.