Your First Look At The 'GoT' Season 7 Premiere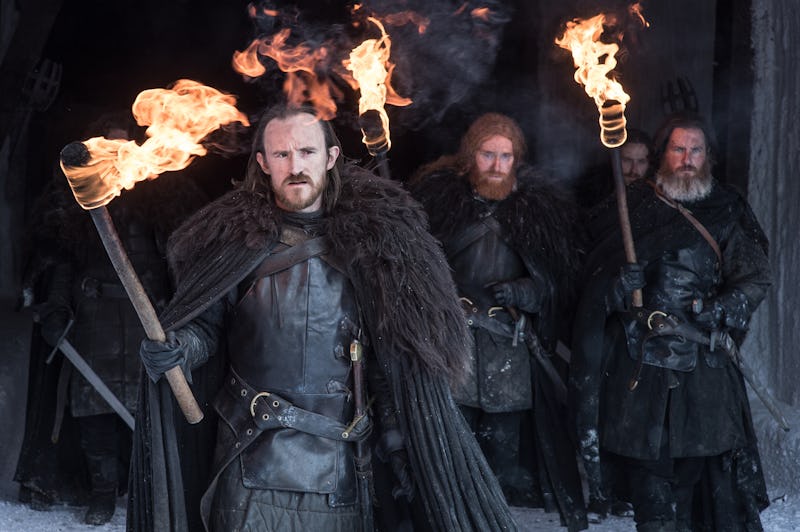 Helen Sloan/courtesy of HBO
As if fans weren't already incredibly excited, HBO unveiled photos from the Game of Thrones Season 7 premiere on Wednesday. Let's just say, these photos will raise even more questions and eyebrows before the series officially returns on Sunday, July 16. The season premiere, "Dragonstone," will finally bring Daenerys back to her ancestral home for the first time since she was an infant, and the new pictures suggest the hour will also see Bran and Meera returning from their adventures beyond the Wall. Add in some Lannister plotting, and the Season 7 premiere already looks like a television feast.
The winter is just beginning for your favorite characters, and this first chapter of the penultimate season appears to be all about moving the key players into their respective places. It won't be long before the Great War kicks into high gear, so you should relish moments like Daenerys' homecoming while you can. Before long, it's going to be non-stop battles and betrayals, if the Season 7 trailer is anything to go by. "Dragonstone" looks like its goal is to ease fans into the new season — but that doesn't mean there aren't any major developments set to go down. Daenerys making land in Westeros is huge, and it's far from the only big event happening in the premiere, according to the tantalizing pictures.
Brienne & Podrick Spar
Brienne and Podrick appear to be sparring at Winterfell. Is it possible the Lady of Tarth is growing bored with being in one place already? After years of roaming Westeros on various missions it's going to be nice seeing her interact with key players like Jon and Sansa this season. And seeing her train her squire is sure to be make for a fun scene to include in the premiere (in the world of Westeros, you take fun wherever you can get it).
Meera Reaches The Wall
Finally, Meera and Bran seem to have made it to the Wall. Meera is definitely being greeted by the Night's Watch here, so hopefully, that means she can finally get a little break from dragging Bran around. Four seasons have passed since she set out on her journey, so she deserves a small break before the inevitable White Walker invasion.
Cersei Plots
Cersei looks lost in thought here, and there's no doubt the Queen is plotting something. She's definitely standing on her freshly painted war map of the Seven Kingdoms, and if you look closely, her brother, Jaime, appears to be talking to someone just out of view.
The Map Of Westeros
Speaking of the map, here it is as a work in progress. The detail is incredible, and it seems the man in charge of painting Cersei's large scale strategical masterpiece will almost be done in the premiere. It's interesting that this photo puts so much emphasis on the North — which is where the real danger lies, whether the Queen wants to admit it or not.
The Dragonstone Throne
Daenerys is finally home. This picture may be full of gloomy grays, but it's also full of hope. The Dragon Queen's home is in a bit of a disarray since Stannis left it behind, but the throne where so many of her ancestors ruled is still standing. This photo screams "game on."
Lyanna Mormont Talks
Jon must be holding another meeting, because the awesome Lyanna Mormont is back and commanding the room once more.
Daenerys Sees Dragonstone
While you can't see what Daenerys is looking at, it's safe to assume this is the moment she first sees Dragonstone. There's so much emotion in her eyes, you can already tell this scene is going to bring the feelings.
Lord Commander Dolorous Edd
There hasn't been much cause to check in on the Night's Watch since Jon declared his watch had ended, but Lord Commander Edd is definitely in the premiere. This must be the moment he opens the gates for Meera and Bran — just keep your fingers crossed that his act of kindness doesn't lead to the Wall tumbling down later in the season.
It looks like "Dragonstone" is going to have it all — action, strategizing, reunions — but you can be sure there will be more than a few surprises along the way.