Ashley's Engagement Ring Made It's Debut On Instagram LONG Before Her 'BiP' Engagement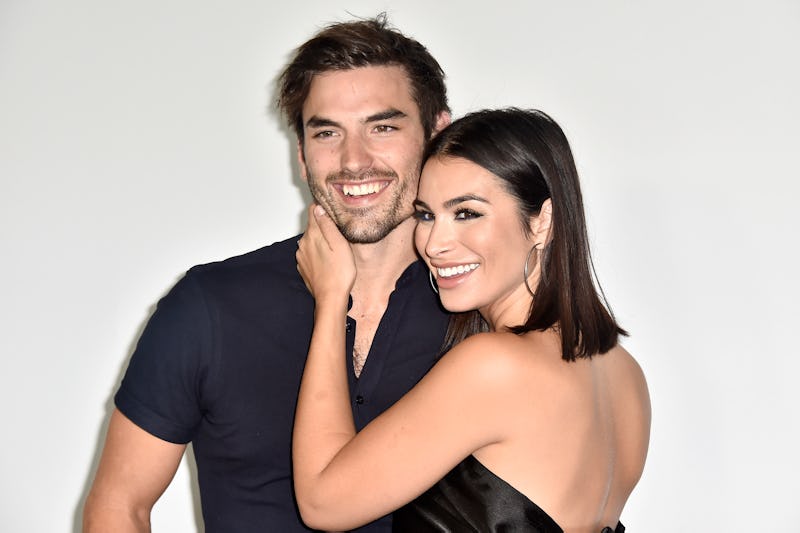 Frazer Harrison/Getty Images Entertainment/Getty Images
Shows like The Bachelor aren't usually known for spawning major relationships, but there have been a few that have worked out — Trista and Ryan, Jade and Tanner, Carly and Evan, Jason and Molly… and now, The Bachelor may be able to add another love story to its slim list. Ashley Iaconetti and Jared Haibon are engaged, and pictures of Ashley Iaconetti's Bachelor engagement ring show that their love story has been a long time coming.
The world met Ashley when she was a contestant on Chris Soules' season of The Bachelor. She was almost left in the desert during a two-on-one date and was very emotional throughout the whole season, while Jared finished fourth on Kaitlyn Bristowe's season of The Bachelorette. They fell in love with each other on Bachelor In Paradise Season 2, but well, let's just say that Jared didn't reciprocate her seriousl feelings. She spent two turns in Paradise being sad that he didn't want anything more than friendship with her before just settling for friendship. It seemed like she would never get what she was looking for.
But then, on The Bachelor Winter Games, Ashley found Kevin Wendt, and their relationship was plodding along just fine. Until Jared, according to Ashley, kissed her at the airport, lest he lose her forever to Kevin. And boom — they were engaged a short time later. It's romantic for everyone involved, except Kevin, who now seems to be wholly into Astrid this season on BiP. Caught up yet?
Much of Ashley and Jared's relationship was seen on The Bachelor, so it makes sense that Jared would propose to Ashley on Bachelor In Paradise. Even though they weren't competing on Bachelor In Paradise this season (obviously), why not get engaged there? ABC loves to trot out its success stories. And judging by Ashley's gorgeous ring, Neil Lane helped Jared pick out a stunner. I love a big, sparkly piece of jewelry myself, so let's take a look at Ashley's ring and just admire it in all its glory, shall we?
It Loves A Sunset
Golden selfies for everyone!
It Knows Its Worth
Clearly, that message was written for Ashley and her ring.
It Needs A Snack
Like me and Ashley, Ashley's ring knows the value of a good Buffalo wing.
It Helps Ashley Work
Hard-hitting questions from a very hard stone.
It Likes To Mark Occasions
So much has happened for this little group of friends!
It Loves To Get Blown Up
I like that Ashley and Jared can make fun of themselves.
Ring aside, Ashley and Jared do have a few other plans for their wedding. In an interview with People, Ashley and Jared are gearing for a big celebration in a year or so. "We've always imagined that," Ashley said. The couple even wants a member of Bachelor Nation to marry them — and I'm not talking about Chris Harrison. "We want Tanner [Tolbert] to officiate the wedding," Jared said. "Tanner and Jade have been the couple that we were closest to within the Bachelor family. Tanner's been so intricate in our relationship the past couple years." Tanner, a wedding, and a few kids eventually — they're all in Ashley and Jared's plans in the next few years. Congrats to these crazy kids!