Don Jr. & Kim Guilfoyle Went To The White House To Celebrate July 4 As A Couple — PHOTOS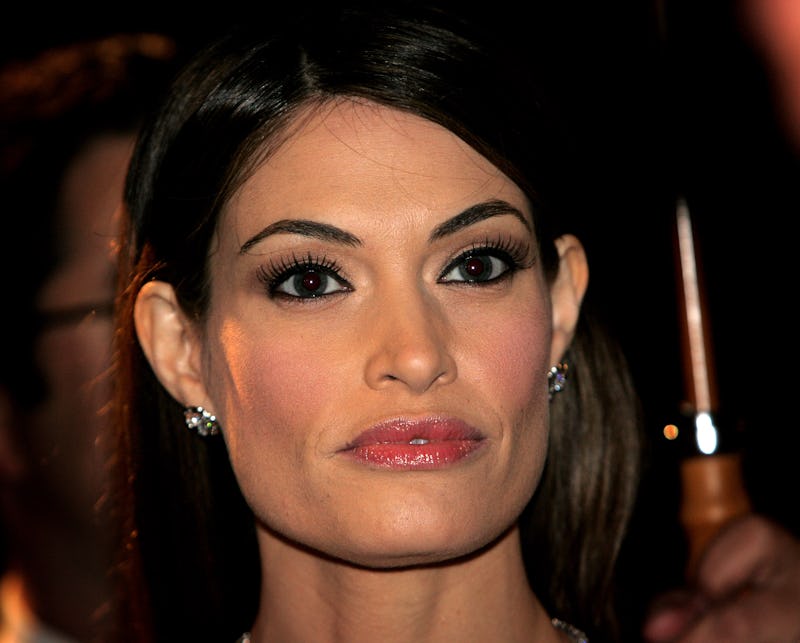 Chris Jackson/Getty Images Entertainment/Getty Images
After months of rumors and unconfirmed reports, new photos of Donald Trump Jr. and Kimberly Guilfoyle show how official the duo's relationship has become. On Wednesday, Don Jr. tweeted out pictures of him and Guilfoyle standing outside the White House in celebration of July 4th.
"A very Happy 4th of July to everyone!," the president's eldest son tweeted. "It was great meeting all the veterans and active duty service members visiting the White House! Today is America's birthday, and we are making it GREAT again!" He tagged Guilfoyle and his father in the tweet, and attached several photos of the two.
Guilfoyle also posted a picture of herself and Don Jr. at the White House, which depicted them holding hands.
"An incredible afternoon at the White House!," Guilfoyle wrote. "Thankful and proud to be an American! God bless all our troops & God keep our nation safe. Happy Independence Day 🇺🇸❤️💃🏾"
Rumors of Don Jr. and Guilfoyle's relationship first surfaced in May, around two months after the first son's wife Vanessa filed for divorce. Don Jr. and Guilfoyle were reportedly seen kissing at a New York restaurant in June, and Vanessa herself seemingly confirmed their relationship in a tweet days later. By the end of the month, Don Jr. had posted photos of him and Guilfoyle fishing in Montana and very much looking like an item.
Guilfoyle, a former a prosecutor who served a four-year stint as an assistant District Attorney of San Francisco, is co-host of The Five on Fox News. Prior to dating Don Jr., she was married to former San Francisco Mayor and current California gubernatorial candidate Gavin Newsom, a progressive Democrat. She's an open supporter of the president, and when White House Press Secretary Sean Spicer resigned, Guilfoyle was reportedly in the running to replace him. She told the Mercury News at the time that it "would be an honor to serve the country" as President Trump's top spokesperson, but the job ultimately went to Sarah Huckabee Sanders.
After Don Jr.'s relationship with Guilfoyle was reported, the New York Daily News ran an editorial arguing that their romantic involvement posed a conflict of interest for Guilfoyle, given that her job at Fox News requires her to cover the Trump administration in a journalistic capacity. Some criticized the author of the editorial, Linda Stasi, for writing that Guilfoyle, who is half-Puerto Rican, is better at "picking grapes" than picking romantic partners.
"The lengths people will go to attack a woman simply because she's dating Don," Vanessa wrote on Twitter in reference to the article. Don Jr. himself said that Stasi's editorial was "liberal privilege at its finest," although he didn't elaborate on what he meant. Stasi later apologized on Twitter, writing that she had "absolutely no idea that Guilfoyle is half Puerto Rican" and removing the line in question.
Both Don Jr. and Guilfoyle will both be speaking at Turning Point USA's High School Leadership Summit, a conference for conservative and pro-Trump high school students, in late July. Other confirmed guests include Spicer, former presidential adviser Sebastian Gorka, former White House Communications Director Anthony Scaramucci, and Education Secretary Betsy DeVos.
Don Jr. and Vanessa divorced after being married for 12 years. Although both of them have been tight-lipped about the reasons for their separation, Us Weekly reported in March that Don Jr. had an extramarital affair with Danity Kaine singer Aubrey O'Day back in 2011, when O'Day was a contestant on The Apprentice. Neither Don Jr. nor O'Day have confirmed the alleged affair, although O'Day did send a cryptic tweet on election night that some interpreted as a reference to their alleged tryst.