These Photos Of The 'Vanderpump Rules' Opening Credits Shoot Hint At A New Cast Member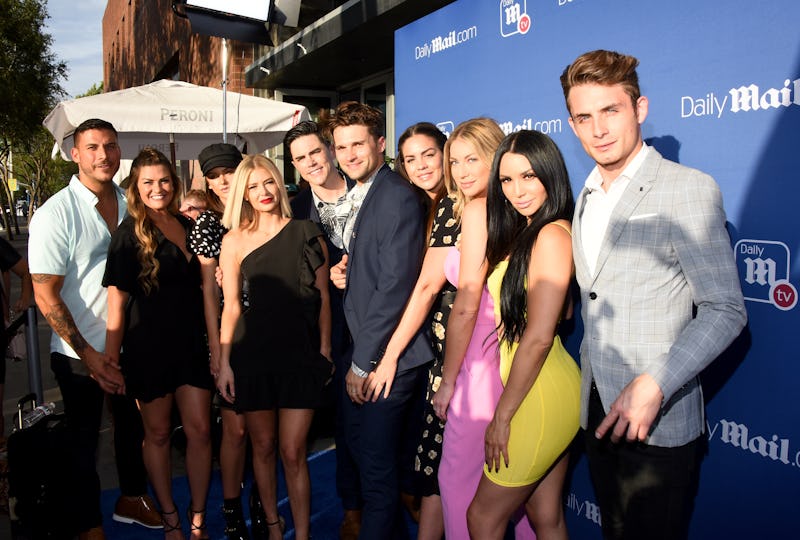 Araya Diaz/Getty Images Entertainment/Getty Images
We're in the Sexy Unique Home Stretch, Pump fans. Season 7 is almost here, and there are photos of the Vanderpump Rules opening credits shoot to prove it. Oh, but that is not the only scoop: Stassi Schroeder's boyfriend, Beau Clark, is in the opening credits. And we know this because Stassi said so on Instagram on Wednesday. Assuming the show's opening credits format doesn't change, Stassi's new beau will, at the very least, be in the group shot that comes in at the end. And yes, it looks like Beau will be on Season 7, y'all.
Now, this isn't exactly a twist. Beau (a) is dating one of the stars of Pump Rules, (b) is buddies with the rest of the cast, and (c) seems chill with being on the show. Come on, you don't go to Puerto Vallarta with the Pumpers during Pump Rules filming season if you are not down to appear on the series. What are you going to do, lock yourself in a bathroom and hide from the camera crew the whole time? That sounds about as appealing as a glass of pinot noir that's been sitting out in the alley behind SUR for five days in the dead of summer.
If Beau really didn't want to be on the show, he would have to take a page out Lala Kent's fiancé's book. Neither Randall Emmett nor Lala care to put their relationship on the series, and hey, whatever works best for them. And do you know how Lala and Randall make darn well sure Randall never winds up on the show? Well, for starters, Randall does not go on Pump Rules vacations during Pump Rules filming season. Oh, and Randall also doesn't show up in the Pump Rules opening credits.
Being on Pump Rules isn't for everyone, and that is cool. But apparently, it is for Beau. And that is cool, too.
And unlike that other guy Stassi dated, Beau does not seem to totally hate being on Pump Rules. Rather, he genuinely seems open to being part of Stassi's Vander-world and hanging out with his significant other's pals. As Tom Sandoval said on Watch What Happens Live with Andy Cohen back in April,
"[Beau's] been so cool. He's so into everything that she's doing. If there's a party, he's there, and he's happy. He's great. He's awesome."
Tight. Sounds like quite the SUR-portive dude.
Stassi's opening credits pic wasn't the only Sexy Unique Sneak Peek of the week. A few of her co-stars also shared some photos and videos they snapped while they were shooting the Season 7 opening credits. First up, we have Kristen with her glam team.
Here's Lala giving us Lala.
Here's Brittany Cartwright in an iconic SUR bandana dress.
And finally, here's James Kennedy and Harrison/Prince Harry/Puffy the Pomeranian.
Does James get to hold one of Lisa Vanderpump's Pomeranians in the opening sequence? Oh, please say it is so.
Sigh. We'll just have to wait to find out. Season 7, you and your title credits can't get here fast enough.