This Disney-Themed Advent Calendar Is A Must-Have For True '90s Kids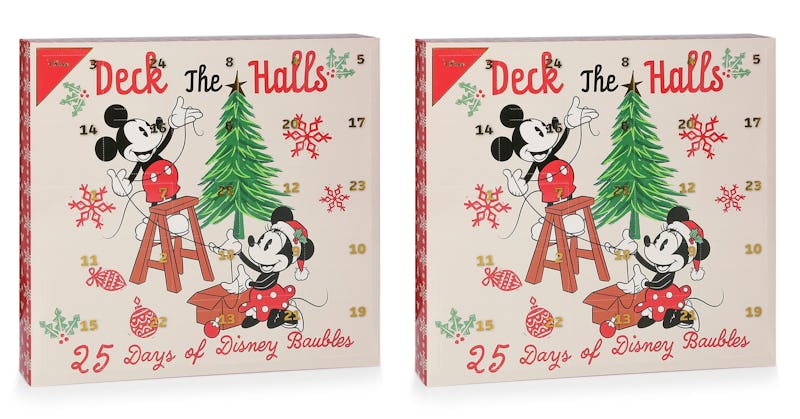 Primark
Just because you can't make it to a Disney park during the winter holiday season doesn't mean you can't have yourself a very merry, Disney-themed celebration on your own — and Primark has just the thing to make that happen this year: The UK-based department store will have a Disney bauble advent calendar available for the 2018 holiday season. A release date hasn't been announced yet, but an early tease of the item that just hit the internet is piquing some major interest — and no wonder: It's adorable.
Adorned with a vintage-style illustration on the front (A-plus in my book!), the advent calendar includes 25 limited-edition, Disney-themed holiday baubles — or Christmas tree ornaments, or whatever you want to call them — shaped in the form of the iconic mouse head silhouette. The doors of a modern advent calendar are generally meant to be opened one per day beginning Dec. 1 and continuing through Christmas Eve; however, this Disney pick goes for the generous option and includes enough doors and ornaments to gift with a delightful surprise from Dec. 1 through Dec. 25. (If you're not a Christmas celebrator, though, there's nothing that says you need to stick specifically to that schedule; the ornaments are cute no matter what holidays you do or don't observe.) It's priced at £15, or just shy of $20 USD — which, as Cosmo UK points out, makes the whole thing a steal: It puts each bauble at 60p a pop, or about $0.80 USD.
Want a closer look? Good news: Roisin of the Instagram account and YouTube channel Disneyfind got her hands on one courtesy of Primark and published an unboxing video on Sept. 3. Take a look here; the advent calendar makes its appearance at the 6:50 mark.
Ugh. So cute.
One of the thing Disney always nails when it comes to merch is dreaming up seemingly endless variations on specific themes. We've seen it in the increasingly creative selection of Minnie Mouse ear headbands; we've seen it in the line of mini backpacks I'm still coveting right this very minute; heck, we've even seen it in the Disney parks' dessert offerings, with new churros and fanciful cupcakes popping onto the menu with a great degree of regularity. And that, I think, is what makes the baubles in this advent calendar so neat: They may all have the same basic shape, but each individual bauble features a unique design that sets it apart from the rest. The result is a collection that's cohesive, but not boring. Heck yes.
Of course, there's one downside to this whole thing: It's not yet known if the advent calendar will be available in the United States. It might be a UK exclusive, which would be sad news indeed for those of us on the other side of the pond. Still, though, we can hold out hope that it might eventually make the journey across the Atlantic Ocean; Aldi's wine advent calendar did, after all, so if there's enough interest in the Disney bauble one, perhaps we'll be able to look forward to it in years to come.
I may not be decking my own halls quite yet — I'm still in the pumpkin spice phase of seasonal celebration — but if I had access to this sucker, you can be sure I'd be including it in my holiday plans. In the meantime, though, I'm just going to sit here quietly enjoying my first PSL of the season and looking forward to the months of holidays to come. Who's up for joining me?