Priyanka Chopra Said Goodbye To 'Quantico' With An Important Message About Diversity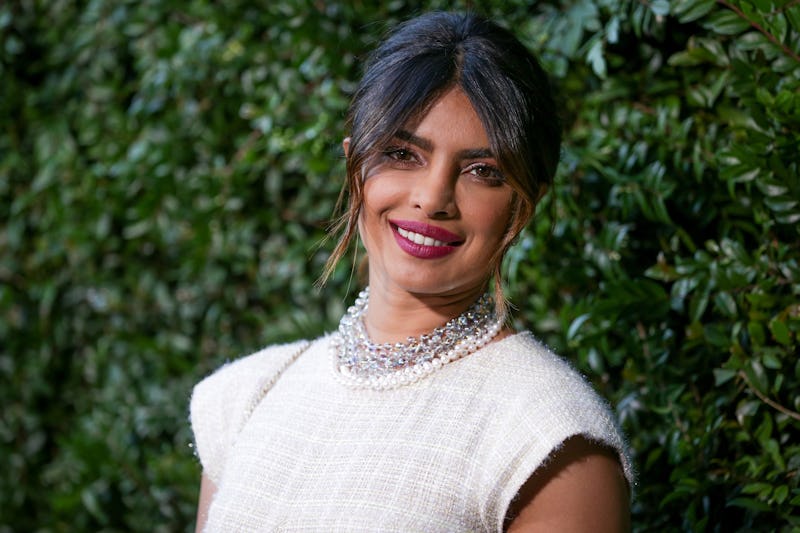 Rich Fury/Getty Images Entertainment/Getty Images
With the help of movements pushing for more inclusive storytelling and diverse casting in entertainment, and while there's room improvement, Hollywood has certainly made strides in the right direction. ABC Network's casting of Indian actor Priyanka Chopra in the lead role for its 2015 release Quantico is just one of many examples in recent years. And Chopra's Quantico goodbye message not only provided closure to fans distraught about it leaving air, but also served as a reminder that women of color are more than capable of leading primetime casts.
For the past three years, Chopra played the role of special agent recruit Alex Parrish — a half white, half Indian badass who, like many of the other recruits, held tight to a secret that she hoped no one would learn about. Though completely thrilling to watch, the many twists and turns of storylines seemingly wasn't able to hold to its audience. And eventually resulted in Quantico not getting renewed for a fourth season.
The show had a magnificent run, and bridged the gap between the dynamic Bollywood superstar and the American media. With Quantico, Chopra became the first Bollywood star to have a lead role in American television, and that's no small feat. As you know, Hollywood holds a bad wrap for not placing anything that isn't white, heterosexual or male in the forefront, but with the help of movements like #OscarsSoWhite, Times Up, and even recent and massive insistence for inclusion riders, things are starting to change. And in her Aug. 3 series of tweets, Chopra wrote that she hopes her Quantico experience has added positively to the conversation.
While tweeting about how the role of Alex Parrish served as a full circle moment for her, Chopra also addressed the need for more representation on the big and small screens. "Bringing Alex to life has challenged me physically and emotionally," she wrote on social media, "but even more significant it has (I hope) cracked the door open for female talent and women of color to play leading ladies."
And so many will agree that the Bollywood star certainly has.
Quantico is canceled, but Chopra's career is heating up as the actor has been said to be attached to multiple projects. Coming Valentine's Day 2019, fans can catch up with Chopra in romantic-comedy Isn't It Romantic, alongside Liam Hemsworth, Rebel Wilson, Adam Devine and GLOW's Betty Gilpin. And the actor is also reportedly in talks to star in Universal Picture's comic book-adaptation Cowboy Ninja Viking, opposite Chris Pratt.
In addition to helping to break down barriers in television and film, Chopra has also been making headlines for her rumored engagement to boyfriend Nick Jonas. The news comes after filmmaker Ali Abbas Zafar announced that Chopra would no longer be apart of his film Bharat on Twitter July 26, citing a "very very special" reason for the decision.
"She told us in the Nick of time about her decision and we are very happy for her," the filmmaker wrote in a not-so-subtle tweet. Neither Chopra nor Jonas confirmed the news as of yet, but Zafar's well wishes of "loads of love and happiness" and series of adorable emojis is leading many to believe that the Quantico will be sharing some pretty important news soon.
Chopra is a woman of many talents — literally... she sings, dances, and acts — and her contributions to entertainment have been felt across the world. Fans are going to miss seeing her on television every week, but with a flair like her's, she'll totally be around for years to come.