Not All Fellow Social Media Users Are Fans Of Rob Kardashian's Posts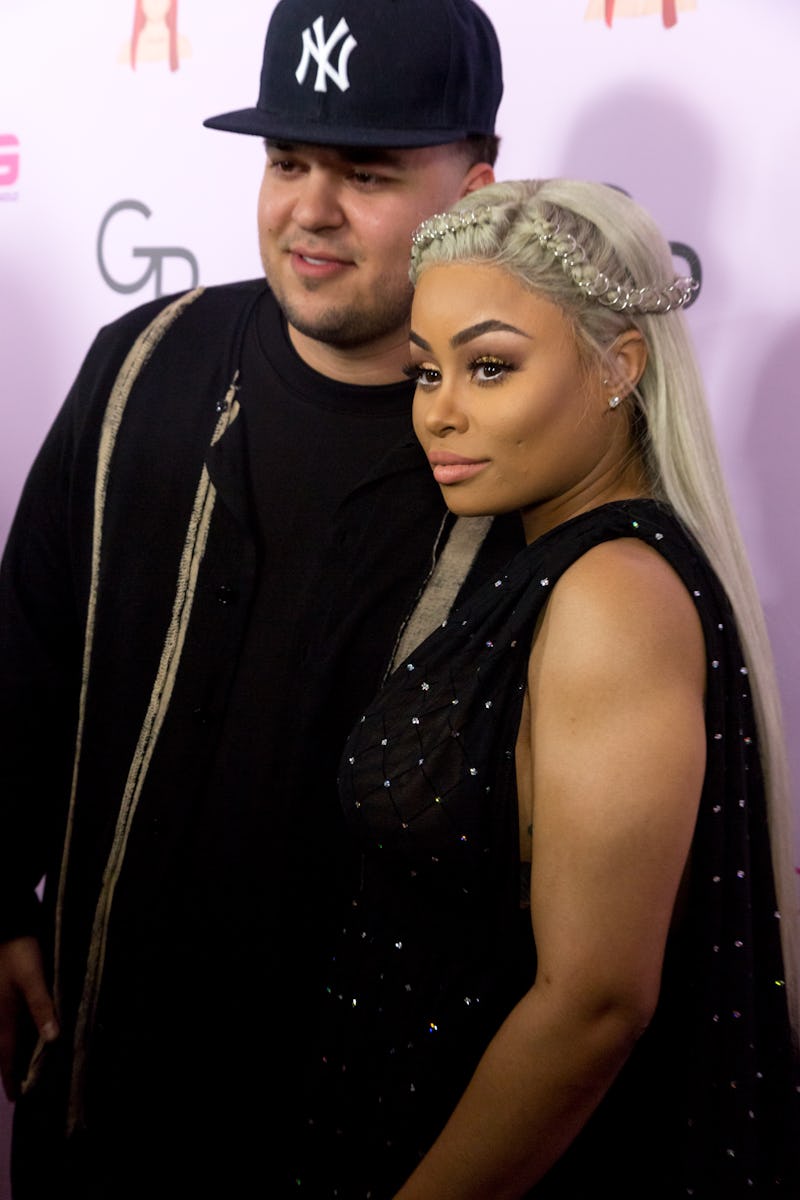 Greg Doherty/Getty Images Entertainment/Getty Images
Allow this to be a lesson to anyone who thinks social media is a place where you can post anything and everything, no matter the content or the intent. After his Instagram rant on Wednesday morning, which then transferred over to Twitter, Rob Kardashian's Instagram account was deleted and it appeared a couple of explicit images he posted on Twitter were, as well.
UPDATE: Blac Chyna's lawyer told ABC News in a statement "We are considering all legal options and recourses at this time." Bustle has reached out to Kardashian for comment, but did not receive a response at the time of publication.
UPDATE #2: Kardashian's lawyer told TMZ in a statement that Kardashian's actions were a "spontaneous reaction that he regrets" and that they will not be contesting the restraining order. "Rob's only concern is for the well-being of baby Dream," the statement finished.
EARLIER: Early Wednesday, the 30-year-old took to Instagram, where he shared a series of posts about Chyna, including claims that she cheated on him, that she is on drugs, and that she sent him nude photos of herself on Tuesday. He then took things unnecessarily even further when he posted nude photos allegedly of Chyna, which were taken down and reposted a couple of times before Kardashian's Instagram account as a whole was deleted. He then moved over to Twitter, where his allegations continued and he posted the same nude images from Instagram. They were also deleted from Twitter.
Bustle has reached out to reps for Kardashian and Chyna for comment on the allegations they have made about each other — including that Chyna alleged in now-deleted Snapchat posts that Kardashian abused her — and about the nude photos, but did not receive a response at the time of publication.
According to Twitter's rules, "You may not use pornographic or excessively violent media in your profile image or header image. Twitter may allow some forms of graphic content in Tweets marked as sensitive media." If images are not marked as "sensitive media" they can be reported as such by fellow users. Twitter also notes on their site that for "hateful content" the "consequences for violating our rules vary depending on the severity of the violation and the person's previous record of violations. For example, we may ask someone to remove the offending Tweet before they can Tweet again. For other cases, we may suspend an account."
As for Instagram, the platform generally does not allow nudity. According to their community guidelines, "We know that there are times when people might want to share nude images that are artistic or creative in nature, but for a variety of reasons, we don't allow nudity on Instagram."
It's clear that many users of both Twitter and Instagram won't stand for Kardashian's behavior. As one Twitter user wrote, "oh what did *I* do today? report rob kardashian on instagram then twitter."
Other users have also reported Kardashian for his posts and hope he will be silenced once and for all, even if that means by someone actually taking away his phone. It may seem like people are loving the drama between the former Rob & Chyna stars, but there are also many who want it to be stopped, especially on his end.
Kardashian can move from social media network to social media network, but that doesn't mean he is going to get away with explicit posts, whether they are actual photos of Chyna not.