Why Memes About The Rob & Chyna Situation Aren't OK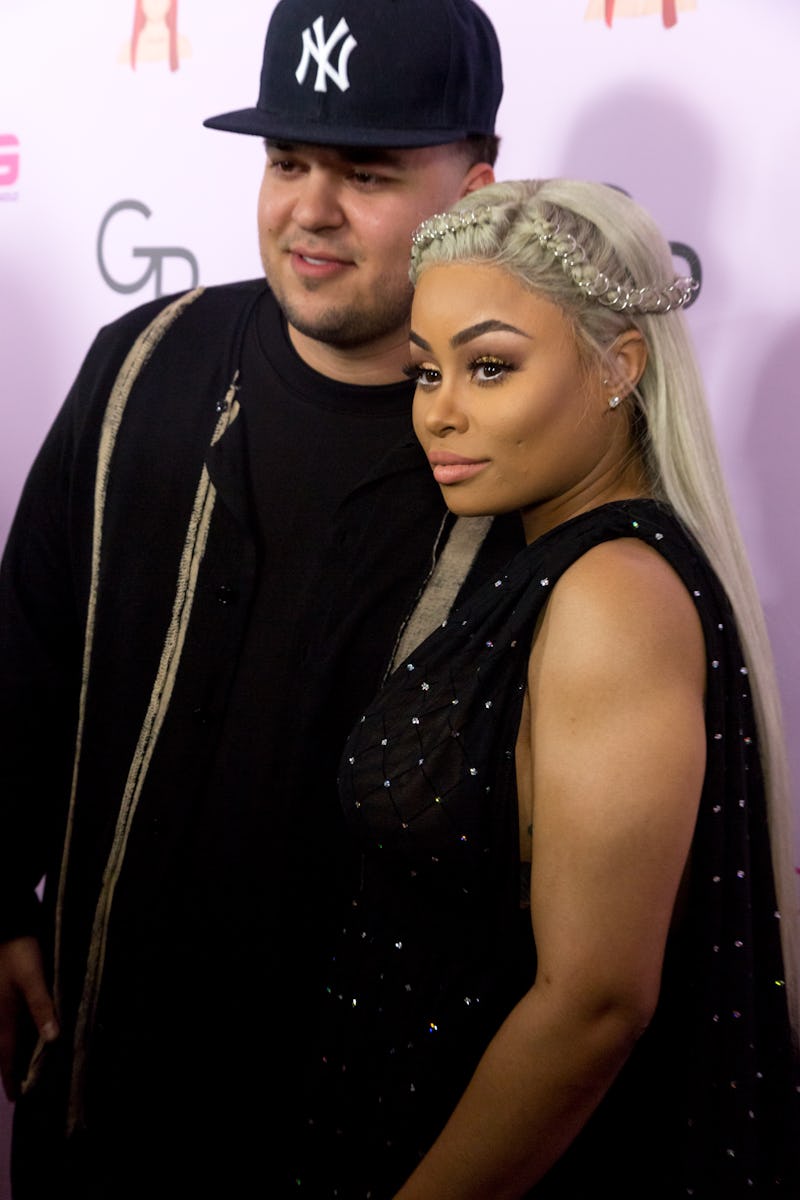 Greg Doherty/Getty Images Entertainment/Getty Images
If you opened Instagram on Wednesday, you might have seen a slew of posts from Rob Kardashian about Blac Chyna. Some of Kardashian's posts have since been deleted, but they included a range of allegations about cheating and drug use, as well as alleged nude photos of Chyna. While the photos are not confirmed to be real, the situation is undeniably invasive, which is exactly why memes about Rob Kardashian and Blac Chyna are the wrong response to what's going on.
UPDATE: Blac Chyna's lawyer told ABC News in a statement "We are considering all legal options and recourses at this time." Bustle has reached out to Kardashian for comment, but did not receive a response at the time of publication.
EARLIER: Soon after those Instagram posts, Blac Chyna responded on Snapchat, claiming that Kardashian was abusive toward her. In a since deleted post, she wrote,
"Rob u did all this but u beat me up and try act it never happen !!!!! U put hand on me I swear on god !!!!!"
She then shared images of various jewelry, along with a seemingly cryptic message, "The light will come to the light." (Bustle has reached out to reps for Chyna and Kardashian for comment on the claims and posts each of them made on July 5, but did not receive an immediate response.)
Not long after Kardashian's initial posts, his name was trending on Twitter. Clicking through the site, you'll find everything from seemingly harmless memes of Justin Bieber standing around and waiting for more gossip, or that one of Michael Jackson eating popcorn, as if this is purely entertainment. And those are the tamest of the bunch. Others take aim at Chyna's faithfulness, make inappropriate jokes about the alleged nude photos, and many people are encouraging them to share even more personal drama.
But given the serious nature of the whole situation between Kardashian and Chyna, these kinds of memes and jokes are serving to trivialize the more concerning parts of the story. Sure, Kardashian and Chyna are reality stars, and part of a family that inspires new quips and memes every time they so much as breathe. But when the topic becomes abuse allegations or alleged nude photo leaks, shooting for the highest number of retweets on a harsh joke at the former couple's expense is not OK.
Making a mockery of someone's private photos allegedly being shared without their permission dismisses the seriousness of the situation and only makes things worse. In fact, Kardashian's actions may be considered revenge porn, if the nude photos he shared can ever be confirmed to be of Chyna (the legal aspects are up for debate, however).
Even though Kardashian and Chyna are making the situation public themselves by sharing claims about each other on Instagram and Snapchat, it's best not to add to the onslaught or make light of what is clearly a distressing relationship.