Ryan Reynolds Got Super Honest About Anxiety & How He Uses Humor To Cope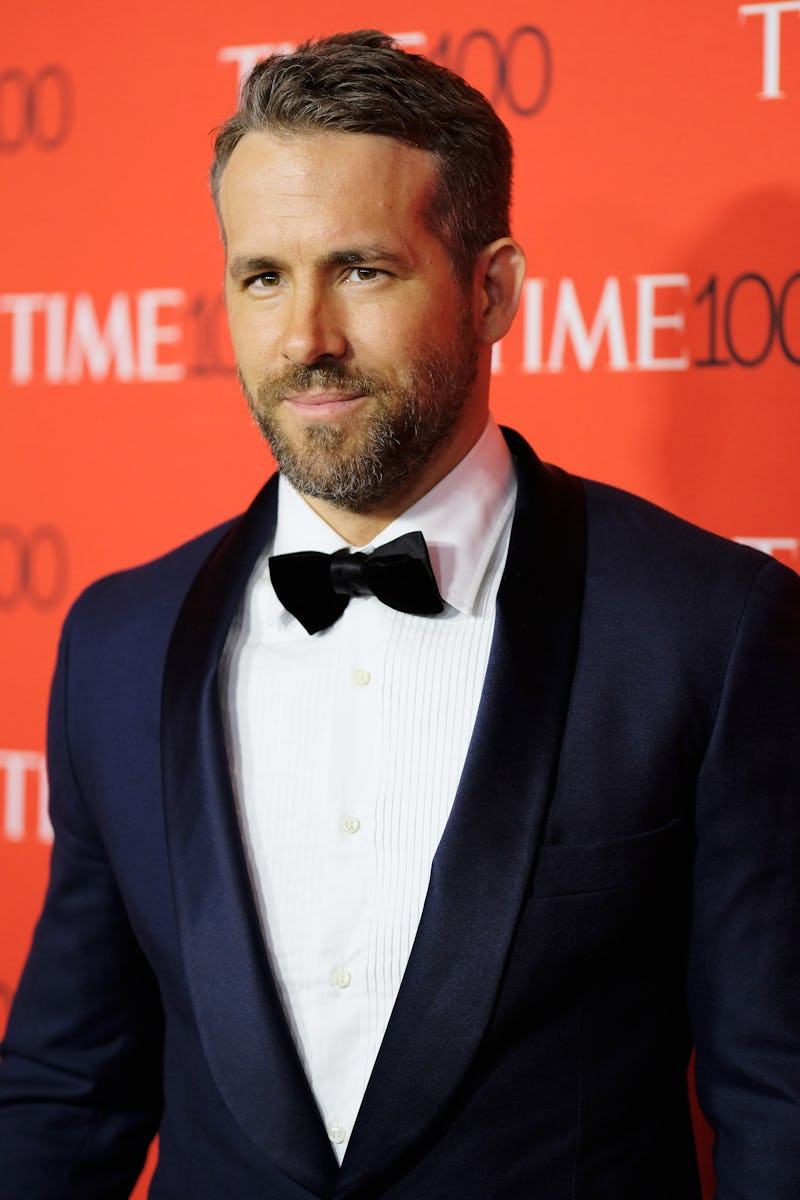 Dimitrios Kambouris/Getty Images Entertainment/Getty Images
Deadpool is as cool as a cucumber in high-pressure situations, but the actor who plays him admits he often feels the opposite. Ryan Reynolds opened up about his struggles with anxiety for the first time in a new interview with The New York Times. In it, Reynolds details the nervousness he deals with every day and how it affects his work and his life. But what it hasn't impacted is his sense of humor, which he says has been a helpful coping mechanism in Hollywood. In fact, becoming Deadpool has helped Reynolds get honest about his anxiety.
"I have anxiety, I've always had anxiety," Reynolds said. "Both in the lighthearted 'I'm anxious about this' kind of thing, and I've been to the depths of the darker end of the spectrum, which is not fun."
Reynolds admitted that before interviews he gets sick to his stomach and sometimes feels a form of extreme dread that makes him think he could die. He said his anxiety often gives him "the energy of just wanting to throw up," which isn't great for someone in the public eye. Not to mention, someone who is married to a fellow star in Blake Lively, meaning he often finds himself on red carpets. Reynolds even admitted that he couldn't eat before the Times interview because doing press makes him nauseous and he had been doing it all day.
To do his job, Reynolds had to find a way to deal with his anxiety and he found that in comedy. For him, laughter really was the best medicine because it allowed him a chance to get out of his head and forget some of his worries. When he gets on set he said, "I turn on this knucklehead, and he kind of takes over and goes away again once I walk off set."
He doesn't deny that is jokes are often at the expense of himself. Just look at his Twitter and you'll see just how self-deprecating he can be. Especially when it comes to fatherhood. Recently, he tweeted, "Can't decide between a midnight blue minivan with all wheel drive and foldable rear seats or a coffin." Before that he wrote, "Nothing better than the simple joys of finding 5 bucks in an old pair of pants, or discovering my wife and I had a second daughter over a year ago."
After the interviewer looked at his IMDb page, a mix of hits like Deadpool and misses like Green Lantern, Reynolds joked: "I'm so sorry you did that. Are you O.K.? Do you want a tiny novelty-size alcoholic beverage?"
When he's off set, Reynolds said he often disappoints fans by not being Deadpool, but "this incredibly boring version of a guy who looked like their hero." But, the fact that he isn't as suave as Wade Wilson was part of the reason why Reynolds wanted to open up about his anxiety, which he's dealt with since he was little, growing up the youngest of four boys with a "volatile" father. "When you stress out kids," he told the Times, "there's a weird paradox that happens because they're suddenly taking on things that aren't theirs to take on."
Reynolds anxiety got worse in the '90s when he was first starting his career. He said he would wake up overcome by anxiety, worried sick over his future. But as he's gotten older, he's found ways to keep those feelings at bay.
Reynolds told the Times he prefers to do interviews as Deadpool, uses the meditation app Headspace, and is more than happy to tell a joke at his own expense. "That's that great self-defense mechanism," he said. "I figure if you're going to jump off a cliff, you might as well fly."
What Reynolds' reveal really shows, though, is that Hollywood stars are like the rest of us. They deal with the same pressures and concerns and can get overwhelmed, too. And he's not the only one. In 2016, Emma Stone revealed she suffered from anxiety as a kid, while, last year, Zayn Malik talked about overcoming his anxiety.
While some fans might be sad to find out Reynolds isn't really Deadpool, it turns out, he's something better. He's human and a really funny one at that.