Selena Gomez Broke Her Silence On Demi Lovato In A Brief, Yet Super Supportive Way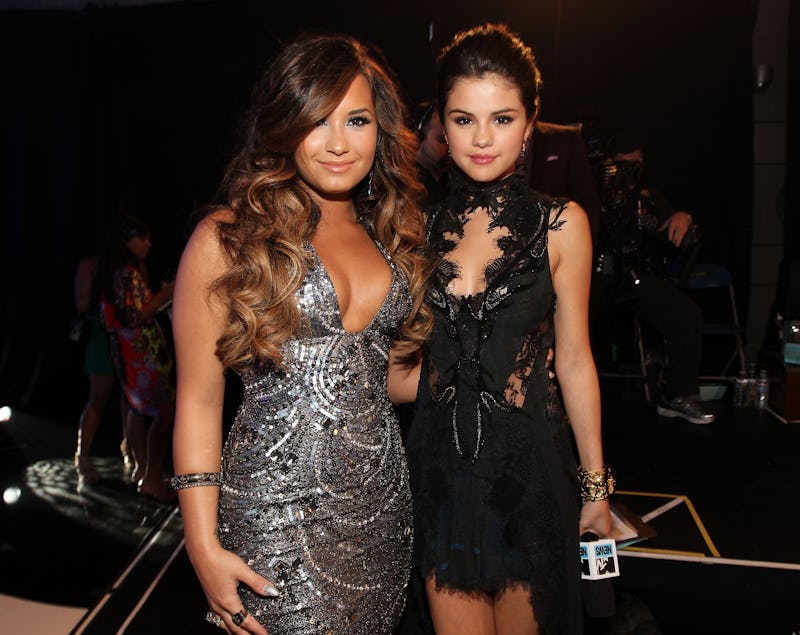 Christopher Polk/Getty Images Entertainment/Getty Images
Selena Gomez opened up about a variety of matters in her latest cover story with Elle. According to the magazine, Selena Gomez broke her silence on Demi Lovato and her childhood friend's recent hospitalization. While it's the first time that she's talked about the matter publicly, the "Wolves" singer did confirm that she's been in contact with Lovato personally.
When asked about her fellow Disney alum, Gomez revealed exactly how she reacted to the news about Lovato's hospitalization for an apparent drug overdose. "All I'm saying is, I reached out personally. I didn't do a public thing. I didn't want to," Gomez said, and continued, while reportedly getting a bit choked up, "I… I love her. I've known her since I was seven. So… it's… that's what I'll say."
It makes sense that Gomez chose to reach out to her friend privately. Not only do she and Lovato have a longstanding history with one another, but as the "It Ain't Me" singer went on to describe to Elle, she's increasingly more careful with what she shares on the internet.
"I'm not on the internet," she told the publication, "I haven't been on the internet in months. I don't have my password for Instagram." However, she still updates her Insta via her friend's phone, which has her password saved. It's good that she does still update from time-to-time since she is the most-followed person on the social media site, after all.
While she's down to update her Instagram every now and then, she's still sticking to her mostly internet-free lifestyle for a specific reason. "The reason why is, it's not real to me," Gomez revealed, "I know my voice is very prominent, but I'm not careless with it. I'm selective." So it's easy to see why Gomez is mindful about what she shares publicly. And this is an especially important mindset for her when it concerns personal matters, like her friend Lovato's recent struggle.
On July 24, TMZ reported that Lovato had been rushed to the hospital after an apparent drug overdose. Many on social media, from Nick Jonas to Cardi B, shared their well wishes after hearing the news. On Aug. 5, the "Sorry Not Sorry" singer released a statement via Instagram where she updated fans on her road to recovery. She wrote, in part,
"I have always been transparent about my journey with addiction. What I've learned is that this illness is not something that disappears or fades with time. It is something I must continue to overcome and have not done yet."
Lovato ended her statement by resolving to take some time to focus on her sobriety and recovery while also including, "I will keep fighting."
It's especially notable to hear that Gomez reached out to Lovato personally after the hospitalization news considering that the two have a ton of history together. They've been friends ever since they appeared on Barney & Friends when they were younger. While they've had their fair share of ups and downs over the years, it's clear that they will always be there for one another no matter what.
If you or someone you know is seeking help for substance use, call the SAMHSA National Helpline at 1-800-662-HELP(4357).