How Seth Rogen Prepped For 'The Lion King' Is So Relatable, It Hurts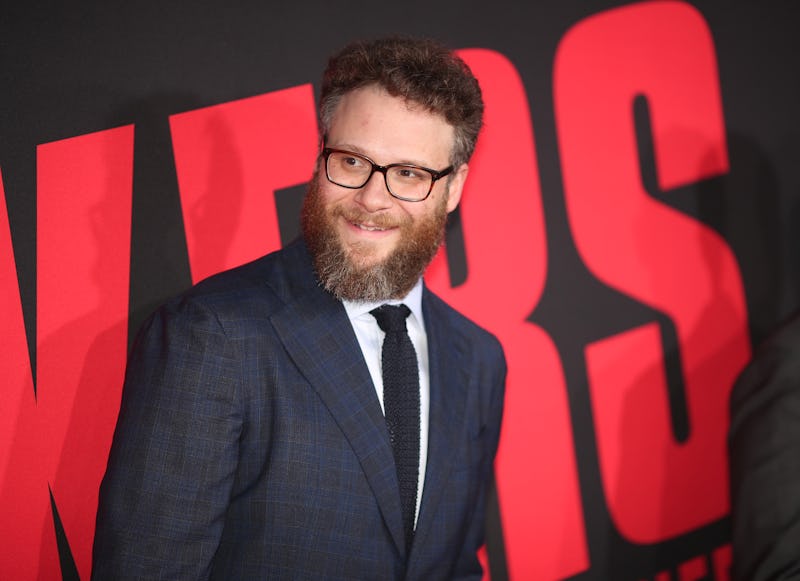 Christopher Polk/Getty Images Entertainment/Getty Images
The most hotly-anticipated film of 2019 doesn't even have a trailer yet, but already it's proving to be the stuff that dreams are made on. The way that Seth Rogen prepared for The Lion King is not only adorable, but it's already bringing him and his wife closer. (As if you needed any other indications that this reboot would be an instant family favorite.) According to two July 31 interviews that he and his wife Lauren Miller Rogen gave to Entertainment Tonight to promote their new film, Like Father, the couple would rehearse the song "Hakuna Matata" together. Can you say #RelationshipGoals?
Rogen will be playing Pumbaa the warthog in the Lion King remake, due out July 19, 2019. The role places him opposite the comedian Billy Eichner as the scolding meerkat Timon, and smack-dab in the middle of a cast that truly puts the "star" in star-studded. Just to drop a few of the biggest names, The Lion King features Donald Glover as Simba, Beyonce as Nala, and Chiwetel Ejiofor as Scar, who up until now have probably only met at one of those parties that require you to have one of the letters of an EGOT just to get through the door.
It's an intimidating group, so Rogen clearly wanted to show up prepared. His screenwriter wife says that they logged some serious hours harmonizing together as the comedic Saharan duo, with Miller Rogen standing in for Timon. As she told ET in Tuesday's interview:
"I mean, I'll be honest, there was some time when we would practice 'Hakuna Matata' together and I got to be Timon and it was amazing. I will say I'm sure Billy Eichner has a much better voice than I do, but I was so psyched! I mean, it didn't take any convincing for me. He was like, 'I'm gonna be Pumbaa!' and I was like, 'This is the coolest thing ever!'"
It's a response that likely sounds familiar to anyone who saw and loved the 1994 original Disney animated classic, but it's so delightful to hear it coming out of the mouths of people so closely involved in the remake.
Because the only person who's more excited than his wife about the role, is Rogen himself. "It's thrilling!," the actor told ET:
"Its amazing for many reasons. One is because I'm a big fan of The Lion King. Two is because it's the most expensive movie I'll have anything to do with probably, so that's thrilling. [Third,] Jon Favreau, the director, I've known since I was 18, is a very close friend of mine. So again, it's always exciting to get to work with people that you know well. Yeah and we're good friends. Overall it's surreal. It will be weird when it comes out."
Rogen is basically vibrating with excitement over the chance to bring his own special brand of humor to this iconic character, and it makes the impending release all the more exciting. Now if he could just come up with a way to speed up time so that a year passes in the blink of an eye, that would be the real problem-free philosophy that would bring about no worries for the rest of our days.
But barring that, reading these interviews chock-full of adorable enthusiasm is the next best thing.