This New Behind-The-Scenes Photo From 'The Lion King' Will Have You Singing "Hakuna Matata"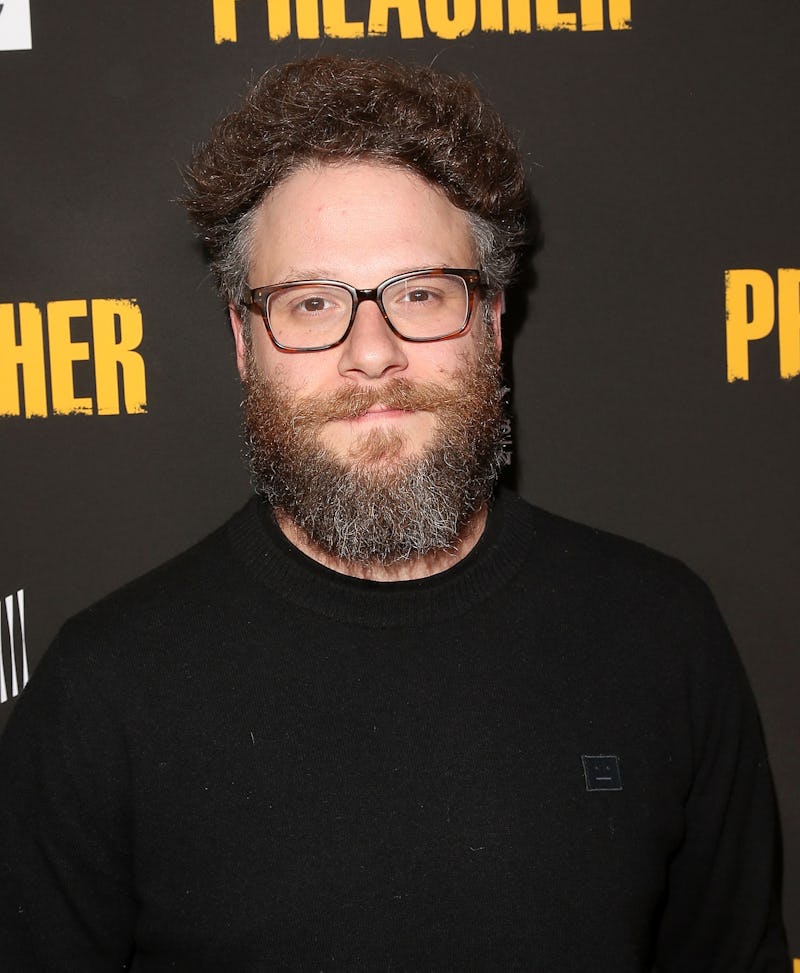 Jesse Grant/Getty Images Entertainment/Getty Images
"Hakuna Matata, what a wonderful phrase," especially when it's being used alongside the first behind-the-scenes photo of the new Lion King cast. Seth Rogen blessed the internet with a rare look at the recording of Disney's live-action remake of The Lion King with the simple caption "Hakuna Matata." Not only did the actor give fans a first look at the highly anticipated film, he also reminded many of what a bop "Hakuna Matata" still is, and that's truly the best a Lion King fan can ask for so far from the film's release.
On Oct. 17, Rogen tweeted out a photo of him, Jon Favreau, Billy Eichner, and Glover, who was very on-brand with his Donald Duck sweater. "Hakuna Matata," Rogen captioned the snapshot from inside a studio. Only fitting really, since he's playing Pumbaa in the upcoming Lion King film, hitting theaters on July 19, 2019. Favreau will direct, with Glover starring as Simba and Eichner co-starring as the Timon to Rogen's Pumba.
For those wondering why the guys were in a studio for the live-action Lion King, it has something to do with how it's being filmed. Favreau plans on bringing Simba, Nala, and all the African savanna's other inhabitants to life using photo-realistic animation. This means the animals in the The Lion King, like Favreau's The Jungle Book, will actually look like real animals, not cartoons and definitely not actors in costumes. Though, who wouldn't want to see Rogen dressed up as a warthog?
Like the original, this one will also include music, which is another good reason for the guys to be in a studio. To prepare for his big "Hakuna Matata" solo, Rogen told Entertainment Tonight he sang with his wife, Lauren Miller. According to Miller, it was kind of a dream come true. "I mean, I'll be honest, there was some time when we would practice 'Hakuna Matata' together and I got to be Timon and it was amazing," she said. "I will say I'm sure Billy Eichner has a much better voice than I do, but I was so psyched!" Let's let Rogen be the judge of that.
No surprise, Twitter was excited to finally catch a glimpse of the guys making the movie, even if some questioned Rogen's look in the picture. In his yellow shirt, the comedian reminded some of another '90s cartoon character. "This isn't the Arthur movie?" a fan named @CheddarBomb11 asked, providing photo evidence of just how much Rogen's yellow shirt made it look like he stole Arthur's look.
Others had trouble focusing with all the beards inspiring a new, very punny title for this new Lion King. "The Lion King: So Mane-y Beards?" fan @marymostlymeows suggested, totally nailing it.
Also starring in the film, though not pictured, are Chiwetel Ejiofor as Scar, John Oliver as Zazu, James Earl Jones, reprising his role as Mufasa, and Beyonce, who plays Nala. Here's to hoping Rogen will share a photo of Beyoncé next. Even better, a clip of himself singing "Hakuna Matata" so fans can see if practice really did make perfect. Whatever it is, the next look fans get at Disney's live action The Lion King can't come fast enough.