Starbucks Has 3 Secret Pumpkin Spice Latte Hacks You Need To Try This Year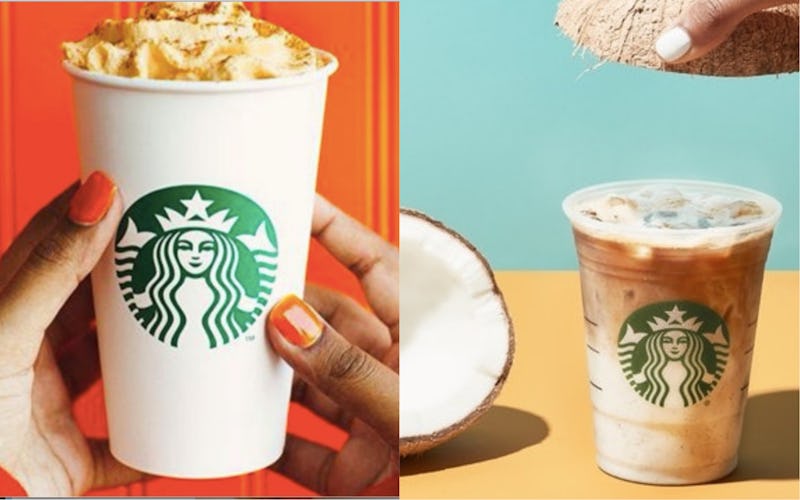 Starbucks; Remixed by Bustle
Well friends, the Pumpkin Spice Latte emerged from the ground and saw its shadow, which means fall is decidedly here — or at least it will be on August 28, which Starbucks just announced is the official launch date of the PSL in 2018. While any pumpkin fan worth their syrup knows all the tried-and-true methods for customizing their latte, this year in particular may be a game changer — in fact, there are Starbucks Pumpkin Spice Latte hacks for 2018 that have never been as readily available to PSL guzzlers as they are right now.
Part of this is due to the fact that Starbucks has added customizations to its menu in the past year that didn't exist last fall, when the PSL was a mere 14 years old and not 15 (and studying for his learner's permit, bless his lil' seasonal heart!). Since then, we've seen new drinks added to the menu, an entirely new food menu, and even new cup designs in the ever-evolving coffee chain. But all of these changes were building up to the one true gift bestowed upon us by the Starbucks mermaid: the Pumpkin Spice Latte, and all of the hacks we can use to elevate it to pumpkin perfection.
Of course, you can always stick to the old faves — getting your PSL iced, or swapping out the milk for coconut or Almondmilk, or getting it with a shot of espresso — but here are a few customizations that are new to 2018.
Ask For Cold Brew Whipped Cream
Go full throttle on your sweet tooth by replacing the regular whipped cream in your Pumpkin Spice Latte with Sweet Cold Brew Whipped Cream — a Starbucks offering that launched with the Ultra Caramel and Triple Mocha Frappuccino in May. The Sweet Cold Brew Whipped Cream costs an extra 50 cents to add to any hot or cold drink, but seeing as it's "infused with cold brew, dark caramel sauce and white chocolate mocha sauce," it seems well worth the extra change — particularly when you think about how well all those flavors pair with pumpkin.
Put Pumpkin Spice Latte Syrup In A New Starbucks Offering
Among the new drinks Starbucks has added to its permanent menu since the PSL went underground at the end of last fall are the Ultra Caramel and Triple Mocha Frappuccino, the Protein Blended Cold Brew Drinks, the Salted Cream Cold Foam Cold Brew, and the Iced Vanilla Bean Coconutmilk Latte. The one thing all of these drinks have in common? They'd definitely be elevated with just a smidge (OK, several pumps) of Starbucks' pumpkin syrup.
Enjoy It With A Pumpkin Spice Cookie Straw
This requires a little bit of an extra trek, but then again, nothing is more extra than our love for pumpkin spice everything. Starbucks launched Pumpkin Spice Cookie Straws in grocery stores alongside other offerings like Pumpkin Spice Coffee K-Cups, refrigerated drinks, and grounds. This year, invest in a carton of cookie straws and keep them on hand so you can elevate your next trip to Starbucks with the ultimate PSL hack.
Of course, there is nothing wrong with a plain ole PSL consumed the way god and the Starbucks mermaid intended — so no matter how you choose to indulge this fall, you can't get too much of a gourd thing.
(... Sorry.)