Starbucks Launched A Witch's Brew Frapp & The Flavor Will Totally Creep You Out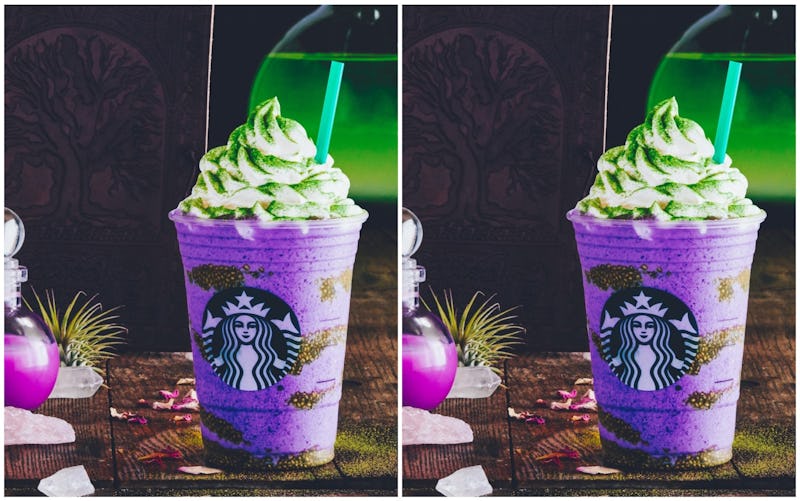 Courtesy of Starbucks
Excellent news, autumnal Starbucks fans: The Pumpkin Spice Latte isn't the only seasonally appropriate drink on your favorite coffee shop's menu right now. The Witch's Brew Frappuccino has arrived at Starbucks for the 2018 Halloween season — and, uh, folks? It's purple. Very, very purple. And I kind of love it. It's available starting on Oct. 25 for a limited time at participating Starbucks locations in the United States, Canada, Mexico, and some Caribbean markets. Someone call the Sanderson Sisters, because I really, really think they need to know about this.
Apparently, Halloween 2018 is the Season of the Witch for Starbucks: Just last week, we got word that in Japan, the coffee giant had released two apple-flavored Frappuccinos for Halloween — one of which is called the "Halloween Witch" Frappuccino. Featuring apple compote, caramel cookie crumble, milk, chocolate sauce, and whipped cream, the Witch Frapp from Starbucks Japan sounds a bit unusual; still, though — it piqued the interest of many, who were rightly disappointed that there was no way to get a hold of it outside Japan.
But! I would like to take this moment to note that I TOTALLY CALLED IT. Here's what I said by way of consolation for anyone who felt upset about not being able to try the Halloween Witch Frappuccino:
"But hey, the good news is that there's a pretty high possibility we'll have a spooky Frappuccino of our own arriving at North American Starbucks locations in the coming weeks: Not a season has passed since 2014 without the introduction of a Halloween treat to the seasonal Starbucks menu, so odds are good that 2018 will follow the trend."
Those previous treats were the Franken Frappuccino in 2014, the Frappula Frappuccino in 2015 and 2016, and the Zombie Frappuccino in 2017. And, lo! The 2018 U.S. Starbucks Halloween Frappuccino has finally arrived. What's more, it, too, is witch-themed. So, y'know, hoorah for that.
The Witch's Brew Frappuccino is quite different from the Halloween Witch Frappuccino. Like many of Starbucks' recent limited edition Frapps, this one is… let's call it unusually colorful. Bright purple, it's "toad's breath"-flavored — which really means Swirl Orange Crème Frappuccino-flavored — and layered with green "bat warts," AKA chia seeds. It's then topped off with vanilla whipped cream and a dusting of green "lizard scale" powder, which I'm assuming is matcha powder.
It's visually pretty spectacular — but it will probably also taste a little less, uh, out there than other wacky Frapps (Unicorn Frappuccino, I'm looking at you). Because hey, guess what? Orange-flavored Frappuccinos aren't just a Zoolander joke; Starbucks actually has offered them before in the past.
In 2007, an Orange Crème Frappuccino arrived on the Starbucks menu as one of several new orange-flavored options. (The others were an Orange Mocha and an Iced Orange Mocha.) Available in both regular and "light" versions, the Frappuccino blended together orange flavor, milk, and ice; then the whole thing was topped off with whipped cream and orange zest. PopSugar described it as basically a "dreamsicle milkshake." Alas, though, it was only available for a brief time; according to Refinery29, it existed solely during the summer of 2007.
If you remember the Orange Crème Frappuccino fondly, though, congratulations! Now is your chance to revisit those memories, albeit with a witchy twist. You'll have to act fast, though; the Witch's Brew Frappuccino is only available for a limited time starting on Oct. 25. (No end date has been specified, but it's likely that it will go the way of all things after Oct. 31.) You can find it at participating Starbucks stores in the United States, Canada, and Mexico, as well as select markets in the Caribbean. Oh, and while you're at it, give the Mummy Cake Pop or the Racoon Sugar Cookie a try; those two treats will also be spooking up the Starbucks menu for Halloween.
Happy almost-Halloween!