Taylor Swift Upholds Her Promise To Donate To Help Sexual Assault Survivors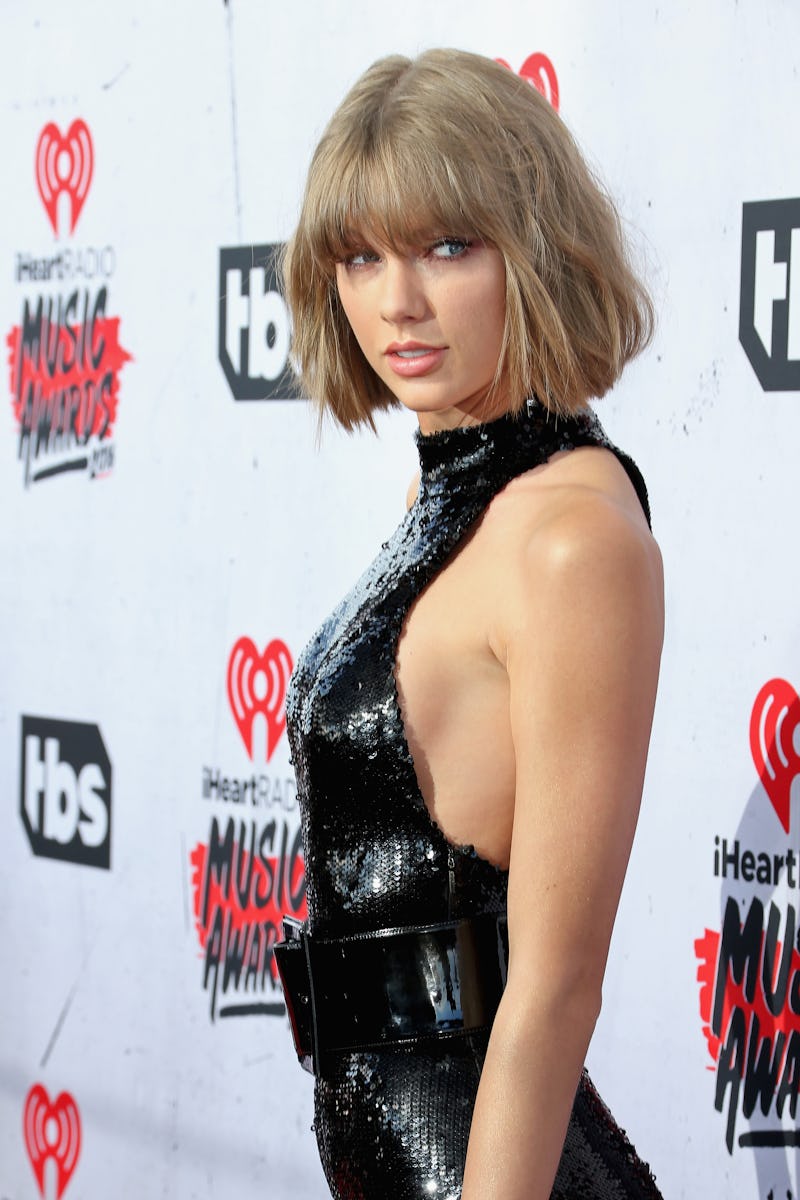 Frederick M. Brown/Getty Images Entertainment/Getty Images
Following the Aug. 14 announcement that Taylor Swift had won her countersuit against former Denver radio DJ David Mueller and that he was found guilty of assault and battery (Mueller told CNN, "My heart is still set on proving my innocence"), the singer released a statement saying that she would be contributing to "organizations that help sexual assault victims defend themselves." Making good on that promise, Swift donated to help sexual assault survivors through the Joyful Heart Foundation. The Foundation's mission is to "transform society's response to sexual assault, domestic violence, and child abuse, support survivors' healing, and end this violence forever," according to their website. And on top of their goals aligning with what Swift wants to achieve after her trial, the Foundation was founded by one of the pop star's friends, Mariska Hargitay.
After Swift's trial, in which she accused Mueller of groping her during a meet-and-greet in 2013, she released the following statement:
I want to thank Judge William J. Martinez and the jury for their careful consideration, my attorneys Doug Baldridge, Danielle Foley, Jay Schaudies, and Katie Wright for fighting for me and anyone who feels silenced by a sexual assault, and especially anyone who offered their support throughout this four-year ordeal and two-year long trial process.
Swift acknowledged her privilege in being able to put the time and money into focusing on her case, in which she was only awarded $1. (According to The Washington Post, the amount, which the singer countersued for, was meant to be symbolic so her case, rather than being about money, could "[serve] as an example to other women who may resist publicly reliving similar outrageous and humiliating acts.") Now, she's putting that privilege of hers to use by making monetary donations to aid sexual assault victims, starting with the Joyful Heart Foundation.
The CEO of the Joyful Heart Foundation, Maile M. Zambuto, wouldn't disclose the amount of Swift's contribution, but told the Huffington Post that it was an "extremely generous financial investment in the movement to end sexual violence." Zambuto noted that Swift's donation will go to funding healing programs, educational work, and advocacy work.
Out of the many organizations that focus on supporting survivors of sexual violence and assault, it shouldn't be surprising that Swift chose Hargitay's Joyful Heart Foundation since the singer has been open about being a fan of the actor. She even named one of her cats Olivia Benson after Hargitay's justice-seeking Law & Order: Special Victims Unit character.
This admiration has developed into a mutual friendship with Hargitay appearing in Swift's music video for "Bad Blood" and joining her on stage during a concert.
The SVU actor was inspired to create her foundation because of her time on the show. On Joyful Heart's website, it states that preparing for the role "opened her eyes to the epidemics of sexual assault, domestic violence, and child abuse." Fan letters from real survivors talking to her about their experiences further prompted her to found Joyful Heart in 2004.
So Swift's donation isn't about the famous friendship between herself and Hargitay; it's about advocating for victims of sexual assault. As the actor said in response to Swift's trial, "I hope that Taylor's very public experience ― and her decision to speak out ― not only helps empower other victims to speak up and take action, but offers them solidarity."
While most people can't take action by making significant monetary contributions like Swift is doing, her choice to use her celebrity status and "privilege" to aid victims serves as an inspiration to all to stand up against, and put an end to, sexual assault.