2017 Golden Globes Don't Bode Well For The Oscars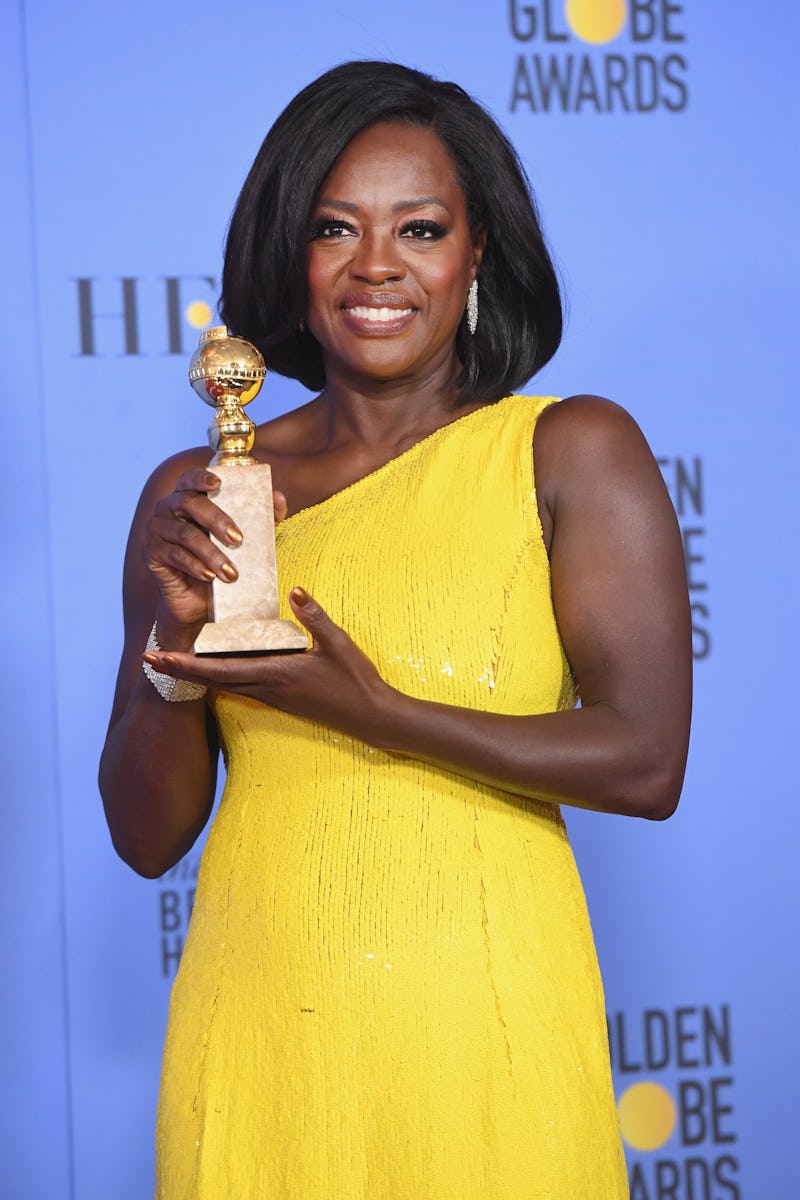 Kevin Winter/Getty Images
I think you know what time it is. The 2017 Golden Globes has come and gone, and the diversity of the Golden Globe winners is more or less what I expected. Of the 26 categories, only six of them had a person of color, or a show with people of color in the central cast, take home the award. If you break that down even further, four of them were for television — Tracee Ellis Ross (black-ish), Atlanta, The People vs. O.J. Simpson, and Donald Glover (Atlanta) — and two of them were for movies — Viola Davis (Fences) and Moonlight — which doesn't bode well for movies. If this award ceremony is any indication, the 2017 Oscar winners will be predominantly white for the third year in a row.
I've said it before and I'll say it again: television is diversifying at a much faster rate than movies are. You can really see that contrast at award shows like the Golden Globes, which honor both television and film and which had more options to choose from among television shows than they did among films. While the Globes have no real effect or bearing on the Oscars, it's been noted by The Hollywood Reporter, "Do the math in all the major Oscar categories for the past two decades, and the Globes have been right 91 times out of a possible 140."
So while they are far from a perfect preview — especially as they've been right very rarely in recent years — it's still worth noting where the Globes stand. After Sunday night, it appears that they stand somewhere predominantly white, and that La La Land will be taking home all the awards come Oscars time.
It's completely unsurprising that so few people of color would be going home with awards on Sunday night, because, no matter how often they're nominated, people of color rarely take home the award in the end. I was expecting the final tally of winners to come to six out of 26, if I'm being completely honest with you. I was even expecting most of those winners to be in the television categories rather than the film categories, despite the numerous people of color who were nominated for their work in film. With the Golden Globes falling exactly in line with my incredibly low expectations, that doesn't really make me optimistic for the Oscars this year. That sort of cynicism tends to happen when the first award show of the season shows how little things have actually changed.
But, hey, maybe this year will be different. Surely the Oscars can't pull an #OscarsSoWhite three years in a row, not with quality entertainment like Moonlight, Loving, Fences, and Hidden Figures, to name a few, in the running for the award. La La Land, for all its shiny, happy wonder, is a film that was essentially perfect for the Golden Globes; it was a love letter to Old Hollywood, so of course New Hollywood would respond well to it. But the Oscars are a little more prestigious (see: serious and occasionally boring), so they might be looking for something with a little less singing and a little more social commentary — which Moonlight, Loving, Fences, and Hidden Figures provide in spades.
It's just that times like this make me wonder exactly what people of color have to do in order to get the recognition that they deserve. Whether it's a year where few of the movies in the Oscars running have predominantly POC casts, or a year like this one in which there are an overabundance of options, it seems like we are only ever sometimes worthy of a nod but rarely, if ever, worthy of the actual win. It's a discouraging message to send to people of color in and outside of Hollywood, that no matter how hard we work or how much we produce, it will never be enough. Despite Tracee Ellis Ross and Viola Davis taking the time at the Golden Globes to make speeches about being enough, it's hard to share their sentiments when you see the final numbers and realize that POC have been largely shut out of recognition again.
Honestly, I've been waiting for the Oscars to step up their game since the dawn of forever — even more so in recent years — so I don't want to be disappointed in them just yet. Not before I see the results for myself. But I can at least say right now that the Golden Globes wasted the potential they had in all of the nominees of color they had in their numerous categories, and I hope that the rest of the award shows we have to look forward to in 2017 don't make the same mistake.