This Tweet Reveals Something Disturbing About Male Actors' Golden Globe-Winning Roles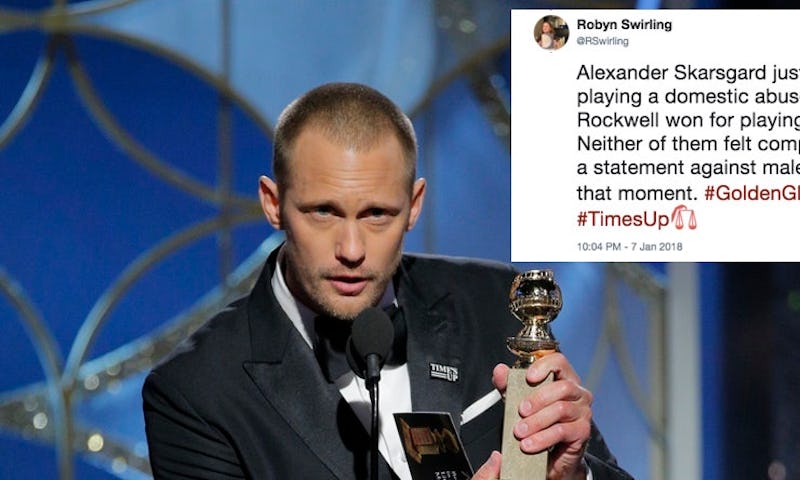 Handout/Getty Images Entertainment/Getty Images; RSwirling/Twitter
While this year's Golden Globes feel like a game-changer, in terms of progressive award shows, not everything is picture-perfect. Sure, women and men are wearing black in solidarity with victims of assault and harassment, but men at the 2018 Globes aren't speaking up in the same capacity as women — specifically, not in a few moments that could make a major difference. There's one tweet that points out how the Globes appear to be rewarding "violent" men, on-screen at least, and it feels a bit counter-intuitive, given the messages propelling this year's ceremony forward.
As Robyn Swirling wrote on Twitter,
"Alexander Skarsgard just won for playing a domestic abuser. Sam Rockwell won for playing a violent man. Neither of them felt compelled to make a statement against male violence in that moment."
Swirling also used the Time's Up hashtag, referencing Hollywood's initiative where more than 300 women in the entertainment industry have come together in solidarity to say the time is up on harassment, discrimination, and assault. And while that's a movement many are standing behind and addressing at the ceremony, it's a sentiment missing from these men's acceptance speeches.
While Skarsgard's performance in Big Little Lies was powerful, Perry was an abusive character, who was often hard to watch on screen. Meanwhile, Rockwell won a trophy for Three Billboards Outside Ebbing Missouri, where he plays an officer who grows violent. This isn't intended as a knock at their acting prowess, but instead, it's the voicing of disappointment that neither used their moment in the spotlight to truly speak out and condemn their character's behavior.
Swirling followed up that important tweet with yet another message worth repeating, writing, "It's tremendous watching what women are doing tonight, but men need to be stepping up in this moment, too." Yes, the women are pushing invaluable conversations into the spotlight, but it would be so much more powerful if they were backed by their male colleagues. Not that they need their support for their messages to get across, of course, but it just would be nice to see that message cross gender lines. Women shouldn't have to fight alone.
Of course, it's worth noting that Skarsgard did give a shoutout to his talented costar, Nicole Kidman, who won an award earlier in the night for her role as Celeste on Big Little Lies. He said,
"I am here tonight because I have the privilege of working with extraordinarily talented women... Our extraordinary cast, who are all here, especially Nicole. Hi. Not that you're, like, more talented than the other girls, I say especially Nicole because most of my scenes are with Nicole."
But congratulating Kidman does not equate to speaking out about the horrific way his character treats hers. It's simply not enough, especially when he had such a big platform to say something more.
As for Rockwell, when he took the stage to accept his Best Performance by an Actor in a Supporting Role in a Motion Picture, he expressed his gratitude and excitement. But beyond the obligatory thank yous, he didn't touch on the same topics many women in Hollywood are speaking out against.
Instead, speaking of his Three Billboards role and directly to the screenplay writer and director, Rockwell said,
"Every actor knows to say great words is a blessing. And these are such beautiful words."
The irony here being that words are powerful, and it would've pushed that idea further if he touched on bigger issues, especially given the at-times troublesome temperament of his on-screen character.
While the women in Hollywood, and a select few men, are using the Globes microphone to really make it clear that time is up on inappropriate behavior, rewarding violent roles, but not condemning them in the process, is disappointing. At the end of the day, wearing a black suit in solidarity doesn't accomplish much if it's not paired with a message that assault of all kinds needs to end.
If you or someone you know has been sexually assaulted, call the National Sexual Assault Telephone Hotline at 800-656-HOPE (4673) or visit online.rainn.org.