The 3 Emojis Singles Hate The Most On Dating Apps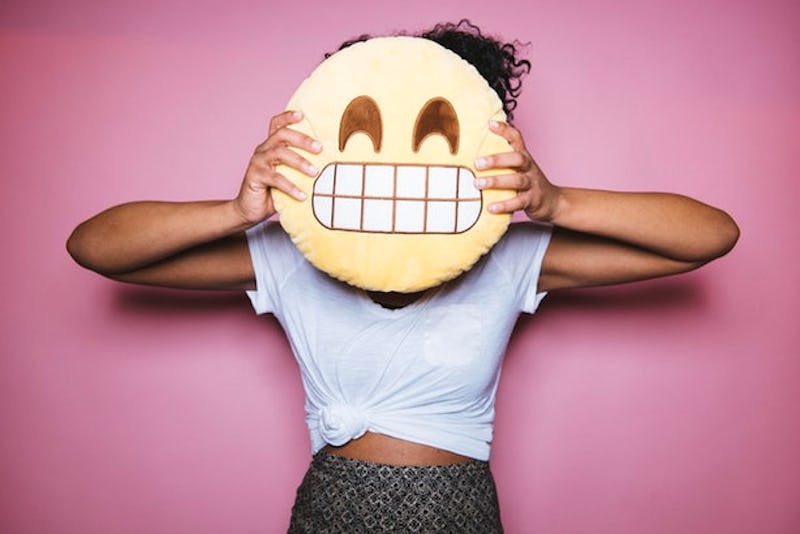 BDG Media, Inc.
Emojis seem to be *everywhere* these days, from conversations between friends in texts and Facebook messages to conversations with strangers on dating sites and apps. And why not, right? They're cute, informative, and if you're short on time, they can do the talking for you, so to speak. In fact, some people write their entire dating profile using emoji icons, and then proceed to message you in emoji-speak, too. So, it shouldn't come as a surprise that people have their favorite — and least favorite — emojis on dating apps. Dating platform PlentyOfFish (POF) wanted to find out, too, and did so in their 2018 Conversation Nation study. They surveyed 2,000 singles across the U.S. to get the DL on the top three emojis that daters don't like.
"The use of emojis in dating conversations can certainly benefit singles," Shannon Smith, dating expert at Plenty of Fish, tells Bustle. "At their best, emojis offer a fun, new way to communicate. The right emoji at the right time can act as a conversation-starter, punctuate a good story, or just deliver a good laugh."
When it comes to online dating and that initial message you send somebody, eight percent of respondents believe that sending an emoji message will get you a reply. And when it comes to how to communicate without words — online, via text, and in-app with potential dates — singles fessed up to that, too. Although doing so through photos/screenshots was the most popular, at 38 percent, the next most popular way to communicate was — yep — through emojis: Thirty-two percent of respondents are a fan, beating out other non-written forms of communication, such as memes (13 percent), gifs (12 percent), and Bitmojis (five percent). TBH, can you blame them?!
Without further ado, here are the top three emojis that daters don't like, POF's study found — so emoji-send with caution.