Here's Every Absurd Plot Twist From That 'AHS: Apocalypse' Finale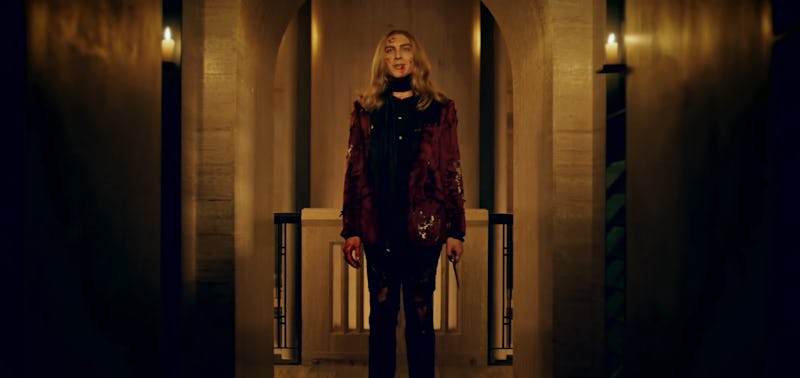 FX
Spoilers for the season finale of American Horror Story: Apocalypse follow. Although wrapping up the entire season in one last episode seemed nearly as impossible as stopping the nuclear holocaust, the AHS: Apocalypse ending managed to do both things in "Apocalypse Then." It was a lot to take in, but in the end, almost all the loose ends were tied up
Mallory used her time-travel power to kill Michael Langdon in the year 2015 to prevent him from ever causing the apocalypse. Mallory's time jumping led to the return of Jessica Lange's Murder House character, Constance, for another episode and the finale even marked the comeback of Angela Bassett's Marie Laveau. As Coco actor Leslie Grossman had teased to Bustle, the Apocalypse finale was truly satisfying for fans. But just because the witches successfully vanquished the Antichrist doesn't mean it was a happy ending, as the promise of a brand new horror emerged.
As had been hinted at in previous episodes, Coven witches Cordelia, Myrtle, and Madison planted Coco and Mallory in Outpost 3 knowing that Michael's apocalypse was inevitable. Michael never saw these new witches, so Cordelia hides them in plain sight and casts an identity spell to suppress rising Supreme Mallory's magic until she's powerful enough to do the "tempus infinitum" spell. (It also explains Coco's truly awful behavior toward Mallory since they had modeled the gluten-detecting witch's new identity after Madison.) After the apocalypse occurs, Cordelia, Myrtle, and Madison rise from the dead after the nuclear attacks and resurrect Coco, Mallory, and the betrayer Dinah Stevens, bringing the present story up to speed to where things were last left in Episodes 3 and 4. It was quite the whirlwind half hour.
In the witches' final confrontation with Michael, Voodoo Queen Dinah chooses to go with the Antichrist again. Suspecting that she would do that, Cordelia made a deal with Papa Legba to trade Dinah's soul for Marie's, who had been stuck torturing Delphine LaLaurie. So Marie kills Dinah and helps Cordelia's coven in their efforts to defeat Michael.
But the witches' plan falls apart when Billy Eichner's Brock (who just possibly might also be Mutt?) stabs Mallory. She's no longer powerful enough to go into the past, so Cordelia kills herself to help Mallory reach her full potential as Supreme. Things look dire in the present since Michael has also killed Madison, Marie, and Coco, but Cordelia's sacrifice works and Mallory heads to 2015 to intercept Michael before he becomes the Antichrist, in an attempt to undo this whole thing.
Constance has just kicked Michael out of the house for murdering a priest (because why not) and when he walks out into the street, Mallory runs him over with a Range Rover. A couple of times, too, just to make sure. As he dies, Michael pleads with his grandmother to take him into the Murder House so that his spirit can live with her forever. But Constance damns his soul by telling him, "Go to hell." And with that, Mallory stopped the apocalypse from happening and reset the timeline.
Mallory is now the only person in the world who knows what the witches accomplished. She starts to attend Miss Robichaux's Academy in 2015, but keeps the truth about the apocalypse a secret from the others. Myrtle is still dead in this new timeline since, as Mallory explains, Cordelia didn't bring her back since there was no threat of the apocalypse.
But Cordelia, Zoe, and Queenie are still alive and Mallory even uses her knowledge of the future to stop Queenie from staying at the Hotel Cortez, ensuring that her witch sister won't die and be stuck playing games with James March for eternity. And while Mallory doesn't rescue Madison from her personal hell just yet, she bargains with demons for the release of Nan and Misty. Nan stays with Papa Legba, but Cordelia realizes that Mallory has special abilities and is to thank for bringing her witch sisters back to her.
All seems well, but Apocalypse isn't done with its time jumping just yet. If you were wondering what happened to Emily and Timothy, the young people with superior genes who were placed in Outpost 3, AHS shows them meeting in 2020. These two hit it off and have a child together a year later before Apocalypse jumps forward three more years to 2024. Emily and Timothy's son is now a toddler and when they come home from a date, they discover their boy has murdered his babysitter.
It's exactly how Constance had found Michael at the end of Murder House. But this time, the Satanists, including Miriam Mead, come a-knocking. Turns out, the devil chose to make a new Antichrist in the form of Emily and Timothy's child after Michael had died. And now there's the possibility of an apocalypse all over again.
Mallory and the witches did unite to save the world from evil in the finale. But there's a new spawn of Satan who could cause an Armageddon eventually. That leaves the possibility of American Horror Story revisiting the Coven witches again with Mallory using her knowledge of the previous apocalypse and her Supreme powers to stop Satan once again.
Even if AHS doesn't go back to its beloved witches, Mallory has changed the timeline starting at the year 2015. And perhaps her manipulating the past will impact previous Horror Story seasons in other ways. So while the witches and humanity will live in relative peace for now, the anthology season has left the door wide open for other Antichrist horrors to come.