The 'Bachelor' 2019 Premiere Date Is Set, So Mark Your Calendars Now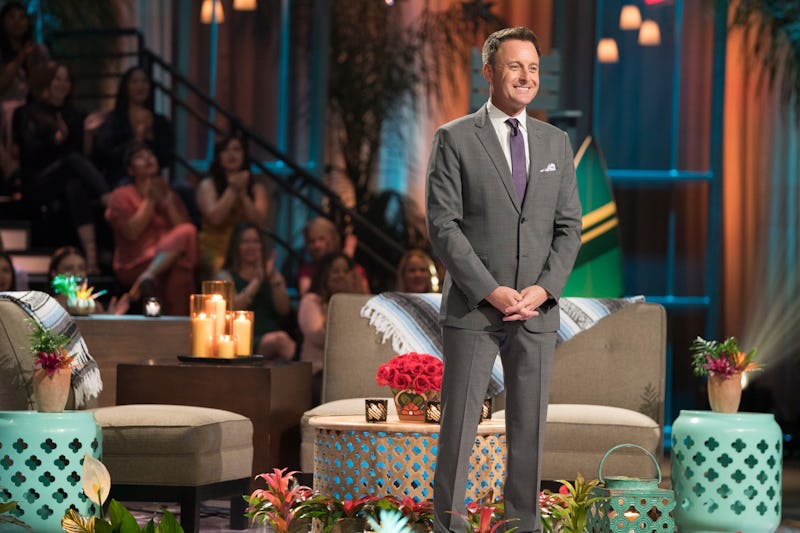 ABC/Paul Hebert
Bachelor Nation isn't about to let anyone rest for too long. Just before Bachelor In Paradise's final end credits rolled, host Chris Harrison revealed that The Bachelor's 2019 premiere date would be Jan. 7. Is that soon enough for you?
Bachelor fans will hardly have time to recover from the drama that endlessly swirled throughout this season of Paradise, and there was so much that happened. From Tia and Colton's semi-infuriating will-they-won't-they relationship, to Astrid and Kevin's abrupt breakup and subsequent reconciliation, to Kamil pulling an "Arie," blindsiding Annaliese with an unnecessarily televised breakup — it was very taxing to watch all of it unfold, and that's not even everything that went down.
But soon, we'll all have a clean slate and a fresh perspective, or at least as clean of a slate you can have when the next Bachelor appeared on the previous two seasons of the franchise. ICYMI — Colton is the new Bachelor who will be gracing our TV screens in early January, as many fans already know. Though Colton isn't the worst option the show could've picked, some fans are still just a little salty, and think Jason or Blake would have been a better choice. Hey, I just report what I see, people.
The Bachelorette's own Wills — whom we all deserved more time with on Paradise, or even as the Bachelor himself, just saying — told Bustle last week about his feelings on the choice. "More power to him," he said. "If you're in it to find love and to find your person, then go ahead and go forth."
He did add that he hopes Colton knows what he's getting himself into, and it echoed a lot of what fans seem to be feeling. "I feel like he's done The Bachelorette, he's done Bachelor in Paradise all the way through, and now he's doing The Bachelor," Wills continued. "I hope he takes some time to just breathe and really figure out and think about what he really wants before he goes into the next chapter."
Colton truly seemed torn up about his time on Paradise — he desperately wanted to commit to Tia, but just felt that it wasn't right. He also talked about how he was always doing things to please other people, how he wasn't sure if he was ready for the weight of a serious relationship, and he was often getting emotional about the decisions he was faced with.
There's nothing even remotely wrong with a guy who is open about his feelings or cries. And there's also no shame in not quite knowing what you want at age 26. But given the trouble he seemed to have with the process, or "journey" as they say in Bach Nation, it makes sense that fans are a little puzzled by his decision to partake in yet another reality dating show, instead of taking time to relax and recover from what he's gone through this year with Tia and Becca.
Sure, Colton might not have been everyone's first choice for the next Bachelor, but he hopefully will still find love and happiness, even if the audience — and maybe even Colton himself — doesn't quite know what that looks like yet. Set your DVRs and mark your calendars for Jan. 7 — this is a Bachelor season that could be truly unpredictable.
This article was originally published on Sept. 11, 2018. It was updated on Sept. 6, 2019.