'The Bachelor' Stars Sean & Catherine Welcomed Their Second Child & The Photos Are So Precious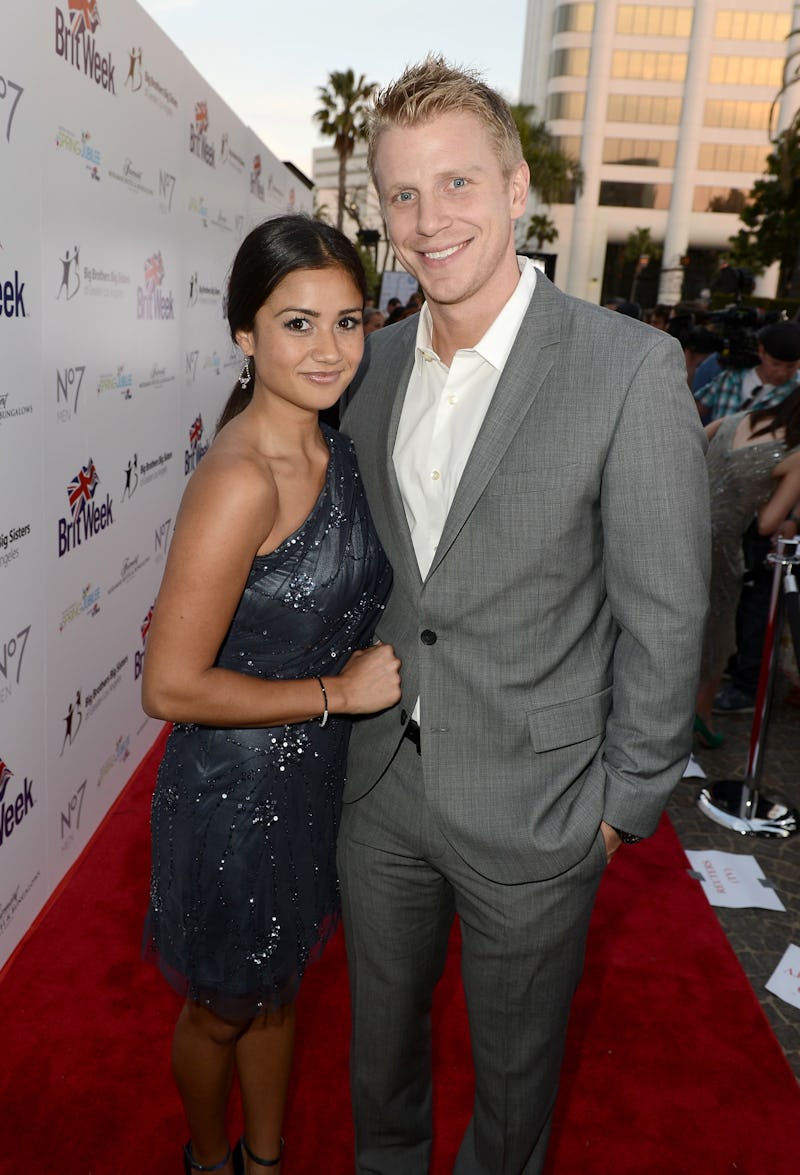 Kevin Winter/Getty Images Entertainment/Getty Images
Congratulations is in order for two Bachelor Nation stars. On Friday, May 18, People reported that Sean Lowe and Catherine Giudici welcomed their second child. Shortly after People shared this news, Catherine and Sean announced the arrival of Samuel's younger brother, Isaiah Hendrix, with some Instagram photos. If you expect the photos of the newest member of the Giudici-Lowe family to be extremely adorable, you will not be disappointed.
Early Friday morning, Sean gave Bachelor fans a heads up that the baby was on the way. The star of The Bachelor Season 17 wrote on Twitter,
"We're having a baby today! When the nurse at the front desk asked for our insurance card, I told her I also had a half off coupon and now I get to sit in the waiting room during the birth!"
Ah, good. Sean has been a father for just under two years and he already has mastered the ancient and revered art that is the dad joke. Really impressive work.
A mere 12 hours after Sean attempted to use a coupon at a hospital, he and Catherine hopped on social media and posted some delivery room pics. Some ridiculously precious delivery room pics, that is. Augh, this baby is beyond sweet.
In November 2017, Sean and Catherine announced via Instagram that they would soon become a family of four. In one of the cute videos, Sean asks Samuel to say "baby." Samuel replies, "bubbuhl" and points to Catherine's stomach. In the other cute video, Catherine points to her stomach and asks Samuel if he knows what it is. He replies, "bubbuhl." Sean and Catherine said in a statement to Entertainment Tonight,
"We are so thrilled to announce that we are expecting our second child! We consider ourselves so blessed to have Samuel in our lives and we are already thanking God for the newest edition to our family who should be arriving in late May. We are so thankful to everyone who has followed our little family and encouraged us along the way."
Six months after the IG videos made their way onto the internet, the bubbuhl arrived. And there could be more bubbuhls down the line. In April 2017, Catherine told Entertainment Tonight that she would like to have five kids. She said,
"I'm the person that wants a soccer team as a family and have a compound and everyone sleeping together in bunk beds and all that stuff. So yeah, there will definitely be more… I think five. Three natural and two adopted. That's my vision. We're probably going to start trying soon."
Sean, on the other hand, seems to want to stop at three. He told ET,
"[Growing up], it was just me and my sister. Two is a great number. I could do three. I think four, that can be out of control sometimes. I would say three is a good number."
As any Bachelor historian will tell you, Sean and Catherine are one of Bachelor Nation's greatest success stories; they are the textbook example of "here for the right reasons." Heck, one half of the pair literally wrote the book on the right reasons. Sean and Catherine will occasionally make cameos on The Bachelor to remind contestants that the process really can work; it doesn't always take a Ben Flajnik and Courtney Robinson-esque turn.
The couple met on Sean's season of The Bachelor back in 2012. Catherine won, Sean proposed, and they got married on national television on Jan. 26, 2014. Catherine had their first son, Samuel, on July 2, 2016. And as of May 18, Samuel is now a big brother.
What a happy time for the Giudici-Lowe family. Welcome to the Bachelor Nation family, Isaiah.