The 'Brooklyn Nine Nine' Season 6 Premiere Date Is Officially Here — "NOICE!"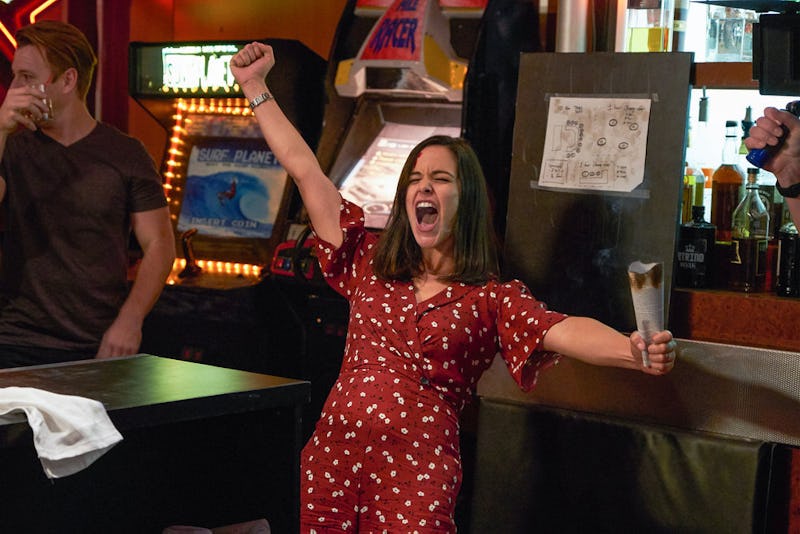 John P. Fleenor/Fox/Universal Television
When NBC saved Brooklyn Nine-Nine from being cancelled by Fox, fans everywhere shouted "Noice!" and "Toit!" And now, months later, there's finally an announcement that will surely make the world yell "Nine-nine!" in unison, as the Brooklyn Nine-Nine premiere date has finally been revealed.
Brooklyn Nine-Nine Season 6 will debut on NBC on Thursday, Jan. 10, TVLine confirmed. Unlike Fox, which was never sure when they should air the show — it moved back and forth from Sundays and Tuesdays and at varying primetime slots — NBC seems confident. They're slating Brooklyn Nine-Nine for the choice weeknight slot: Thursdays at 9 P.M. That's the most competitive time slot on TV, and the most expensive one for advertisers, according to Ad Age. NBC's Friends used to air then, for example, and later The Office, and the spot is currently occupied by NBC hit Will & Grace. So, just by the time slot, you can tell NBC is taking Season 6 as seriously as Detective Jake Peralta takes sour gummy candies.
Best of all, it's being paired with another show from the series creator. With Brooklyn Nine-Nine taking the cherished 9 P.M. slot, The Good Place will move to 9:30 P.M. for the rest of its abbreviated season. Plus, creator Mike Schur loves to use the same actors time and time again, so it's entirely possible that this hour will include, for one example, the actor Mark Evan Jackson playing Capt. Holt's husband in the first half (Brooklyn Nine-Nine) and then playing eternal being Shawn in the second (The Good Place).
Either way, this is a show of faith by network, and it's definitely worth celebrating.
Brooklyn Nine-Nine was cancelled by Fox in May 2018 after five stellar seasons. Even though Season 5 ended with Jake and Amy's wedding, it felt kind of abrupt; the show wasn't really building towards "Jake & Amy" as the series finale. After fans erupted online — normal folks and celebrities alike — NBC swooped in to pick up the show for a Season 6. (It made for one highly emotional day.)
Bob Greenblatt, the Chief of Entertainment at NBC, was quick to praise the network's decision. In a May 2018 phone call, he told Deadline that Brooklyn Nine-Nine having been on Fox at all was "a missed opportunity" for NBC. He mentioned that star Andy Samberg, who won a Golden Globe for his role as Jake Peralta, "grew up on NBC", and that Brooklyn Nine-Nine "fits into [NBC's] brand of comedy, in many ways better than it ever fit on Fox".
When asked about the intense fan support, he was appreciative of it, but insisted it wasn't the whole reason they picked up the show:
"When the series finally came to a place where Fox could not keep it on, [we] jumped on it really quickly.... [though] fans took to Twitter to yell and scream, we were already there!"
In other words, NBC was just waiting for the day they could make a deal for the beloved show. They weren't about to pass it up again. Another amazing quote from the network executive:
"You know where you finish a puzzle and one piece is missing? We found that piece."
Aww. Plus, NBC was so psyched to get Brooklyn Nine-Nine, they already expanded the Season 6 episode order. As the show's Twitter account announced on September 7:
But here's where things get a little murkier. NBC picked up the series, which is great, and now fans know the already-expanded season is taking the coveted Thursdays at 9 P.M. slot. These are all good things! Still, they aren't a guarantee of a Brooklyn Nine-Nine Season 7. In May, Greenblatt insisted that they were just focused on making Season 6 happen.
It hasn't yet been cancelled, but it hasn't been picked up for any new episodes beyond Season 6. At this point, it's kind of up to the fans: If they watch the show, and like it, and want more of it — hard to believe there's any other way to feel — then NBC will start actively thinking about what's next. Noice. Toit. Smort. Nine nine!