Bustle's Editors On Clinton + 'The Little Mermaid'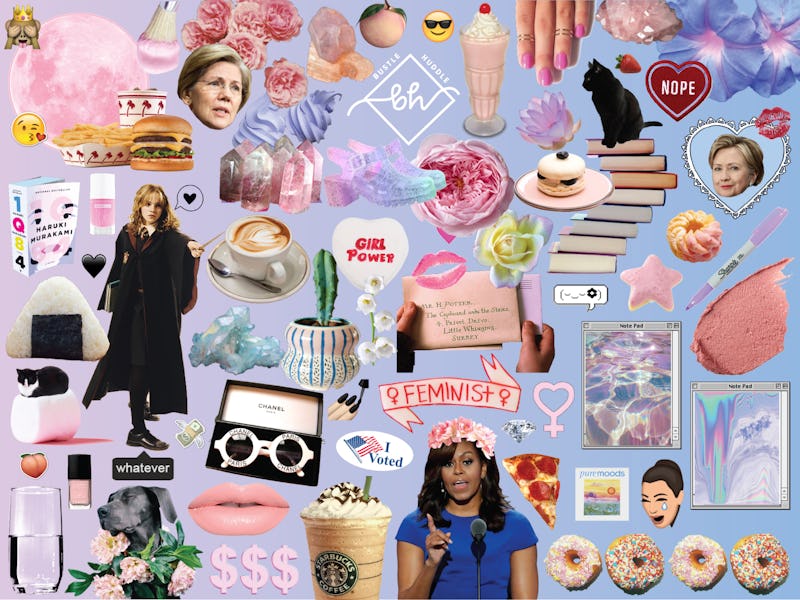 Can we just talk about the ups and downs that were the week of March 6-10? Trump signed a new travel ban, Chrissy Teigen got really real in an essay on postpartum depression, GOP leaders revealed their plan to replace Obamacare (sigh), women took part in "A Day Without A Woman" on International Women's Day, and we finally learned the Game of Thrones Season 7 premiere date — among a hundred other things, I'm sure. Just your typical week in 2017, I suppose. But enough of that, here's what Bustle's editors were talking about today, Friday, March 10:
Hillary Clinton + Her New 'Do
Hillary Clinton debuted a new haircut, but what we really need to discuss is the reaction to it. Clinton — who famously said, "if I want to knock a story off the front page, I just change my hairstyle" — revealed that she now has bangs during a speech on International Women's Day. Unfortunately, the Internet spent more time commenting on the fringe than on the words coming out of Clinton's mouth. Or, perhaps, the bangs caused more people to pay attention to the fact that she'd given a speech at all. It's not right, but apparently this is the world we're living in.
WTF of the Day: Representative John Shimkus of Illinois argued that men shouldn't be responsible for covering prenatal insurance costs. SMH.
The Little Mermaid + Trailer With A Twist
The trailer for the live-action The Little Mermaid 2017 movie was just released and, boy, are you going to miss Ariel and Sebastian. That's right, this movie is going to be a totally different interpretation of Hans Christian Andersen's fairy tale — and completely different from the animated Disney movie. So while it might be a little bittersweet, the movie definitely looks magical in its own right.
It's About Freaking Time: Charlize Theron will star as the female James Bond of your dreams in Atomic Blonde, to which I have only one thing to say: Hell Yes!!
Man Repeller + Topshop
Time to get excited — a Man Repeller x Topshop collaboration is happening this spring! We don't know *too* much just yet, but it looks like some kind of cool denim collection is definitely in the works.
Man Repeller shared a super fun promo video for the line, and if this doesn't get you excited for what's to come then I don't know what will.
More Great Shopping News: Starting this spring, MAC Cosmetics products will be sold at Ulta retail stores and on ulta.com (in addition to the MAC counters and stores where you usually shop your fave products). Woo hoo!
Daylight Saving Time + Your Health
Just a quick heads up: Daylight Saving Time is this Sunday, so don't forget to turn your clocks forward one hour before you go to bed on Saturday night. Yes, you're going to lose an hour of sleep and, yes, you're going to be tired, but did you know that DTS can actually affect your health in other ways too. I'm going to be suffering right there with you.
Shopping Break: Feeling more tired than usual = feeling lazier than usual. These 20 weird but genius things on Amazon will seriously make your life easier.
What to Watch: It's all about HBO on Sunday night. Tune in to the addictive murder mystery Big Little Lies at 9 p.m., and then stick around for another episode of the final season of Girls at 10.
What to Expect This Weekend: What do the ~stars~ have in store for you this weekend? Here's exactly what you can expect Saturday and Sunday, based on your zodiac sign.
Images: Dawn Foster, Chelsea LaSalle, Alyssa Foote/Bustle