White Leads No Longer Guarantee Box Office Success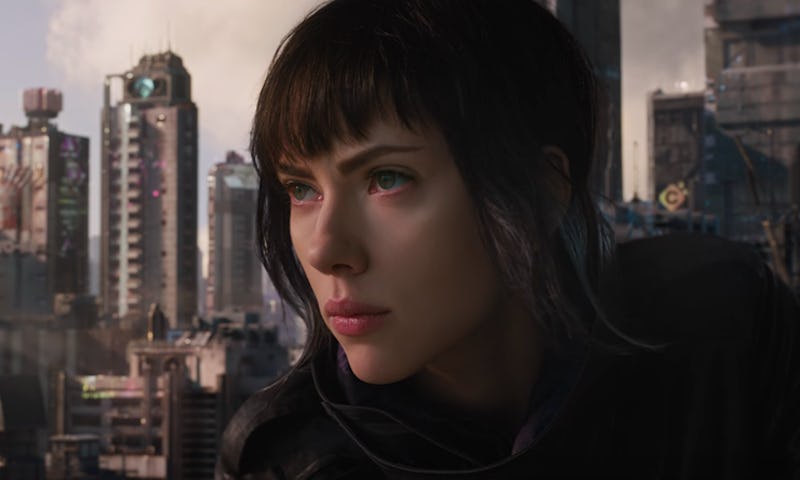 Paramount Pictures
This past weekend, Hollywood learned an important lesson: not even Scarlett Johansson's star power could save Ghost in the Shell. The movie suffered a disappointing box office, which is a pretty huge deal seeing that Ghost stars Johansson, who's a white, bankable star, rather than a less-known Asian actor, in a move many have deemed a serious case of Hollywood whitewashing. The fact that Ghost wasn't a hit, though, despite its white star, makes it clearer than ever that white leads are not the key making international hits.
While Ghost in the Shell made just $19 million domestically in its opening weekend, something else happened: Get Out hit the $150 million mark at the U.S. box office. Jordan Peele's insightful thriller about being black in America became the highest grossing original debut for a writer-director, and that's even more impressive considering that its lead actor, Daniel Kaluuya, is not a prominent star in the U.S. Contrary to popular belief, non-white actors — even those who aren't well-known — can lead successful movies, and famous white stars are capable of leading box office disappointments.
Get Out isn't the only film with a non-white lead making history at the box office. Hidden Figures, a film with three black female stars, was nominated for an Oscar for Best Picture and became the year's highest grossing Best Picture nominee, with over $167 million at the domestic box office (out-performing the very white La La Land).
Other films with diverse casts, like Rogue One, have become huge international hits, too. As these movies prove, white stars are not necessary for box office success. Rogue One might have starred a white woman, but Felicity Jones, though an Oscar nominee, had never before proven herself as a box office draw. The movie didn't need the star power of a Johansson or a Matt Damon to sell tickets — it did that all on its own, and with a diverse main cast that included a Mexican male lead, two Asians, and a British Pakistani actor. Granted, having the Star Wars machine behind the movie likely gave it a bit of an edge, but the positive response to the cast also proved that audiences are eager to embrace diversity on-screen.
Of course, box office numbers aren't everything. There's also audience and critical response, plus awards buzz. But diverse films are also leading in those categories as well. Get Out, for example, currently has a 99 percent fresh rating on Rotten Tomatoes — that's double Ghost in the Shell's 46 percent fresh rating. This year's Oscars also saw many groundbreaking nominations, including a nod for Dev Patel, the third Indian actor to ever be nominated, and the honoring of three black women in the category for Best Supporting Actress (Viola Davis, Octavia Spencer, and Naomie Harris). And Moonlight won the 2017 Oscar for Best Picture, becoming the first film with an all black cast to win the major prize.
Every time a movie like Moonlight breaks a glass ceiling, the argument that white leads are necessary to make movies a hit, even when the roles are originally intended for performers of color, becomes a bit more obsolete. Think three black women can't lead a box office hit? Take a look at Hidden Figures. Think Asian men can't play love interests? Check out The Edge of Seventeen. Think there can only be two superheroes of color at once? Look at the new Power Rangers movie.
To put it bluntly, there is no evidence to back up the claim that only white actors can sell movie tickets. Most Hollywood box office hits may star white actors, but most flops do, too. Any evidence that white actors are more bankable than actors of color is only a product of an outdated system. If Ghost in the Shell's box office earnings teach us anything, it's that Hollywood's way of thinking is broken. Audiences want more diversity on-screen, and it's beyond time that studios get the message.