All The Weirdest, Funniest Quotes You Missed At This Year's Emmys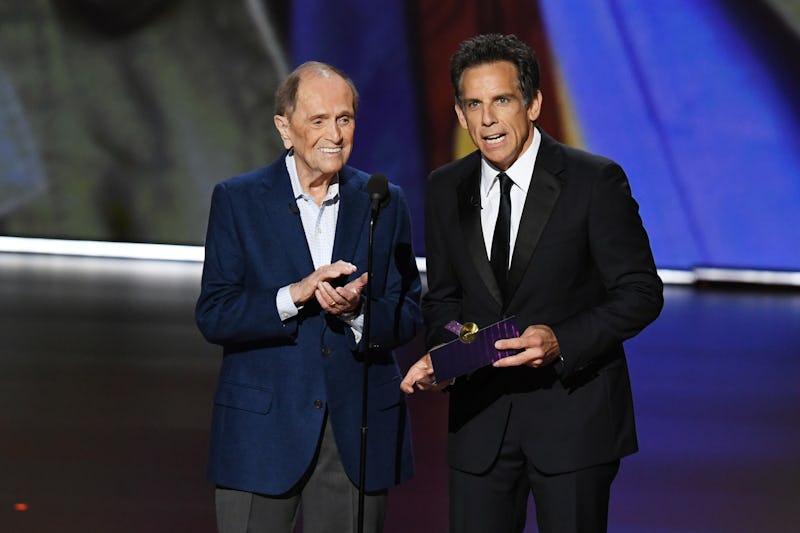 Kevin Winter/Getty Images Entertainment/Getty Images
Plenty of folks tune into the Primetime Emmy Awards to see their favorite shows compete for trophies on television's biggest night, but others are really just there for the jokes. If you are one of the latter, we've rounded up some of the funniest quotes from the 2019 Emmys. From bits about the history of the medium to in-the-moment acceptance speech gags, there was a lot to laugh about.
Taking a cue from last year's Oscars, the Emmys had no host this year. That means no traditional monologue — a part of the night that's usually packed with jokes. Previous years have presented less than hilarious moments, as audiences saw with SNL stars Colin Jost and Michael Che, who hosted in 2018 and didn't exactly score rave reviews for their tone-deaf and relatively bland comedy.
Fortunately, it's not just presenters and hosts who can deliver a laugh. Hilarious Emmy moments have also come from winners and nominees. Remember all the bits that Amy Poehler used to organize with her fellow Best Actress in a Comedy Series nominees? In 2009, Poehler got everyone (except Vanessa Williams) to wear funny glasses, and 2011, the nominees rushed the stage and awaited the winning opening of the envelope like beauty pageant contestants.
The potential for comedy was high this year too, with presenters like Anthony Anderson, Ike Barinholtz, Stephen Colbert, Maya Rudolph, Cedric the Entertainer, Max Greenfield, Bill Hader, Lin-Manuel Miranda, Hugh Laurie, Tim Allen, Lilly Singh, Ben Stiller, Phoebe Waller-Bridge, and James Corden all in the building. The comedies nominated this year include Veep, whose entire cast appeared to celebrate the show's final season, as well as Fleabag, Russian Doll, Schitt's Creek, Barry, The Good Place, and The Marvelous Mrs. Maisel.
Quotes-wise, here are the moments that will still have us laughing Monday morning:
"Ike, what is this?! This is not Game of Thrones!"
In its first moments, the Emmys brought out Homer Simpson, who promptly got hit by a piano. Black-ish nominee Anthony Anderson then attempted to "save the show" — and immediately made fun of the coffee cup incident on Game of Thrones with the help of Ike Barinholtz from The Mindy Project and Bless The Harts.
"Please stop making us cry."
Turns out, Bryan Cranston is also fed up with having to stock up on tissues before every episode of This is Us. His introductory speech about historic television moments started with the moon landing and ended with this plea to the NBC series. He also mentioned The Bachelor — and while it wasn't a joke per se, it was funny to hear Cranston talking about Paradise with gravitas.
"Ben, I'm still alive."
Before presenting the award for Best Supporting Actor in a Comedy series, Ben Stiller introduced a gallery of what he thought were wax figures of TV legends — George Burns, Lucille Ball, Bob Newhart — but the 90-year-old Newhart was actually there, in the flesh. "This legend is gonna kick your ass," Newhart told Stiller, "I hated you, by the way, in Tropic Thunder."
"It looks pretty, but it's like a hot Bikram yoga class in here."
Alex Borstein has now won two consecutive Emmys for Best Supporting Actress in a Comedy for The Marvelous Mrs. Maisel. Last year, as she mentioned in this year's speech, she wasn't wearing a bra. This year, Borstein took no time telling the audience that she was not wearing underwear, and then made the above statement.
"Here are the nimrods..."
Pretending to have just had eye surgery, Barinholtz and Rudolph took to the stage and made up the names of the nominees they were presenting. The names they came up with included "Dan Chowder" (Don Cheadle) and "Nicky Twotimes" (Michael Douglas). The only name they didn't mess with? Ted Danson, of course!
"You know what didn't have a host? The Titanic. Look what happened to them." "They won an Oscar."
Jokes about Hollywood's fear of awards show hosts can be tiring at times, particularly when the concerns about problematic hosts are legitimate. However, Colbert and Jimmy Kimmel approached the subject matter with class and humor. This jab about Titanic was pretty funny.
"I'm hungover."
Sorry to ruin your childhoods, Paddington fans, but Ben Whishaw, the voice of the bear, made an embarrassing admission when he accepted his Supporting Actor in a Limited Series or Movie for A Very English Scandal. At least going out to drinks with his agent before (the reason for said hangover) wasn't a bad luck charm.
"I find writing really, really hard and painful but I'd like to say honestly, from the bottom of my heart, the reason I do it is... this."
Waller-Bridge made that joke about doing it for the trophies when she accepted her first award of the evening: Best Writing in a Comedy Series. It's obviously meant to be ironic, as Fleabag first started as a one-woman stage show, far from the Emmy stage. When she returned to accept the award for Lead Actress in a Comedy Series, Waller-Bridge repeated the joke, saying "I find acting really, really hard," before trailing off and thanking more people.
"This is just getting ridiculous," she said on her third win, for Outstanding Comedy Series.
"A limited series is a TV show that has been canceled."
Let's be honest: it's hard to keep track of what's a limited series, a mini-series, an event series, or an anthology series these days, as Hader acknowledged with this joke.
"The producers have asked me to give a special shout-out to any of our previous lead actress winners who are watching tonight from prison. Hopefully those two weeks are gonna fly right by. Keep your chin up."
Thomas Lennon's wry commentary was overall unobtrusive. He poked fun at Cats, Billy Porter's hat, and Amazon Studios. However, one joke turned heads: Lennon went right after Felicity Huffman, who was sentenced to jail time for her participation in the college admissions scandal.
"Our family knows firsthand how truly compelling television comes from just being themselves."
Was Kim Kardashian actually joking when she said this? The audience sure thought she was and laughed accordingly.
"Thanks to Game of Thrones for the lead-in over the years."
Game of Thrones fans may be worried about what HBO will do now that the final season is complete. Perhaps nobody feels that harder than John Oliver, whose Last Week Tonight came on after. He joked that his ratings were dependent on Thrones while accepting the award for Outstanding Variety Talk Series.
Fleabag may have swept the stage awards-wise when it comes to comedy, and deservedly so. But the jokes from the ceremony themselves were spread out and are worth remembering as the Emmys end and a new season of television officially begins.