Watch Tia & Colton Get SUPER Emotional In The Latest 'Bachelor In Paradise' Promo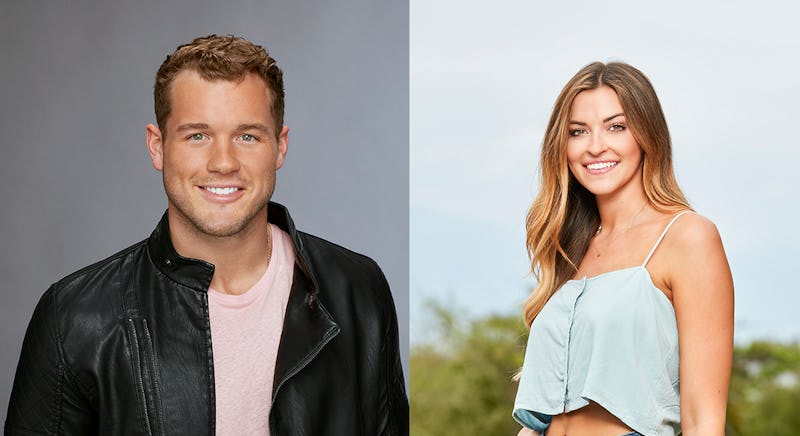 Craig Sjodin/ABC; Craig Sjodin/ABC
Just when you think it's safe to turn your back on this story, it goes and adds another layer. In a new promo, Tia and Colton are reunited on Bachelor in Paradise, confirming reports that have been swirling for weeks. But even more interestingly, the Arkansan says on-camera that the pro-football player is the sole reason she's headed to Mexico, so the drama in this relationship is clearly just beginning.
"I'm going to Paradise just for Colton," Tia says in voiceover, as footage shows Colton strolling down the stairs to join the rest of his BiP Season 5 cast mates. Moments later, the footage cuts to Colton, tears in his eyes, muttering, "I didn't expect it to be like this." Then, in her own emotional interview, Tia dabs away a tear, acknowledging, "I signed up for it." Phew. That's a whole lot of revelations for a 30-second teaser.
Just to catch everyone up with the nitty-gritty here, before heading into a deeper dive, it's Tia Booth and Colton Underwood we're talking about, both of whom have recently come to fame within Bachelor Nation. Tia was on Arie Luyendyk Jr.'s Season 22 of The Bachelor, which aired earlier this year, and Colton was just sent packing on Becca Kufrin's Season 14 of The Bachelorette, airing now. (You might also know his name from his pro football career or previous relationship with Olympic gymnast Aly Raisman.)
The fellow Bachelor alums' relationship is a roller coaster that began somewhere in the middle of all that filming, and if this promo is any indication, its ups and downs show no signs of slowing.
Their origin story is a tale as old as time, and you've probably heard it approximately 1 million times by this point. But in case you haven't: Colton and Tia shared a brief weekend of romance after he saw her on The Bachelor and slid into her DMs. It's an incident that the former pro-baller described casually early in Becca's season, telling the Bachelorette:
Prior coming onto this in January, I had a relationship with Tia. And I wanted to make sure to explain, sort of, that we had a weekend together, and we had a good time, but for me, the timing wasn't right to grow what was a spark into a flame. If my feelings were strong enough, I wouldn't have came on this. And I think that, what I know of you, we could have a ton, whereas it wasn't there with her.
It sounds like there isn't much lasting between the pair, and at that time, Tia told a very similar story. When she was brought along on a group date that Colton also attended — what could go wrong? — the physical therapist shared her own side of the story with Becca, saying:
The last time we saw each other, this wasn't the scenario at all, but the most we did was kiss. And we never really had like, an established conversation about what we were, he just… told me early, like within a few days of talking to him, he told me about applying for the show.
Tia told Becca she didn't imagine that Colton would make it on the show, which is why she hadn't told her friend earlier about their connection. Being a good friend, Becca offered to send Colton home right then and there, but Tia demurred.
That probably should've been the end of it, but by the time the Arkansan was brought back on the show after Hometowns to give Becca dating advice on her final four group of men — which of course included Colton —she'd changed her mind. Tia admitted to her friend:
I just feel like I am so excited to hear you talk about Blake and Garrett and Jason — and when I think about Colton … If I'm being completely honest with myself, I do feel like I still have feelings for Colton. And when I think about Colton being at this point, now, it makes me sick to my stomach. Knowing that you got to meet his family, and knowing that he's still here in this makes me sick.
Becca was understandably frustrated by this about-face, as was former contestant Bekah Martinez, who's made no secret of her feelings on the issue. The 22-year-old even tweeted an early Bachelor in Paradise spoiler photo that involved Colton and Tia. Some fans, however, took it farther, as we saw when Tia shared the hate mail she's been getting. Luckily, she has support in her corner: Bachelor Nation alum Raven Gates spoke up for her friend after Bekah's comments, and Becca posted a statement to her Twitter asking fans to lay off.
While it's absolutely not OK to hurl that kind of abuse at anyone, it has been a confusing trajectory to watch, to say the least. The will-they, won't-they on this relationship is already exhausting, and BIP hasn't even premiered yet. That'll happen on Aug. 7, and fans will no doubt be tuning in to see what the next development in this epic saga turns out to be.