You Probably Didnt Notice This Political Protest In Pink's VMAs Performance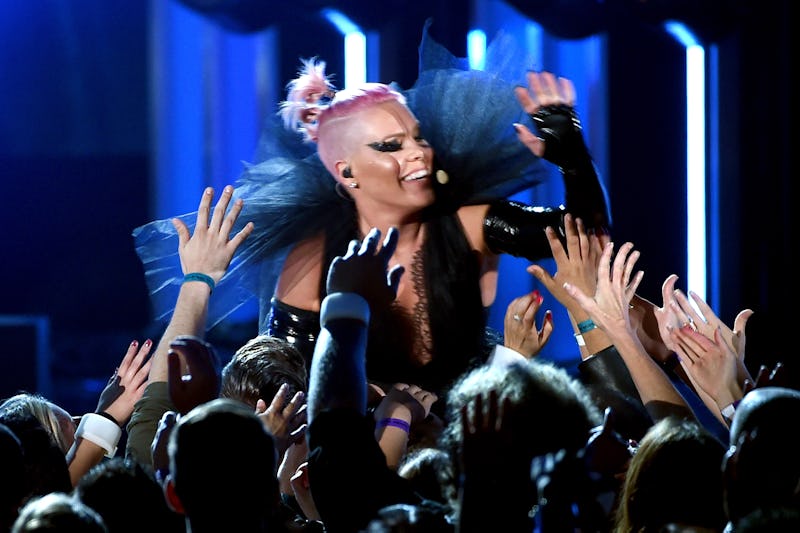 Kevin Winter/Getty Images Entertainment/Getty Images
After more than 20 years in the music industry, Pink being honored as the 2017 VMAs Vanguard makes total sense. She got her start in a girl band in the mid-'90s before going solo. But no matter what, the singer has remained true to herself and not conformed to anyone else's image. She's broken the rules time and time again and Sunday night was no exception. There was a sneaky, yet important political message in Pink's VMA Vanguard performance. And if you didn't catch it, it's worth revisiting.
During a performance of her greatest hits, Pink sang "What About Us," while surrounded on stage by a crowd of ordinary-looking people. If you consider the lyrics — which include, "What about us? /What about all the times you said you had the answers?" — the song could be directed at President Trump's administration. Seeing a group of people holding hands and raising their arms in solidarity could be viewed as asking our leader about all of the people in our country, who seemingly are overlooked right now.
Pink is no stranger to politics, as she quite literally sang a tribute to George W. Bush back in 2006 called "Dear Mr. President." Pink's VMAs performance being a political one wouldn't be a shock. If anything, it would be expected — and admirable, too.
Sure, Pink's performance may not have been as overtly political as some other moments of the night, but that doesn't make it any less powerful. If viewers at home watching could relate to the moment, then that's all that matters. And given her history of making a splash, Pink won't stop spreading badass messages with her music any time soon — thank goodness for that.